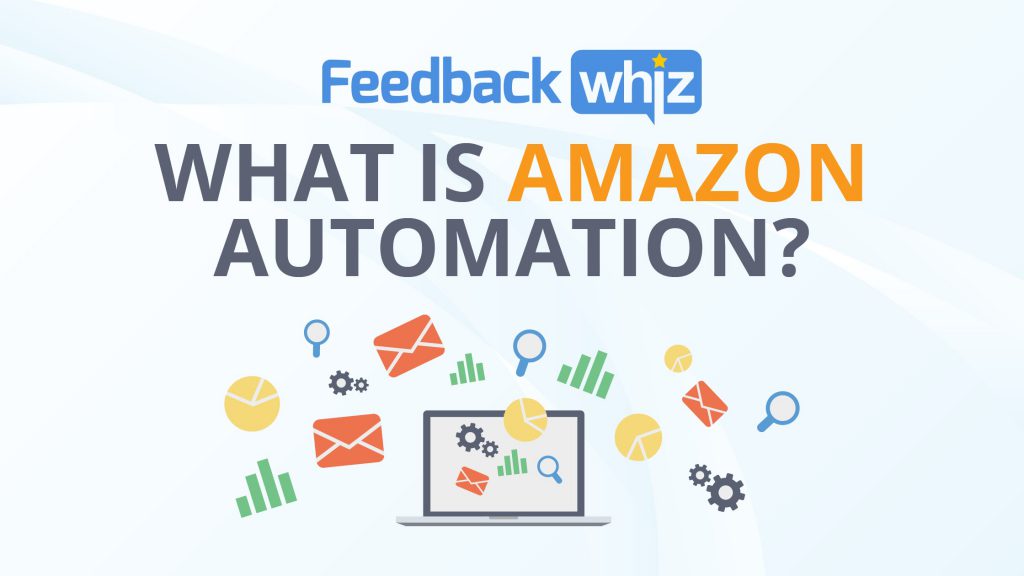 Amazon automation is a set of processes and/or technologies that perform certain routine business tasks and workflows, well, automatically. Examples include chatbots, demand planning, order entry and fulfillment, among others. 
According to a McKinsey survey of a cross-section of global industry leaders, nearly two-thirds are at piloting some form of automation in one or more business units or functions.
What robots did to automate factory floor assembly lines, Amazon automation does to streamline your Amazon business processes to make you more efficient, which makes you more profitable. And it makes your business easier to run. But you don't necessarily need robots to perform Amazon automation.
Which is why Fulfillment by Amazon (FBA) is considered a type of automation. Maintaining inventory, packing and shipping products are all done for you. Automatically. So, becoming an FBA seller is your first step towards Amazon automation. But maybe not your only step, or your last. 
In this post we cover:

What is Amazon automation?
Amazon automation performs repetitive tasks, such as order fulfillment. While the term "automation" implies some sort of robot or software, it isn't always. Automation also refers to a service that performs these routine processes on your behalf.
Here's where it gets a little confusing. Amazon automation is an "umbrella term" variously used in reference to:
Amazon FBA

. You arrange to send products to Amazon fulfillment centers, which pack and ship customer orders, as well as accept returns and manage inventory.

Third-Party Fulfillment

. This could be either non-Amazon third-parties that handle fulfillment, or third-party service providers, sometimes called Amazon automation stores, that manage your Amazon FBA business, which extends to managing your Amazon storefront and product listings.

Third-Party Software Tools

. Applications that automate a range of Amazon activities, such as email campaign creation, accounting, inventory management and PPC (Point per Click) advertising.
Related: 6 easy ways to find popular selling items on Amazon.
Why is Amazon automation important for Amazon sellers?
Most Amazon sellers are entrepreneurs with limited budgets, staff and time. Amazon automation frees up your time and resources spent on routine tasks to concentrate on growing and scaling your business. 
That said, there is no one-size-fits all automated Amazon solution. FBA is a great option for new and smaller Amazon sellers; it takes a lot of the "grunt work" out of starting a business. Note that some products must meet certain requirements for FBA, and certain products cannot be sold using FBA. Amazon FBA can also better position you with potential customers; just one example is that as an FBA seller, your products qualify for Prime's free 2-day shipping and gives you the status of a trusted source on Amazon, which can make the difference in a buying decision.
Keep in mind, however, that Amazon FBA isn't free. In addition to fulfillment fees and storage costs, there are a host of additional fees associated with returns processing, oversized items and long-term inventory storage, among others. Also, FBA automation only starts when they have your inventory; you still have to properly label and ship stock to the right warehouses, which can be an issue if you're sending out thousands of products.
In some cases, third party logistics (3PL) providers might be a better option, particularly if you require for any reason physical access to your products in storage. It is also sometimes the preferred option for high volume sellers with big margin products and a brand identity that isn't totally dependent on simply being a seller on Amazon.
A variation on this is an Amazon automation store.

What is an Amazon automation store?
A third Amazon automation alternative is to hire someone or company to run your Amazon FBA business, what is sometimes referred to as an Amazon automation store. An Amazon automation store provides additional turnkey services beyond fulfillment to build and run your Amazon business, including listings optimization, orders tracking and inventory management. Essentially you are hiring an experienced team to run and scale your business and potentially ready it for sale. You don't need to deal with product mix, pricing, supply chain management or marketing.
But you do need to put up your money.
Related: Did You Know That Amazon May Owe You Money With Amazon FBA Reimbursement?
Is Amazon automation a scam?
You're right to be dubious of some Amazon automation. 
While certainly Amazon FBA and established 3PL providers aren't running scams, there is reason to be cautious if you're thinking of an Amazon automation store. Be careful of those who want an inordinately high upfront fee to get started, or that ask for a high percentage cut of your profits, particularly if they are running things literally on your dime by advancing a not inconsiderable amount of money to obtain stock.
Which is not to say all third party Amazon automation providers are scammers. Just like in any business, do your due diligence before investing in any kind of venture or allowing others to invest in your business. If the company doesn't have a reputable track record, while it might work out, it's perhaps not worth the risk of potential problems.
As you might imagine, there's considerable discussion about this online, pro and con. If you're thinking about an Amazon automation store, our only advice is caveat emptor.
While individual mileage will vary, for most sellers the best Amazon automation option is some combination of Amazon FBA and/or 3PL with software tools that automate other aspects of your Amazon business. 

How to Use Amazon Automation to Scale Your Business
Order fulfillment, whether by FBA or 3PL, is just one part of your business, and just one aspect of Amazon automation. And there are other options besides an Amazon automation store.
Here's where automation is a technology solution. There are various software programs that do all, or some combination of, the following:

While these software tools are traditional screen and dashboard based programs, there is also a kind of software robot, called a chatbot, also known as a virtual assistant or virtual agent. Chatbots are pre-programmed software designed to respond to certain routine queries, or frequently asked questions, such as "Does your product have an off/on button?", with complete sentences that mimic human conversations. Some of the more sophisticated chatbots employ artificial intelligence to actually "learn" from customer inquiries and develop appropriate responses.
While you could hire freelancers or even staff to perform any or all of these, there are comparative disadvantages. For one, you have to go through the time and expense of the hiring process. Then there is the long-term hit to your overhead, versus the one-time purchase or subscription fee of the software. True, the software doesn't entirely run itself, so you (or someone on your team) has to enter some data and make decisions, but this is still much more cost-efficient than performing any of these functions manually. Best of all is if some or all of these functions are integrated into a single platform.
It's analogous to robots on the assembly line floor. You do have to buy the robots, do some initial programming and occasionally maintain them. Still way more cost-efficient than hiring workers to perform the assembly line work manually. 
The time you save and the resources you free up with Amazon automation results in lower operating costs and better customer experiences. You can reinvest your time into marketing your business and scaling it for future growth and, if you share the end-game of many Amazon sellers, making it highly attractive to potential buyers.
FeedbackWhiz Amazon Automation Tools
FeedbackWhiz provides advanced software automation tools to boost the performance of your Amazon business. This includes tools to automate email campaigns, improve seller feedback, get more product reviews, monitor product listings and analyze seller profits and accounting data. It's the ultimate all-in-one Amazon automation tool to achieve higher sales, better feedback and reviews, with sophisticated data analytics, in a single platform with a single login.
Free 30-Day Trial
Interested in learning more about the FeedbackWhiz suite of Amazon seller management software products. Sign up for a free 30-day trial.