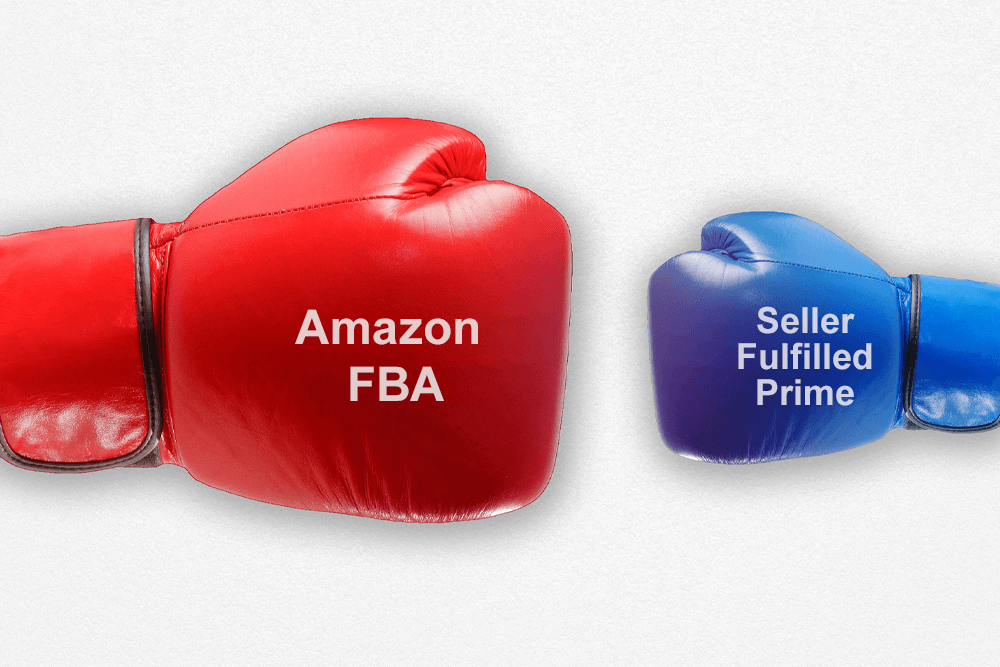 You can be an Amazon Prime seller as both as an independent seller and through Fulfilled by Amazon (FBA) – but what's the difference and which should you choose?
Since its launch in 2005, Amazon Prime has been a resounding success. Their ability to deliver packages quickly and reliably provides a level of speed and convenience that was once considered impossible for eCommerce providers. Today, Prime boasts more than 100 million subscribers in the US alone. As a seller, being able to offer these millions of customers the full benefits of Amazon Prime would put you at an enormous advantage, and you can do this both through Amazon's FBA program and as a regular seller.
Let's explore the differences between Amazon Fulfilled and Seller Fulfilled for FBA businesses.
What is Seller Fulfilled Prime?
Seller Fulfilled Prime allows you to list products on Amazon Prime using your own fulfillment methods. But, to qualify for Prime, you will need an Amazon professional seller account and your own warehouse space. There is a trial period that can last anywhere from 5 to 90 days depending on when you complete Amazon's list of Prime delivery requirements. During this trial period, you will need to have an order cancellation rate of less than 1% and have 99% of your orders ship on time. In addition to that, you'll also have to make special arrangements for shipping including:
– Purchasing shipping labels through the Buy Delivery Services or Amazon Shipping website.
– Deliver orders with Amazon's supported Seller Fulfilled Prime Carriers
– Agree to the Amazon Returns Policy
– Allow Amazon to deal with all customer service inquiries.
If you are unable to complete these requirements on 200 eligible Prime orders within 90 days, the trial period begins again, your stats are reset and you'll have to try anew.
This may seem like a lot of effort but the benefits of merchant fulfilled Amazon can be immense. If you successfully complete the trial, you can display the much-coveted Prime badge on your products. This badge is appealing to buyers and is likely to boost sales and increase revenue.
What is Fulfilled by Amazon (Amazon FBA)?
When using FBA, or Fulfilled by Amazon, you have the benefit of using Amazon's world-class storage and shipping network. Once you ship your products to Amazon's warehouses, they will manage the rest. When an order is placed, Amazon sends it out for you. Your products will be eligible for Prime and you'll increase your chances of winning the buy box.
Fulfilled by Amazon also allows you to fulfill orders across the European fulfillment network (EFN) by shipping your products to one of Amazon's overseas warehouses.
You can also take advantage of additional features like barcode management. This can be a useful way to save time and effort and it will make sure that your business continues to run while you are away or on holidays. In this instance, all you will need to do is monitor your account for any messages from buyers so you can send a prompt reply.
With FBA, if someone leaves negative seller feedback or a lousy product review complaining about a delivery, Amazon will handle the customer complaint as it is related to their responsibilities.
Amazon Fulfilled vs. Seller Fulfilled Prime: What's the Difference?
The most obvious difference between FBA and Seller Fulfilled Prime is cost. Seller Fulfilled Prime involves transportation fees for Amazon approved carriers and the marketplace fees associated with Amazon. With FBA, the primary costs are associated with Amazon fulfillment fees and Amazon storage fees. These fees can add up if your products do not sell and are sitting in storage for long periods of time. However, depending on the size and nature of your items, the fees may still be cheaper than finding your own warehouse facilities.
So is Amazon Fulfilled Prime better? Well, it depends on your needs and the size of your business.
Seller Fulfilled Amazon might be better suited to sellers that already have extensive facilities that can be leveraged to meet the demands of Amazon Prime.
FBA can be a great option for newer or smaller-scale sellers. It is relatively easy to get set up with FBA and there are fewer obstacles to overcome in terms of qualifying for the Amazon Prime Badge. However, with FBA, inventory management is essential. You need to maintain your stock and be sure that stock refills are sent to Amazon quickly.
Make it Work for You
Whether you choose Amazon fulfilled Prime or seller, it is essential that you stay on top of your orders. A high-quality software tool can be a great benefit in this area. You will be able to monitor the status of every order and track feedback and and automate product reviews when they come in. These tools increase your oversight and can save an enormous amount of administration time, making it easier for you to meet the many demands and pressures of Amazon Prime.
The choice between FBA Prime and Seller Fulfilled Prime will depend on the scale of your business, the products you sell, and what makes the most sense for you and your business plans. But regardless of the option you choose for Prime fulfillment, staying on top of your internal operations is key to increasing your chances of success.
*Editor's Note: This article on Amazon FBA and Seller Fulfilled Prime was originally published on August 5, 2019. It was updated on October 7, 2021.