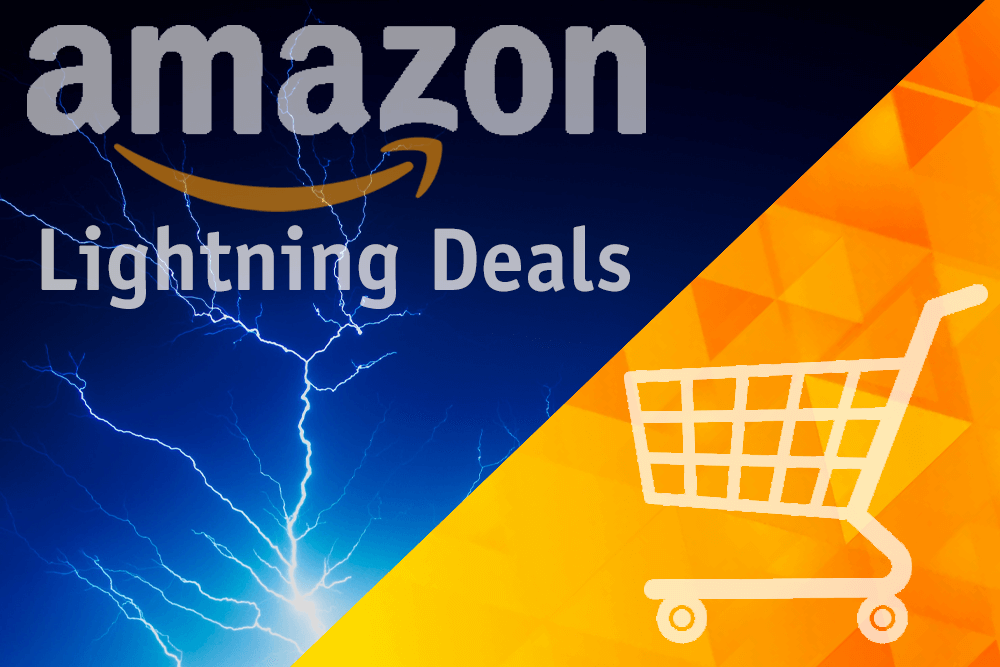 Any Amazon seller that is also a shopper on Amazon has likely heard of Lightning Deals. The deals are found on the popular "Today's Deals" page all year long and are featured more prominently across all of Amazon during popular shopping times including Prime Day, Black Friday, Cyber Monday and the month of December.
Like all promotions, running Lightning Deals as an Amazon seller has its pros and cons. In this Lightning Deal primer, we'll cover those pros and cons, how to set up a Lightning Deal campaign and much more to help you decide whether these popular deals are right for you and your business.
How Lightning Deals Work
A Lightning Deal is a discount offer with limited time and quantity. Every Lightning Deal on the deal page runs for either six hours or until the product completely sells out, whichever comes first. The deals are laid out in a way that demands action; shoppers can see how big their savings are (the sale price is listed above a crossed out regular price with the percentage off of that price noted), what percentage of the product's stock has already been claimed, and how much time is left on the deal.
Lightning Deals are limited to one per customer. When a customer adds a Lightning Deal to their cart, they have 15 minutes to process the transaction or they miss out on the deal. Even if a customer comes across a Lightning Deal somewhere outside of the deal page such as through an advertisement or a search, Amazon still notes that the product currently has a limited time offer on it.
All of these factors make Lightning Deals extremely attractive to buyers. The limited time, limited quantity and only being allowed to purchase one make these deals feel extremely time-sensitive and worthwhile. Shoppers that might usually take their time to shop around feel compelled to buy on the spot so that they don't miss out on this deal.
Eligibility Requirements for Lightning Deals
To try to keep the integrity of their famous Lightning Deals intact, Amazon has some requirements for what makes a seller and a product eligible for the promotion.
In order to be eligible for Lightning Deals, a seller must have a Professional Seller account. They must also receive at least five Seller Feedback Ratings per month and maintain an average of at least 3.5 stars on those ratings.
Products must meet each of the following requirements to be eligible for inclusion as a Lightning Deal:
A sales history that includes a product review rating of at least 3 stars.
Coverage of multiple product variations, when applicable. For example, if a Lightning Deal is being created for a type of shoe that comes in multiple colors, you should have at least 65% of the potential variations in stock.
The product must not be offensive, inappropriate or a restricted product.
Your product must be Amazon Prime eligible in all regions of the United States, including Puerto Rico. You can use either Fulfilled by Amazon or Seller Fulfilled Prime to meet this requirement.
All products must be in "New" condition.
A Lightning Deal cannot run on the same ASIN more than once in a seven-day period.
Fortunately, Amazon makes things easy for its sellers when it comes to determining eligibility. When you open up the Lightning Deals Dashboard, products that are eligible to be sold through Lightning Deals are listed under "Recommendations". Still, it is good to review and understand the rules to make sure that you are compliant with them and to help troubleshoot the issue if one of your products isn't showing up as an option.
How To Create a Lightning Deal
Setting up a Lightning Deal is easy. To access the Lightning Deals Dashboard from your Seller Central account, click on the "Lightning Deals" tab under the Advertising drop-down menu. From here, you can click on "Create a New Lightning Deal" to see your recommended ASINs.
Recommendations are listed with the following information:
The product name.
The current price of the product.
"Schedule" – This is the date range that your Lightning Deal will fall between.
"Maximum Deal Price" – This is the highest price that you can charge on your product during a Lightning Deal.
"Minimum Deal Quantity" – This is the lowest number of units that you must have in stock for this Lightning Deal to run.
"Fee" – This is the flat fee that you will have to pay to run this Lightning Deal
Once you have decided on which product you'd like to submit a Lightning Deal for, you can click the "Edit" button underneath this information. This will allow you to set the deal price and the number of units for your deal, as long as they meet the required maximums and minimums. Upon setting up your parameters, you can click "Submit" to submit your Lightning Deal to Amazon for review.
In some cases your deal will be immediately approved; in others, you will receive a notification after Amazon has had the chance to review the submission. If your deal is suppressed, Amazon will give you details on how to fix it, if possible.
It is recommended that you have your proposed quantity in stock at least seven days before the scheduled date of your Lightning Deal. You must have at least the minimum deal quantity in stock for the Lightning Deal to run, so be sure to stock enough to cover your regular sales while still maintaining the minimum number of units required for your deal.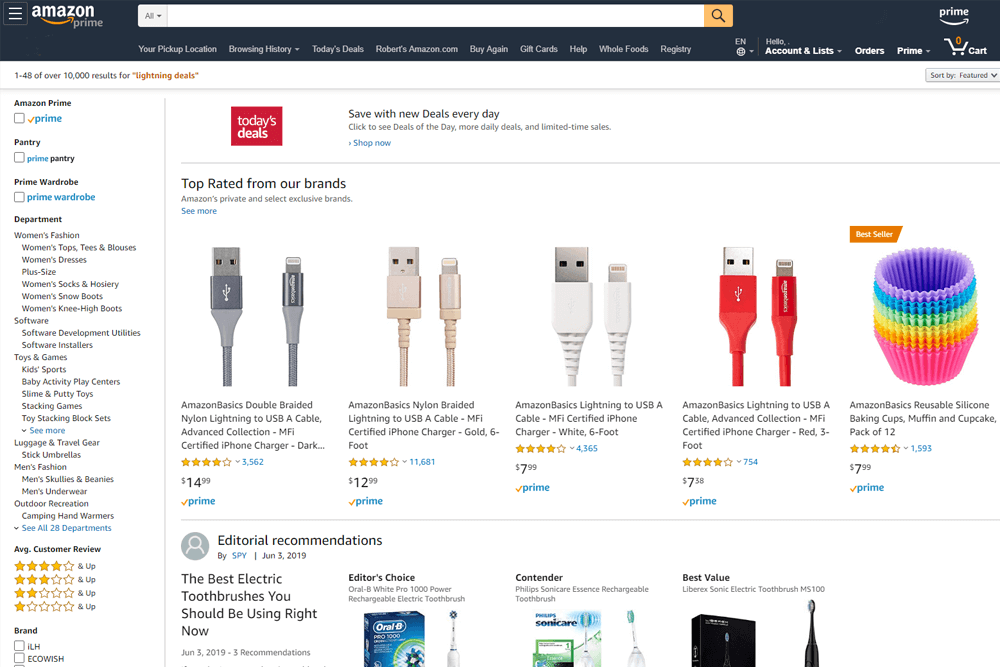 Pros and Cons to Running a Lightning Deal on Amazon
As is the case with any sales strategy, there are both pros and cons to utilizing Lightning Deals on Amazon. Here are some of the most common arguments for and against running a Lightning Deal for your product.
Pros
Exposure for Your Brand and Product – Without question, the biggest benefit to running a Lightning Deal is the exposure that your brand will get from it. Your product will be featured prominently among Amazon's best deals; even shoppers that decide not to purchase your product during the deal's run time are still made aware of it and could decide to purchase it or one of your other products in the future.
Additional Opportunities for Product Reviews – Increased impressions and sales on your product will organically lead to more product reviews on your listing. This benefit can be increased significantly when paired with a FeedbackWhiz email marketing campaign. To maximize the return on investment of your Lightning Deal, be sure to have a great campaign ready to go to secure more product reviews.
Increased Organic Rankings During the Sale – As we mentioned before, products that are currently under a Lightning Deal are labeled as such across Amazon's entire marketplace. So even if a shopper finds your product through searching one of your targeted keywords instead of on the deals page, your listing will stick out on the page with a "limited time offer" badge on it. This will generate even more clicks and sales while your Lightning Deal is active.
Potential Long Term Benefits – Amazon lists one of the pros of Lightning Deals as the "halo effect". The logic being that increased sales, improved bestseller ratings, more product reviews, and increased brand awareness have in some cases led to benefits for sellers that stretch far beyond just the life of the Lightning Deal.
It's an Effective Way to Clear Out Inventory – Whether you have a product that is a seasonal item, one that you are discontinuing or one that you want to get rid of for some other reason, Lightning Deals are an excellent method of doing so. Even if you take a loss on the discounted price, the benefits such as reviews and brand exposure might make Lightning Deals are a more palatable way of eliminating inventory than your other options.
Cons
Lightning Deals are Expensive – Typically, a Lightning Deal costs $150 to run, though this fee will vary depending on the category the product is in and the time of year the deal is being run. Add this cost to the decreased ROI that you will receive on your sales since the product is being sold at a discounted price, and you can quickly see that not all products are going to be a great fit for this type of deal.
Inventory Planning Can Be Tricky – In order to make sure that your product is properly stocked for your upcoming Lightning Deal, you may need to have far more inventory on hand than you are usually accustomed to, which could lead to difficulties in logistics depending on your business's situation. Worse yet, there are no guarantees when it comes to Lightning Deals; if your product does not sell at the rate that you anticipated, you will be on the hook for all of this excess inventory.
You Don't Have Much Control Over Your Lightning Deal – Once you have submitted a Lightning Deal proposition to Amazon, you don't have any control over when your deal is run. As a result, your six-hour Lightning Deal window could be scheduled at a time that does not mesh well with your product or its target demographic, and there are no refunds based on performance. You do have the option of canceling your Lightning Deal for a refund up to 24 hours before it is scheduled to run, but this will be after you've already gone through the entire process of setting everything up.
Many Sellers Don't Notice Long Term Benefits – There are success stories of the so-called "halo effect" leading to increased sales across the board for some businesses. But for many others, the short term boost in sales and rankings that comes from a Lightning Deal levels out to previous norms fairly quickly, which may leave some sellers regretting that they ran the promotion in the first place.
Deciding on Whether or Not to Give it a Try
Only you can decide whether or not Lightning Deals are right for you and your brand. These listings can be an extremely powerful tool to drive sales, but they require a good deal of planning and preparation. Before submitting one, make sure that you will be able to meet the quantity and pricing requirements and that doing so will make sense within your sales strategies.
If you are on the fence about trying one, we recommend these two options as potential starting points:
A product that could benefit long-term from increased exposure and product reviews. At the end of the day, Lightning Deals are just another form of advertisement. If you are willing to reduce your profit margin on a set quantity of your product and pay the fee to run the deal, in return you will receive a huge short term boost in sales and brand recognition. There is no guarantee that this short term boost will result in long term growth, but if you are confident in the quality of the product and its long term selling potential at its regular price, a Lightning Deal could speed up the process considerably.
Practice makes perfect on running Lightning Deals; the more you run, the better you will understand what to expect and how effective they can be for your product and category. Why not start with an item that you are overstocked on or planning to discontinue anyway? Using a Lightning Deal to get rid of excess or stale inventory is a great way to try out the system and troubleshoot logistics in a low-stakes environment before you run one for more valuable products in the future.
Regardless of what products you decide to use for a Lightning Deal, remember to have an automated FeedbackWhiz email campaign in place first. Above all else, you are paying for increased exposure, and the best way to turn those short term sales into long term ones is by converting as many of those sales into product reviews as possible.