Create effective automated emails
Send, create, and automate emails with ease.  Increase conversion rates like never before with email automation.
Build effective eye-catching Amazon automated emails
No more struggles with formatting or testing. Our simple email creator features click and drop custom variables and live previews to create the perfect automated email for your customers.
Organize and personalize your email automation
Create unlimited Amazon email templates for any specific purpose. Set campaigns to send exactly what you want, to whom you want, when you want it sent. Manage and view statistics on all email templates and campaigns to identify which messages work best.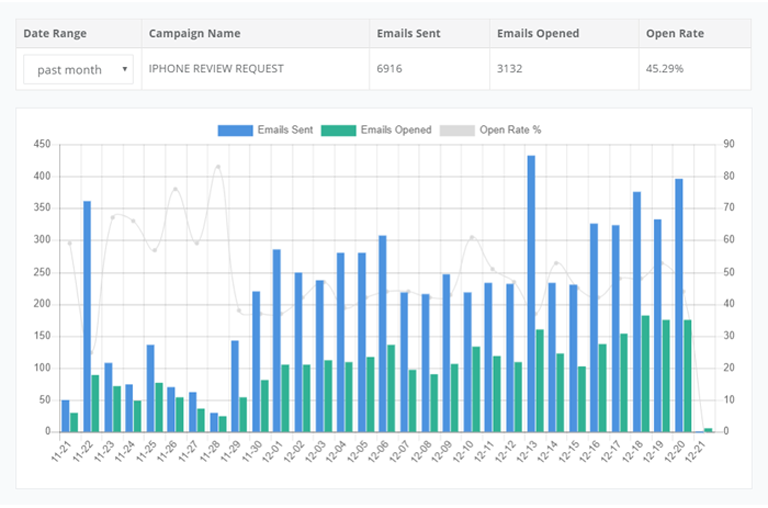 Track email conversions and statistics
Increase conversion rates by tracking click to open rates and A/B test to deliver the right message at the right time, send different versions of your email campaign to different segments of your audience, and find out which message works best.
Custom email creator
Create custom Amazon email templates to engage clients at all phases of the buying cycle. Time automated emails to communicate with customers at the exact moment you want to — after they purchase a product, when the product is shipped, after the product is received, once the customer has had a chance to use it for a set period of time, or any other time you want to communicate with a customer. Set up your custom email campaign and streamline your communication process so the right customers receive the right message at the right time.
Click and drop variables
Easily click and drop variables into your automated custom Amazon email templates to personalize the email to the customer. Adjustable variables include names, dates, products, images and CTAs.
Custom text and links
Craft your message exactly as you want it. Don't be constrained by narrow, pre-defined templates that are difficult to adjust. Write your content and include helpful links to resource pages on your website, product reviews or relevant resources to help the customer use the product most effectively.
Logo & file upload
Even if you write a perfectly articulated message, a text-only email is unlikely to prompt action without some aesthetic touches. Strategically position your logo on a banner at the top of your email or with your contact info at the bottom. Easily upload relevant files and link to them in the body of the email or reference them at the bottom.
Insert product images
Images are one of the main criteria that customers use in determining whether or not to buy your product. Insert high-quality images into your emails that showcase your product in action. Especially when the product is being shipped and the customer is still anticipating its arrival, including high-quality images will build excitement for the customer to receive the product and start using it.
Live order email preview
Preview what the template you're creating actually looks like. See how changes look in real time without needing to save your draft or click back and forth to edit.
Customizable Email Targeting
Send test emails
Test your emails and make sure they appear exactly how you want them to before deploying them to customers. Email automation saves you time in the long run, but it's critical not to rush through without testing. Send test emails to ensure they are dialed in so they result in your desired outcome.
Target specific orders
Sometimes orders require special communications outside the range of your automated email campaigns. Target specific orders with specific messages. If a customer buys multiple products, maybe you want to notify them of another item that complements their purchase. If a customer has purchased your products on multiple occasions, you can flag their orders and send a personal thank you message. With FeedbackWhiz, you have the freedom to target specific orders that you want to exclude from your automated campaigns and communicate directly with the person who is buying your product.
Send emails at specific times
Deploy your automated emails strategically at times when customers are most likely to open them and click through them. Popular thought in email marketing has recommended sending emails on Tuesday, Wednesday and Thursday mornings between 8-11 a.m. However, recent studies have found that response rates are highest on weekday evenings between 8 pm and midnight. While there isn't a universally agreed-upon "perfect" time to deploy your emails, the FeedbackWhiz email automation tool provides the flexibility to deploy emails on the timeline that works best for you and your customers.
Send emails based on delivery
Tailor your Amazon automated emails' content and timing based on when the customer receives the product. Have particular email templates designed for when the item is shipped, the day it's delivered, and following up after delivery asking for feedback.
Exclude orders from solicication
You may want to exclude certain orders from your email automation campaign. Obviously, customers who unsubscribe are excluded from email campaigns, but there are also other groups that you may strategically want to avoid sending follow-up emails to. If a customer expresses displeasure over your product or service, the last thing you want to do is solicit a negative review. Simply select the order manually and remove it from the email campaign. Similarly, if a specific product has gotten multiple negative reviews, you may want to pause parts of your email campaign to modify the product or your marketing strategy for it.
Exclude orders with feedback received
If a customer has already responded to your request to leave a review, make sure not to bother them with a similar request. You can manually remove them from receiving future emails about that product.
Advanced Tracking Features
Target only orders with promotions
Design custom emails exclusively for products that you're offering promotions on. Promote shipping specials, bulk discounts and all your creative promo campaigns separately from items that aren't currently on sale. Quickly adjust categories depending on which items you're currently promoting.
Campaign Statistics
Track statistics by analyzing open rate and click-through rate at each phase of your email campaign (upon purchase, after shipping, upon arrival, asking for a review, etc.). With broader data at the campaign level, you can adjust your strategy so all phases of the campaign run in unison.
Email open statistics
Analyze open rates of each email campaign. Try A/B testing with different subject lines and choose the one with the higher open or click-through rates.
Global buyer blacklist
Tap into a Global Blacklist to exclude Amazon shoppers that may not be included on your manual blacklist. This automated smart feature makes sure that you're targeting the best sales prospects and leaving out the bad.
Buyer unsubscribe
When buyers unsubscribe from your emails, they are automatically removed from your email campaign. In the grand scheme of things, it's very unlikely that these customers would have left a review anyway. Don't spend unnecessary time worrying about trying to reach them. Focus your time on engaging customers who are more likely to leave reviews.
Duplicate email detection
Similarly to making a critical typo or sending the wrong email, sending duplicate content is an easy way to annoy the customer. Make sure you don't send the same email twice with FeedbackWhiz's duplicate email detection.
Interested in finding out more?
Try for free. Full access to all features for 30 days—