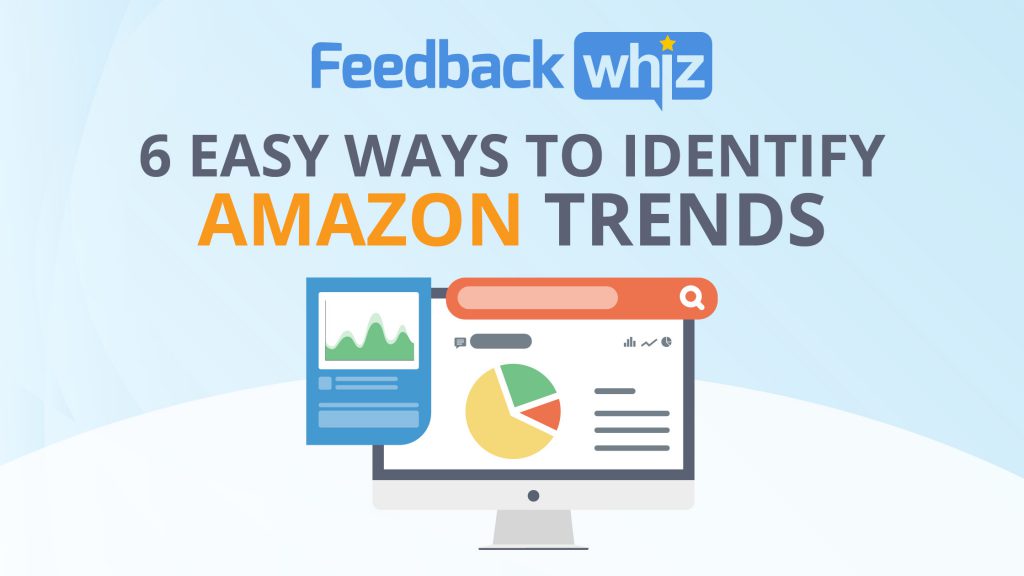 The full power of Amazon is on display when you win the buy box on a trending product on Amazon. Even the most well-stocked stores can quickly sell out of their entire inventory as hundreds or even thousands of customers a minute buy the hottest selling items on the site. When you're able to easily identify Amazon trends, you're able to determine which items are red-hot on Amazon and what might be coming next. 
Why is it important to identify Amazon trends?
Some sellers attack Amazon trends head on. If you have experience with private labeling and feel comfortable creating and marketing new products on the fly, you could have a lot of success creating products that are similar to or complimentary to the top trending products on Amazon.
But even if you don't plan on actively chasing Amazon trends, you can still use your knowledge of them to your advantage. Perhaps one of your products would work well as a complimentary piece or a bundle with a hot item on Amazon. Or maybe getting a feel for what trends occur at different points of the year will help you with how to market and create current and future products.Whatever the case may be, identifying Amazon trends serves as an excellent research tool to better forecast your business and increase Amazon conversion rates.
In short, you'll be able to figure out some of the best products to sell on Amazon. Fortunately, there are plenty of easy and efficient ways to see how products are performing on Amazon.
Here are six tips to help you identify and take advantage of the latest Amazon trends.

Six tips to help you easily identify Amazon trends.
1. Study Amazon's "Best Seller" rankings.
When you visit Amazon.com, you can click the "All" tab on the top left corner of the menu bar to reveal an in-depth menu that includes "Trending", "Digital Content & Devices", "Shop By Department", "Programs & Features", and "Help & Settings". The very first selection in the "Trending" section is "Best Sellers". Click on this link to gain access to the most powerful tool for identifying Amazon trending products.
The Amazon Best Sellers page is updated hourly based on sales. You can choose any department on the website to see the top 100 selling items in that department. By clicking on a department you're also able to see the top 100 selling items in more specific keywords. For example, in addition to simply seeing the top 100 "Electronics", you could also see the top 100 "Portable Audio & Video" products, or dive in even deeper to see the top 100 "Minidisc Players". You can use this page to see the top trending items in all of the keywords you are interested in selling in.
Scrolling down to the bottom of any individual Amazon product page will reveal that product's rankings in both its main category and subcategories. Use listings similar to the products that you plan to sell to determine which categories and subcategories you should be researching.
2. Keep up with "New Releases" and "Movers & Shakers".
The "Trending" section also includes two other useful pages; the "New Releases" and "Movers & Shakers". The new releases section doesn't just simply show new releases, but instead uses an algorithm to factor in which new and upcoming releases are also the best-selling items in their respective categories.
The movers and shakers section shows off products that have seen significant recent bursts in sales ranks. Both of these resources are extremely helpful. New releases can give you insight into what type of new products are having success in your targeted markets and movers and shakers can help you decide when products that already exist might be worth advertising or stocking based on the recent successes of similar products.

3. Inspect your own inventory for hot or cold items.
While putting your fingers on the pulse of the Amazon trends across the industry is a useful practice, doing so on your own inventory can be even more beneficial. Understanding what is working and what isn't on products that are already in your store can help you to decide what courses of action to take including building around the things you are having success with and improving on the things that you aren't.
After all, insufficient or incomplete data is a common expensive Amazon mistake sellers tend to commit.
It's easy enough to identify your top selling items, but figuring out exactly which products are your most profitable and what direction they are trending in can be difficult without assistance. This is where tools like the FeedbackWhiz Profit and Accounting Tracking Tool can come in handy. With just a few clicks, you can see all of your best-selling and worst-selling items in order.
You can also navigate through easy-to-read charts and graphs that compare data points across different ranges of time including growth rates on a daily, weekly, monthly, and yearly basis. Studying your own Amazon sales trends is a perfect place to start.
Read: The top 6 reasons to use an Amazon profits and accounting tool.
You can watch this short video below for a more in-depth view of how you can utilize the FeedbackWhiz Profits and Accounting tool to inspect your hot and cold items.
4. Check websites and publications within your niche market.
Sellers who sell in the electronic space have access to dozens of great websites in the gadget and technology space that discuss and review hot products all year long. Toy and game sellers can take advantage of various wishlists and message boards to find out what the hottest and rarest toys of the season are.
Regardless of what market you are in, there are bound to be some great resources for you to add to your reading or watching lists. Facebook groups or Twitter lists can provide you with links to relevant articles in your space. Even sites like YouTube's trending page might give you some insight on products and Amazon market trends that influencers talking about. Get into the habit of tapping into the resources the internet has to offer so you can stay up to date on niche trends.
5. Search relevant keywords for how products rank in search.
Taking a look at Amazon search trends can often provide valuable insights on what's working for top performing sellers. Every once in a while it's a good idea to simply search the top keywords in your business's space and see what pops up. Are the products showing up as top results in the advertising spots performing well? Which products are coming up in the first few pages of search results organically?
Take notes on some competitors in the space and come back a few days later so you can look for changes in search rankings, sales rankings, and reviews. This due diligence could help you spot which keywords are worth your advertising investments and other trends you might be able to use to improve your profitability.
6. Read reviews on hot items.
Take some time to dive into the review sections on hot trending items. Products that are generating tons of sales are likely to generate tons of reviews, too. These reviews can give you some insight as to why this particular product is trending. Is it a new innovation in the field? Is it something the buyer's kid asked for after seeing it on Tik Tok? Do other products that perform the same function as this one also do well on Amazon?
Negative reviews can also be useful. Perhaps you can identify a recurring trend. Are buyers confused by the item's description? Is there a way this product could be improved upon? Whether you are planning on private labeling a product to compete with this one or just brainstorming for your own product line, understanding the strengths and weaknesses of products through reviews is quite beneficial.
Along these lines, converting the sales you make in your Amazon store into product reviews is a proven way to increase sales, search rankings, and brand trust. FeedbackWhiz's line of products includes a useful tool to help you schedule automated product review request emails at optimal times for maximum conversion rates.
The right tools can help you catch Amazon trends early so you can act.
Most Amazon sellers keep an eye on their sales and will be able to identify obvious spikes or dips on a certain product. But not all spikes are obvious, and a change in performance on one or two products could point to a bigger overall trend that might be easy to miss for a busy Amazon business owner.
This is what makes having all of your data so clearly presented and easy to organize on a profit and accounting tool such a major asset. Even with just a limited amount of time, you'll be able to catch trends affecting your business and profit for better or worse. Then you can take action on them, focusing more efforts on things that are working and looking for fixes to things that aren't sustainable.
Interested in learning more about how our profit and accounting tool can help your business grow? Watch our webinar that explains how this tool can help you easily manage your profits and losses, so you can better forecast trends. Or you can get started with a free 30 day trial and try out all the great tools FeedbackWhiz has to offer.