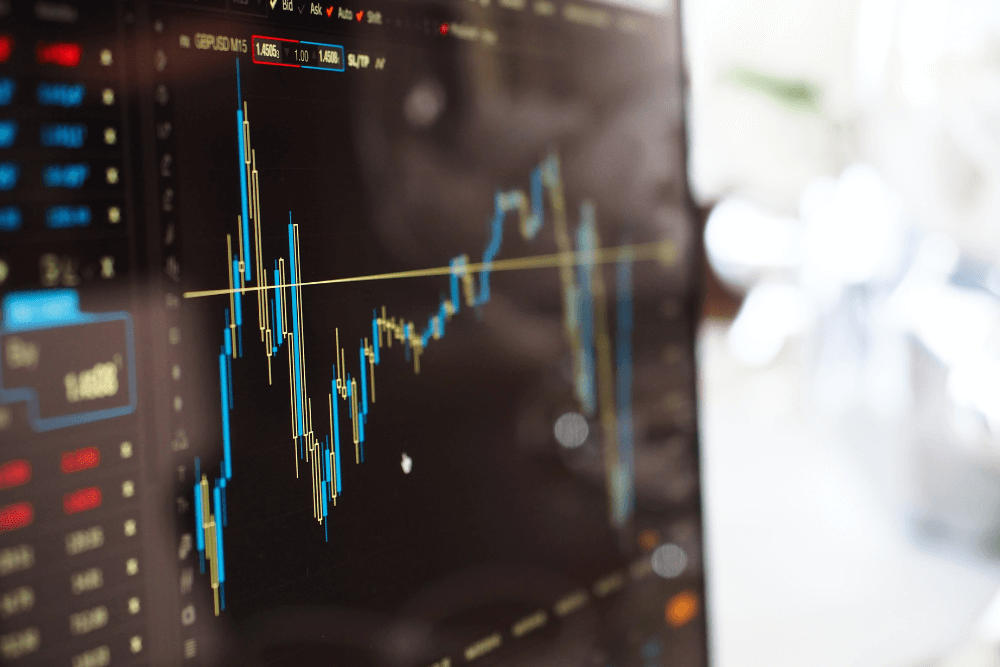 For Amazon sellers, the path to success varies greatly from company to company, with all kinds of factors like product category, cost of goods, profit margins on sales, sales volume, advertising spending and many more included in the equation. There are general methods and tips you can follow to help drive success, but your own path to maximizing profitability will be a unique one. That's where Amazon accounting software comes in.
What is an Amazon accounting software and how does it work?
The end goal for all third-party Amazon sellers is to generate profit. There is no one perfect blueprint that works for every business and brand. 
Using Amazon accounting software designed specifically to give you an overview of your business from the overall picture to each individual product and cost, you can customize your Amazon selling experience to ensure that you are earning as much profit as possible.
Here are the top six reasons to use Amazon accounting software.
The top 6 reasons for sellers to use Amazon accounting software
1. View all of your data in one convenient dashboard.
There are dozens of different factors in play when it comes to calculating your business's overall profitability. One minor miscalculation can throw off all of your data and projections. And these types of miscalculations are easy to make when you have your business's data sprawled out across multiple websites or excel sheets. Amazon's built in analytics are helpful, but they don't paint the complete picture (with elements such as costs of goods not accounted for) and they can often be difficult to read and process.
Related: Business Growth Tool for Amazon Sellers Adds New Profit & Accounting Feature [Yahoo! Finance].
A solid Amazon accounting software fixes all of these issues by being your one-stop shop for everything related to bookkeeping for your Amazon business. You can account for every single penny that your business earns or spends in a given day, week, month, or year by uploading data like cost of goods and other expenses (one-time or recurring) that your business incurs. With just a couple of clicks, you can view all of your data in easy-to-read and attractive graphs and charts. These data ranges are fully customizable so you can see as much or as little as you want to at any time.
With such easy and universal access to all of your company's data in one central location, Amazon accounting software will keep you organized and ensure you won't miss anything.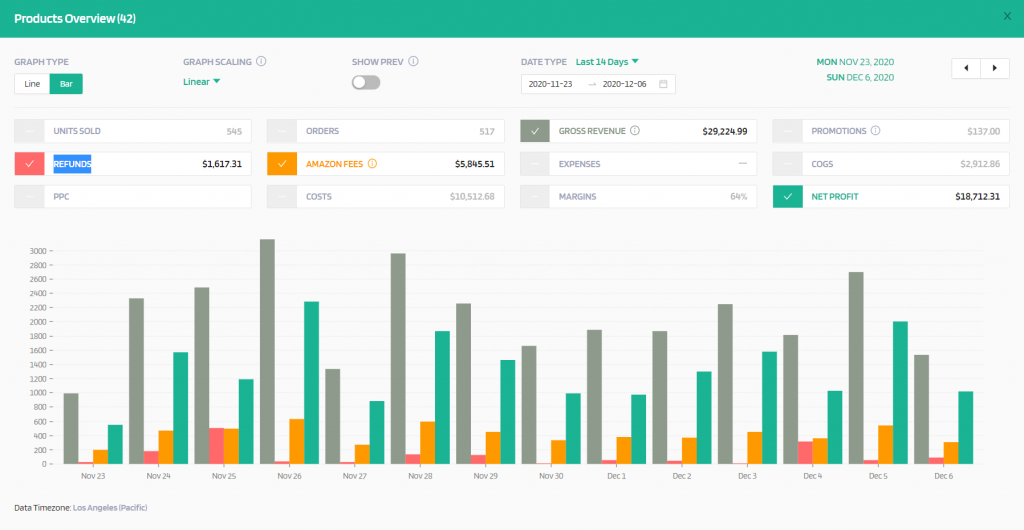 2. Customizable labels empower you to sort your analytics into useful categories.
Every product in your Amazon store will be visible when accessing your profit and accounting tool. Each product will display important data including cost of goods, selling fees incurred, and advertising dollars spent. You can also add custom labels to products to make them easier to sort for when you want to look into the analytics of specific groups of items in your inventory.
For example, you could create a label for "electronics" or a label for "health and beauty" and attach it to all applicable products. You might also want a label for products "created in 2020" or "targeted for children ages 3-12". You can add as many labels as you want to any individual product. Then when you want to see data for all products that fall under a certain label, all you have to do is select that label. This sorting mechanism is both easy to use and extremely helpful when analyzing groups of data.
3. Select custom date ranges to study and compare.
High quality Amazon accounting software will also give you complete control over what date ranges you see data for. You can set up "at a glance" charts and graphs on your main page for helpful time frames such as "Today", "Yesterday", "Last Week", and "Last Month". These charts will show you how your store has performed during the selected timeframe and how it did over a comparable time frame, such as the previous week or the same week last year.
Amazon sellers using a profit and loss tool can also set custom date ranges to view their data in. Whether you want to check out how your store performed in a specific quarter on Amazon or how the two weeks after a new product launch compared to the two weeks before that launch, all of this information is right at your fingertips.
Sometimes, it's better to see than explain. Check out our profit and accounting tool video below.
4. Catch trends early so you can act on them.
Most Amazon sellers keep an eye on their sales and will be able to identify obvious spikes or dips on a certain product. But not all spikes are obvious, and a change in performance on one or two products could point to a bigger overall trend that might be easy to miss for a busy Amazon business owner.
This is what makes having all of your data so clearly presented and easy to organize on a profit and accounting tool such a major asset. Even with just a limited amount of time, you'll be able to catch trends affecting your business and profit margins – for better or worse. Then you can take action on them, focusing more efforts on things that are working and looking for fixes to things that aren't sustainable.
Read: 6 Easy Ways to Identify Amazon Trends.
5. Quickly identify your best and worst selling items.
While accounting tools are fantastic for looking at the overall health of your entire business, they are also great for looking at things on a smaller scale such as the performance of each individual product. One section of the tool is dedicated to identifying your best and worst selling items, making it easy to see exactly which of your products are performing well and lagging behind.
Most sellers know what their top performers are. But being able to see their top 10 (or 100!) performers and their profit margins could lead to some insight on products that deserve more focus. And when it comes to poor performers, sellers will be able to look into the profit margins to see if there is room to make adjustments through advertising or other means, or maybe even decide to discontinue or blow out a product that is lagging too far behind.
6. Easily analyze your profit margins in international marketplaces.
Accounting tools aren't only built for use on Amazon in your domestic market. You can analyze profits and losses in various currencies. You can also see how your products are performing in other marketplaces around the world.
This is particularly helpful when it comes to launching a product line in a new international marketplace. All of your fees and costs (both domestic and international) will be accounted for, which will make it much easier to see how much profit your international sales are generating. Many sellers with cold feet about expanding into new markets feel much more safe in doing so with this tool on their side.
Try out an Amazon Profit and Accounting tool today for free!
All of the features mentioned in this article and many more are available in FeedbackWhiz's Profit and Accounting Tool. New customers can give this game-changing product a shot for free by signing up here. Once you experience how easy it is to get such an in-depth look at the profitability of your business, you'll see how a tool like this pays for itself over the long run.