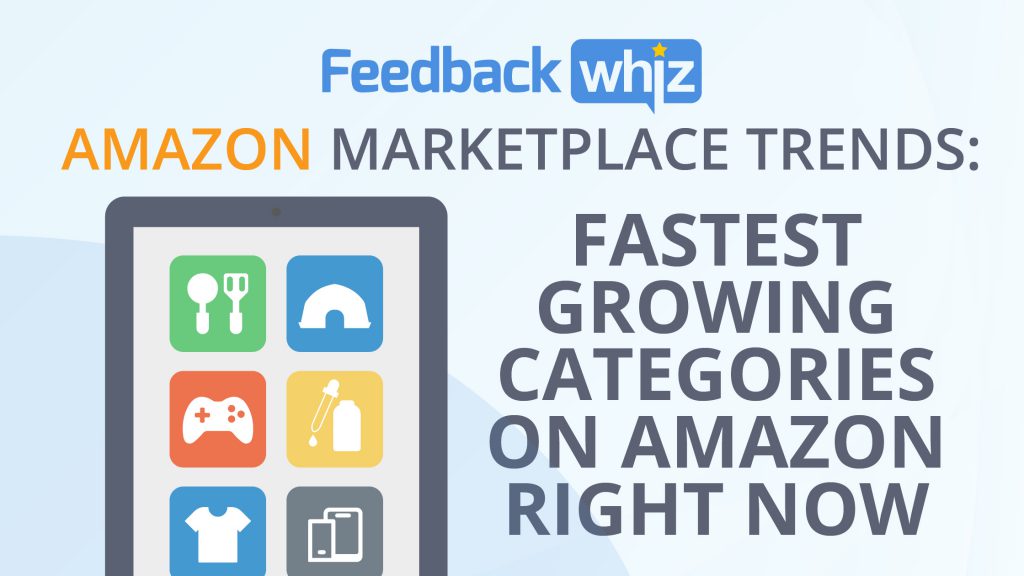 What's so important about fast trending Amazon product categories? There are three key considerations: 
If you're looking to private label a new product, look to one of the fast growing Amazon product categories.

An existing product might work as a complement or in a bundle with any of these fast growing Amazon product categories.

Fast growing Amazon product categories provide insight into consumer trends, which helps improve business forecasts and shape marketing strategies.
It's important to distinguish between the most frequently bought categories (which are electronics and clothing, shoes and jewelry, according to Finances Online) and the fastest growing Amazon product categories. You're looking to get in early on a trending product category to establish your brand when there are likely fewer competitors; and when more competitors enter the product category, you have the advantage of brand recognition.
There are 6 Easy Ways to Identify Amazon Trends. To make this process even easier for you, in this post we list the six fastest growing Amazon product categories, and why they are currently red-hot:
Patio, Lawn & Garden

Sports & Outdoors

Tools & Home Improvement

Beauty & Personal Care

Health & Wellness 

Pet Supplies

Fastest Growing Amazon Product Categories in 2022
1. Patio, Lawn, and Garden
Two years into the global pandemic, it is perhaps not surprising that the patio, lawn and garden segment is one of the top Amazon product categories. According to one survey, gardening activities increased by 57% and relaxing outside by 58%. 
And even as the pandemic seems about to wind down, restaurants are still likely to feature outdoor dining, and people continue to gather outdoors. Consequently, demand for patio furniture and patio accessories is likely to continue trending.
2. Sports and Outdoors
Just as people are spending more time at home during the pandemic, there is a corollary interest in outdoor activities to break-up daily routines and enjoy a literal change of scenery. Even before COVID-19, consumers showed growing interest in sports and outdoor activities as part of healthier lifestyles.
One study indicates that 37.7% of surveyed consumers expect to continue outdoor recreational activities post-pandemic, with 43% indicating they intend to increase their participation in outdoor activities.
Specifically, these outdoor sports activities are reported as highly popular with consumers:
Cycling

Paddle Sports (i.e., kayaks, canoes, paddleboards, rafts)

Golf

Camping

Bird Watching and Nature Sightings

3. Tools and Home Improvement
The U.S. home improvement industry has never been stronger. The pandemic further incentivizes DIY projects as homeowners are spending more time at home and are looking to optimize their surroundings. Just one example is to better distinguish living and work spaces now that many people are working from home. According to Mordor Intelligence, the CAGR (Compound Annual Growth) for the DIY home improvement market is expected to exceed 3% during the forecast period of 2021-2026.
Demand for tools goes hand in hand with the growth of DIY home improvement projects. To take one example, affordable and easy-to-use power tools with long-lasting batteries particularly suited for homeowner projects are expected to increase over the coming years, Grand View Research reports.
4. Beauty and Personal Care
There was a 250% increase in Google searches for self-care related items between 2019 and 2020. According to Statista, the beauty and personal care market is expected to grow annually by 8.6% (CAGR – Compound Annual Growth Rate) between 2022-2026.
Beauty and personal care is considered one of the fastest growing markets. This is due in part to the influence of social media, with cosmetics and skin care products driving a large share of this growth.
5. Health and Wellness
Closely related to beauty and personal care is health and wellness. As a Mckinsey & Company survey reports, while the wellness concept has been around for a long time (remember Jane Fonda workout tapes?), consumer interest in this category is expected to grow by as much 5% to 10% annually. 
With many consumers still reluctant to return to the gym even post pandemic, people are working out at home. This increases the demand not only for items such dumbbells and yoga mats, but towels and water bottles as well.
This category includes not only fitness equipment and workout programs, but also vitamin supplements, nutritional programs, sleep-improvement products (such as sleep tracking apps and blackout curtains) and mindfulness (including relaxation apps). The McKinsey survey also notes that,

Wellness enthusiasts are high-income consumers who actively follow brands on social media, track new-product launches, and are excited about innovations. The socially responsible prefer (and are willing to pay more for) brands that are environmentally sustainable and with clean/natural ingredients. Price-conscious consumers believe wellness products are important but meticulously compare features and benefits before purchasing to get the best deal.

6. Pet Supplies
Pandemic puppies are a real thing. Yahoo News reports that more than 23 million American households, nearly one in five nationwide, adopted a pet during the pandemic, resulting in overall spending of $21.4 million on non-medical pet products, and another $28.4 billion on dog food.
There are a number of related subcategories here besides pet food. These include:
Leashes, collars and harnesses

Toys

Beds

Shampoos and conditioners

Grooming utensils

Sweaters 

Customized pet tags
Discover Your Trending Amazon Product Category
Most Amazon sellers keep an eye on their sales and will be able to identify obvious spikes or dips on a certain Amazon product category. But not all spikes are obvious, and a change in performance on one or two products could point to a bigger overall trend that might be easy to miss for a busy Amazon business owner.
This is what makes having all of your data so clearly presented and easy to organize in a profit and accounting tool such a major asset. Even with just a limited amount of time, FeedbackWhiz's P&L tool empowers you to catch trends affecting your business and profit for better or worse. Then you can take action on them, focusing more efforts on things that are working and looking for fixes to things that aren't sustainable.
Interested in learning more about how our profit and accounting tool can help your business grow? Watch our webinar that explains how this tool can help you easily manage your profits and losses, so you can better forecast trends. Or you can get started with a free 30 day trial and try out all the great tools FeedbackWhiz has to offer.