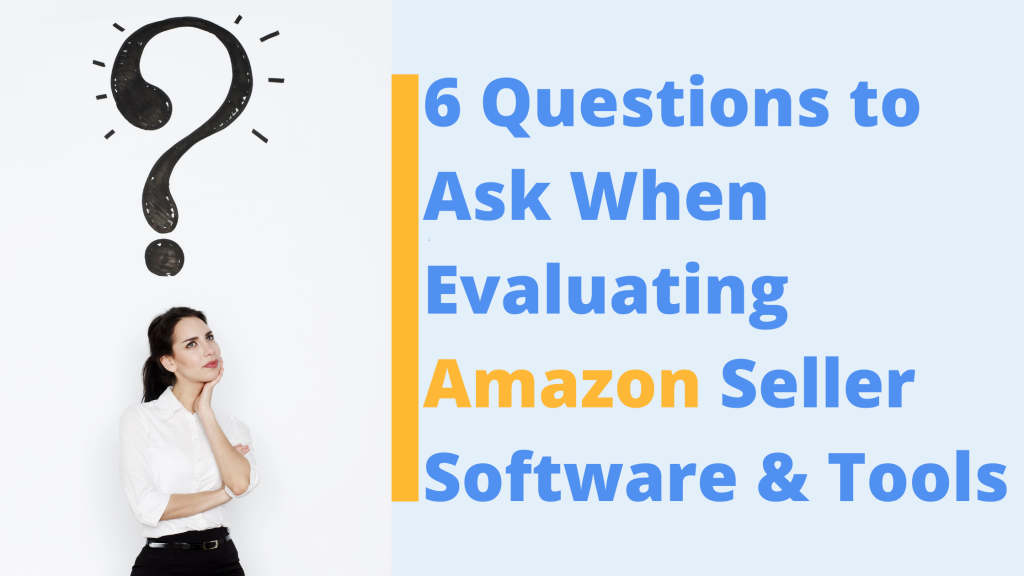 Selling on Amazon is a time-consuming endeavor with many different moving pieces. Trying to handle every aspect of your business from top to bottom can be quite overwhelming. In addition to hiring employees or assistants, Amazon sellers also have the option of enlisting the help of third-party Amazon seller software and tools. These products can analyze or automate many aspects of your business so that you don't have to. But what is the best way to evaluate Amazon seller tools?
It is important that you think critically about what you may need from Amazon seller tools before purchasing them. Here are six questions that can get your thought process started.

6 Questions to Ask When Evaluating Amazon Seller Tools
1. Will this Amazon seller tool automate the review process for me?
88% of consumers trust online reviews as much as personal recommendations. But, the advantages of review automation are sometimes overlooked by Amazon sellers. This is especially true since Amazon introduced the "Request a Review" button, making it easier than ever for sellers to request a review from their customers with just the click of a button.
The main issue with manually requesting reviews is that the easiest way to do it is in bunches.  Keep in mind, however, that as soon as you hit that button, that is when the email is sent. And you only get one chance to press it. So if you press it too soon after a customer has received their product and they haven't had a chance to formulate an opinion on it, or too late and they have already mentally moved on to somanaluyticsanallething else, your conversion rates will be far lower than if you had sent it at the optimal time.
This is where automating Amazon's "Request a Review" button with FeedbackWhiz can be so helpful. You can choose exactly how long after the customer receives their product that you would like them to get their product review request on a per-product basis. The time you'll save on having this process automated and the stress relief of not worrying about forgetting are nice added bonuses.

2. Does my Amazon seller solution connect to all Amazon marketplaces?
Amazon currently has 20 marketplaces worldwide. These international websites give sellers access to potential customers all over the world.
Does the Amazon seller tool that you are considering work seamlessly in all of those marketplaces? Even if you currently only sell in one, there may come a time that you decide to expand into others. Knowing in advance whether or not your tools and software are equipped to handle international Amazon marketplaces will be useful.
And the good news is FeedbackWhiz is now connected to all 20 Amazon marketplaces. 
Getting started in these marketplaces with FeedbackWhiz has never been easier. With just the click of a button, you'll have the expansive functionality of FeedbackWhiz's powerful tools you've come to learn and love ready to penetrate into these markets. Is your solution currently connected to all 20 Amazon marketplaces?
3. What Amazon seller tool gives me access to deep analytical sales data?
The Amazon Seller Central page is fairly dense with useful sales data. Unfortunately, this data is not catered specifically to your business. It does not for example factor in the costs of your goods and labor into statistics on profitability. 
So, naturally, it's important to think about the strength of the Amazon sales data tool available with your next Amazon seller tool.
Using a separate Amazon Profit and Accounting Tool like the one offered by FeedbackWhiz can be extremely beneficial in painting a more complete picture of your business and its profitability. With just a few clicks, you can view all of your sales data on specific products or your entire store in the form of attractive and easy-to-read charts and graphs across all Amazon marketplaces.
You can customize these statistics to include or remove different elements so you can analyze the exact data you are looking for. You can also set custom date ranges and compare and contrast your statistics to other periods of time.
The FeedbackWhiz Profit and Accounting Tool even has a section that identifies your most and least profitable products for you. This makes inventory and advertising planning so much easier as all of the data is already crunched for you. Check it out in a short video below.
4. Can I protect my listings from hijackers?
The Amazon marketplace is an extremely competitive place. If you are enjoying success on the platform, chances are you are going to start dealing with competitors trying to take you down. Whether your competition is playing by the rules or partaking in shady tactics like listings and buy box hijacking.
FeedbackWhiz offers 24-hour ASIN monitoring with customizable notifications on important things including new seller feedback, losing the buy box, new sellers on your listings, changes to your listing's title, and more. These notifications will alert you as soon as something is out of order on one of your listings so that you can address it as quickly as possible to limit the damage.

5. Which Amazon seller tools are easy to use?
Usability is so important when it comes to tools and software of any kind. After all, it doesn't really matter how great the functionality or data is if you can't figure out how to access it or use it.
You should be able to see pictures or video demos showing off the interface of the Amazon seller tools that you are considering right on the websites they are being offered on. Be sure to study these thoroughly. Tools that have menus and features that are easy to read and use will offer you a much better experience than those that are overly complex and have way too steep of a learning curve.
Related: Interested in seeing the full functionality of FeedbackWhiz? Check out (and bookmark) a free demo on demand.
6. Is there a risk-free way to try this Amazon seller software?
What is even better than watching demo videos or looking at pictures of Amazon seller software? Trying it out for yourself – free. Many of these tools will be used on a daily or near-daily basis. Feeling comfortable with the way that the product works and seeing what it can do for you first-hand is a great way to help you decide whether or not a tool is right for you.
FeedbackWhiz offers a free 30-day trial on its products to new customers with no credit card required. Give it a try without any risk to see how it works for you and your Amazon business.
*This article on Amazon seller tools was originally published on October 18, 2021. It was updated on May 24, 2022.