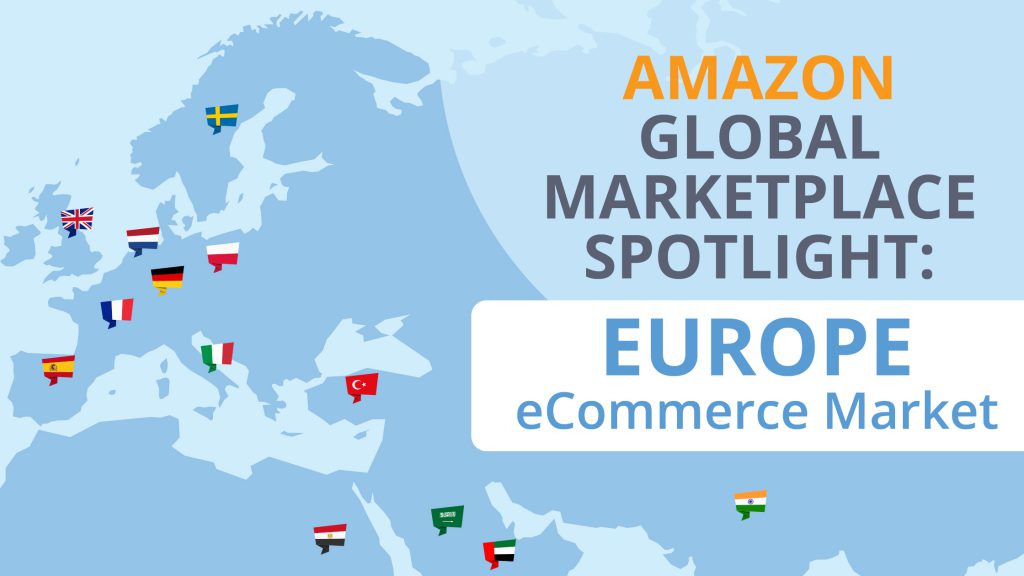 The U.S. and Europe have a longstanding economic relationship, accounting for over 33 percent of global GDP. If you are an Amazon seller marketing only to the U.S. and not Europe, you are missing out on a significant transatlantic opportunity in the Amazon Europe marketplace. That's why we've compiled this guide to help you sell on Amazon Europe, whether you're a savvy brand owner veteran or just beginning your Amazon brand journey. 
In this post we take a look at the Amazon Europe marketplace, including:
This is part one of our three part series on the 20 worldwide Amazon marketplaces. Click below for parts two and three:
Let's dive into our Sell on Amazon Europe guide.
Why You Should Sell on Amazon Europe 
Why sell on Amazon Europe? As Amazon points out, the U.K. and Germany represent some of the largest ecommerce countries. Amazon reported over 2700 products sold per minute in Europe in 2020. 
Of course, the pandemic has made eCommerce an even more vital part of the European economy, a trend that is likely to continue even post COVID. The European market not only represents significant potential for you to reach new customers and generate sales, but represents a significant opportunity to diversify your revenue streams and improve cash flow.

A Brief History of the Amazon Europe Marketplace
Not surprisingly, Amazon is one of the biggest eCommerce companies serving Europe. Indeed, Amazon started operations in the United Kingdom and Germany in 1998, only three years after its founding as an online bookstore in the U.S. France was next in 2000, followed by Italy, the Netherlands, Spain, and Turkey, with Sweden in late 2020 and Poland in 2021 (though it has been operating there since 2014) as the latest additions.
An Amazon Europe Marketplace account can enable you to sell on Amazon Europe, but you will also have access to the 28 marketplaces they reach throughout Europe. Note, however, that there are new requirements for selling in the U.K. and Europe due to Brexit.
Also, tax requirements vary among various European countries as well as product standards. There are also language differences, obviously; listings and customer support must be in the local language of each marketplace. Don't worry though, FeedbackWhiz offers Amazon-vetted prebuilt BSM email templates in every buyer language (and don't forget about the automated request-a-review button functionality).
How Big is the Amazon Europe Marketplace?
eCommerce News reports that Amazon employs about 50,000 permanent employees in Europe, with a network of 31 fulfillment centers and 1300 warehouse units located near major cities. Regarding the influence of Amazon in Europe, eCommerce notes, "Amazon is one of they key eCommerce players many small and big retailers keep an eye on…If it starts offering a certain service (like faster delivery), many online retailers will soon follow, because they don't want to lose more market share to Amazon."
According to a company press release, SMBs comprising around 185,000 businesses on Amazon Europe sold more than 1.8 billion products in 2020. Home, health and personal care, toys, beauty and apparel represented the top five sales categories. Amazon claims to have created more than 550,000 jobs in Europe. 
From June 2019 to May 2020, European selling partners accounted for more than half of everything sold on Amazon, as reported in the 2020 Amazon European SMB Impact Report. Almost 3500 achieved over €100,000 (about 118,250 in U.S. dollars) in sales. More than half of European SMBs achieved over €9 billion (roughly $10.65 billion) in export sales.
So, in answer to the question of how big is the Amazon Europe marketplace: it's pretty darn big. And it represents opportunity not only to European-based sellers who can attest to its value, but those from North America as well.  
List of Countries in Amazon Europe Marketplace
If you're going to sell on Amazon Europe, it's probably a good idea to understand the market in each Amazon Europe marketplace. Let's dive into each Amazon Europe marketplace/country.
Note: Sources for country information include Sermondo, The Guardian, Statista, Hellotax, Business Insider, and  ecommerceDB, as well as Amazon.
United Kingdom – Amazon.co.uk

Country Code – GB
Let's begin with the marketplace in which U.S. Amazon sellers share a common language (despite sticking a "u" in words like "labour"). Over 3200 SMBs surpassed $1 million in sales for the first time in 2019.
Population: 67 Million

Language: English

Launched: 1998

2019: $17.5 Billion

2020 revenue: $26.5 billion

Net sales growth 2017-2018: 17.96%

eCommerce revenue share in the UK: 89%

Top category: Electronics & Media

Number of desktop and mobile website visits: nearly 580 million. 

Number of fulfillment centers (or "centres" to use the British spelling): 21 
Related: The Pros and Cons of Selling on Amazon UK, according to Brand Builder University.
Germany – Amazon.de

Country Code – DE
Germany is the largest Amazon marketplace in Europe, second only to the United States worldwide. German based SMB export sales were up by 15% in 2019 over previous years.
Population: 67 Million

Language: German

Launched: 1998

2020 revenue: $29.6 Billion

Net sales growth 2017-2018: 8.32%

eCommerce revenue share in Germany: 86%

Fulfillment centers: 13

Top category: Electronics & Media

France – Amazon.fr

Country Code – FR
France is the third largest Amazon marketplace in Europe with more than 152 million visitors per month. Nearby countries, for example Belgium, account for a small share, but buyers are predominantly in France.
A February 2021 survey found that 37 percent of respondents reported buying on Amazon several times a year, with three percent who bought from Amazon once a week.  Fun fact: 60 percent of French users won't shop on foreign websites.
In 2018, Amazon partnered with French retailer Monoprix for grocery delivery through Prime Now app and a dedicated store on its website.
Population 65 Million

Launched: 2000

Language: French

2020 revenue: $6.9 Billion

Net sales growth 2017-2018: 17.02%

eCommerce revenue share in France: 92%

Warehouse locations: 10

Top category: Electronics & Media
Turkey – Amazon.tr

Country Code – TR
Amazon broke into Turkey's eCommerce market by launching its full marketplace operation in September 2018. It is the second most popular eCommerce site in Turkey. Turkey is the 20th largest market for eCommerce with a revenue of US$11 billion in 2020, placing it ahead of Switzerland and behind Poland.
Population 82.5 Million

Launched: 2018

Language: Turkish

2020 net sales: $140.9 million

Top category: Electronics & Media
Italy – Amazon.it

Country Code – IT
Amazon Italy is by far the leading eCommerce site in the country, with 180.5 million visits in 2020. The closest competitor is eBay Italy, with only 76.9 million visitors. Net sales are primarily in Italy, with a small share in France and Switzerland. SMB export sales in 2019 increased by 20% over previous years.
Population 60 Million

Launch year: 2010

Language: Italian

2018 Revenue: $2.5 Billion

Net sales growth 2017-2018: 12.38%

Amazon warehouse locations: 8

Top category: Electronics & Media
Spain – Amazon.es

Country Code – ES
Spain reported its highest revenue in 2020, in part probably due to the pandemic. Amazon has the highest penetration share of online retailers, with about 80% of online buyers. There are over 9,000 Spanish based SMBs selling on Amazon in 2019, up 30% from previous years.  One possible barrier to entry: Spain is the most difficult VAT registration of all European countries because they have to be notarized in very specific ways. 
Population: 46 Million

Launch year: 2011

Language: Spanish

2020 revenue: $6.4 Billion

Net sales growth 2017-2018: 19.76%

eCommerce revenue share in the UK: 96%

Amazon warehouse locations: 8

Top category: Electronics & Media
Netherlands – Amazon.nl

Country Code – NL
Although Amazon Netherlands was launched in 2014, it only sold ebooks and Kindle readers. A full fledged Amazon with a wider range of product categories as well Prime service opened in March 2020. It is currently ranked as third in the eCommerce and shopping/marketplace category. 
Fun fact: While not as populated as other European countries, 96% of the population in Holland are internet users and 93% of those in the 25 to 45 year old age group orders goods and services online, making it the third largest European market for ecommerce. 
Population: 17 Million

Launch year: 2014

Language: Dutch

2020 revenue: $431.4 million

Top category: Electronics & Media

Sweden – Amazon.se

Country Code – SE
Amazon Sweden was just launched in October 2020, offering some 150 million products in 30 product categories. It is the first Amazon storefront to open in the Nordics. Over 70% of the population, or 8.1 million people, are reported to shop regularly online. Total ecommerce revenues totalled $11.2 million in 2020.
PostNord is the most frequently offered delivery service provider among online stores. Of those stores that indicated which service they use to transport their goods, 81% cited PostNord as one of their providers.
Population: 9 Million

Launch year: 2020

Language: Swedish

Amazon warehouse locations: 1

Top category: Clothing and Accessories

(*Note: Electronics and Media is expected to jump to first in 2021.)
Poland – Amazon.pl

Country Code – PL
The most recent Amazon store to open in Europe, Amazon Poland launched in March 2021, offering over 100 million products across 30 product categories. Amazon has been operating Poland, however, since 2014, making it the country's largest U.S. employer and third largest American investor.
Population: 38 million

Launch year: 2021

Language: Polish

Fulfillment center locations: 7

Top category: Clothing & Accessories
Saudia Arabia – Amazon.sa

Country Code – SA
Amazon recently launched its shopping site in Saudi Arabia in a bid to expand eCommerce business in the country. Amazon.sa is the rebranded portal of Souq.com- the largest eCommerce platform in the Arab world. Souq was acquired by Amazon in 2017. 
Saudi Arabia is one of the fastest-growing eCommerce markets, has high internet and smartphone use penetration, and most of the population lives in urban cities. Saudi Arabia is also in the top 20 wealthiest countries by spending power.
Population: 34 million

Launch year: 2020

Language: Arabic

Fulfillment center locations: 3

Top Category: Clothing & Accessories
Egypt is another core market for Amazon-owned Souq, and thus it is expected to be replaced with Amazon Egypt in the future. Souq generates its largest amount of eCommerce net sales in Egypt. Souq was launched in 2005. As of July 2021, the Egyptian marketplace still operates under souq.com.
With regards to the product range, souq.com is an all-round online store, with products on offer that cover different categories, such as "Fashion", "Electronics & Media," as well as "Toys, Hobby & DIY".
Population: 100 million

Launch year: 2005 (Souq)

Language: Arabic

Fulfillment center locations:

1 planned

Top category: Clothing & Accessories 
United Arab Emirates (UAE) – Amazon.ae

Country Code – AE
Souq also operated in the UAE until amazon.ae was launched on May 1, 2019. The UAE B2C eCommerce market accounted for US$4 billion in 2019. Amazon.ae heads the list of the online stores by net sales in the UAE (2019). High Internet and smartphone penetration rates help the wealthy nation drive the online sales growth, with a projection of a double-digit increase in eCommerce revenues through 2022.
Population: 9.7 million

Launch year: 2019

Language: Arabic (English written)

2020 revenue: $350 million

Fulfillment center locations: 3

Top category: Electronics & Media
India – Amazon.in

Country Code – IN
India is one of the world's fastest growing economies. By 2025, one-fifth of the world's population will be Indian, and by 2030 there will be over 850 million Internet users on the subcontinent.
It is the eighth largest market for ecommerce, with a revenue of US$46 billion in 2020. The biggest player in that market is Amazon, whose 2020 revenue jumped by 42%. While Amazon has operated in India since 2012 with Junglee.com, the site was primarily a comparison shopping website. Junglee was closed down in 2017 and searches redirected to Amazon.in.
According to Business Insider India, India alone could represent an $18 billion revenue opportunity for Amazon. The firm's analysis projects that by 2023, India could account for 13% of Amazon's international sales, and 4% of the company's total revenue. 
Population: 1 billion

Language: Hindi, English

Launched: 2017

2020 revenue: $1.12 billion

eCommerce revenue share in India: 30%

Fulfilment center locations: 60

Top category: Electronics & Media

How to Start Selling on Amazon Europe
Amazon provides a four step process for Amazon sellers to expand their business to Europe:
Decide where and when to sell. Assess the costs to register in a country, the taxes you need to pay against the potential interest in your products in a given country.

Register and list in the countries where you want to sell. Keep in mind that products must be listed in the native language of the country you are selling in.

Decide on how to ship and fulfill (either FBA or FBM; FBA may be the easiest option, at least to get started).

Manage your business, provide customer support and scale your business.
In other words, it's not that much different than selling on the U.S. site. Except you have to be able to translate into a different language (even British listings have different spellings) and understand and follow the legal requirements of a particular country.
Getting started in these markets with FeedbackWhiz has never been easier. With just the click of a button, you'll have the expansive functionality of FeedbackWhiz's powerful tools you've come to learn and love – review automation, product and listing monitoring, and deep profits and accounting insights into all your products across all marketplaces – ready to penetrate into these markets. 
Related: How to Sell Globally on Amazon.
FeedbackWhiz users now have the ability to fully automate the functionality of Amazon's Request a Review Button without the unnecessary addition of browser extensions. Now, imagine automating review requests to billions of new customers around the planet in seconds. 
And with the powerful profits and analytics tool, you can aggregate all the important data from all of your products across ALL your marketplaces. Or segment by individual marketplaces to pinpoint which item is your most profitable in specific markets. Oh la la.
Tips and Reminders on Amazon Europe Marketplace
Still not sure if you are ready to sell sell on Amazon Europe? We tapped six well-known Amazon experts with one question: What advice can you give to sellers looking to expand into new Amazon marketplaces and sell globally?
Amazon Global Selling is not for everyone. There are many considerations and potential complications to consider before diving in, so it isn't the sort of program that a seller should join without doing some serious research first. Most businesses that fulfill their own orders and don't intend on utilizing FBA for international sales probably won't want to deal with shipping long distances away.
Again, keep in mind that you have to list products in the language of that country's Amazon marketplace and adhere to all VAT rules and other legal regulations. Make sure you fully understand what you are getting into before you sell on Amazon Europe. 
And always, always stay up to date with the relevant Amazon Europe news and information.
Related: Watch our hot take on why Amazon Europe is sharing data with Amazon sellers.

Tools to Help Sell on Amazon Europe
If you're considering going transatlantic with your business, FeedbackWhiz can make your entry so much easier. It provides a range of order and feedback management, email and review request automation, product review monitoring and notifications and a profits and accounting tool that works in all the Amazon Europe marketplaces.
You can see the amazing tools in action in our in-depth demo. Best of all, you can try out the software with a 30-day free trial. FeedbackWhiz is your passport to the Amazon European marketplace.
*Editor's Note: This article to help sell on Amazon Europe was originally published on July 13, 2021. It was updated on July 7, 2022.