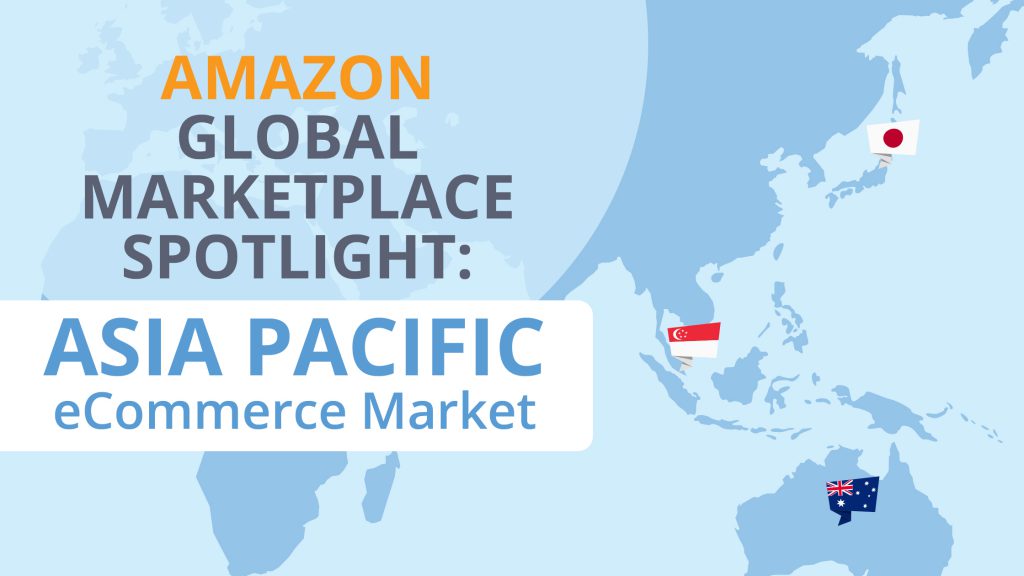 The Amazon Asia and Pacific marketplace comprises Japan, India, Singapore and Australia. Japan actually ranks as the fourth leading market for Amazon, behind the U.S., Germany, and the U.K.  
If you are an Amazon seller marketing only to the U.S. and not any of the Amazon Asia countries, you are missing out on a significant transpacific opportunity. In this post we take a look at the Amazon Asia-Pacific marketplace, including:
This is part three of our three part series on the 20 worldwide Amazon marketplaces. For more information on the other reason, you can read more on:
Why Sell in Amazon Asia & Pacific Marketplace
Why sell in Amazon Asia? Asia-Pacific eCommerce sales grew by 26.4% in 2020. Of course, the pandemic has made eCommerce an even more vital part of the Asia-Pacific economy, a trend that is likely to continue even post COVID.
The Asia Pacific market not only represents significant potential for you to reach new customers and generate sales, but represents a significant opportunity to diversify your revenue streams and improve cash flow.
A Brief History of Amazon Asia
Interestingly, while three-quarters of new sellers in the top four core markets are based in China, Amazon withdrew its Amazon.cn site in 2019. With a market share of less than 1 percent, Amazon couldn't overcome the stiff competition from dominant and established Chinese giants Alibaba and JD.com. However, Amazon continues to encourage cross border sales from Japan, as well as its U.S., U.K., and German sites.
How Big is the Amazon Asia Marketplace
Amazon has expanded slowly due in part to competition from established eCommerce platforms in the region. Amazon Japan and Amazon Singapore have so far been the most successful. Amazon recently moved into the food delivery market in India where current players are struggling. At least one analyst believes this could prove the catalyst for further expansion. 
List of Countries in Amazon Asia-Pacific Marketplace
Note: Sources for country information include Statista, and ecommerceDB, as well as Amazon.
Amazon in Japan – Amazon.co.jp

Country Code – JP
Japan is the third largest economy in the world. Seventy two percent of Japanese shoppers make purchases online. Japan's eCommerce market is expected to reach $325 billion by the end of 2026, and is ranked second only to China in the Asia-Pacific region, fourth globally.
Amazon Japan is the leading online marketplace in Japan, next to Rakuten Ichiba and Yahoo Shopping. The website can be viewed both in English as well as Japanese. Orders can be shipped to more 65 countries/regions that participate in the Amazon Global Program. It currently does not offer Amazon Prime.
Population: 128 Million

Language: Japanese

Launched: 2000

2020 revenue: $20.46 million

Fulfillment centers: 9

Top category: Electronics & Media
Singapore – Amazon.sg

Country Code – SG
Singapore was the first country in Southeast Asia to get a dedicated Amazon site. Although shoppers there could access Amazon.com, many items were not available to ship to Singapore or incurred high international shipping fees. There was also a mobile app launched in 2017 that offered Prime membership for fast delivery of groceries and household goods. So the Amazon brand was well known already before Amazon.sg went online. 
Amazon.sg is in English. FBA fees are also lower than in the U.S. Singapore's retail eCommerce grew in 2020 by 71.1% and is expected to grow by 73% by 2020.
Population: 5.9 million

Language: English, Mandarin, Malay, Tamil 

Launched: 2019

2020 revenue: 92.8 million

GDP per capita: $65.2K

Ecommerce market 2021: $2.7 billion, annual growth rate of 9.9%

Warehouse: 1

Fulfillment centers: 2

Top category: Electronics & Media
Australia – Amazon.com.au

Country Code – AU
While Amazon has lost money in Australia despite an uptick in sales (a 99.4 percent jump from the year prior) largely atrictured to COVID (net loss of $3.8 million in 2019, though better than the previous year loss of $4.7 million). Amazon recently announced a 200,000 square meter robotic fulfillment facility in Sydney, which doubles its fulfillment capacity.
Population: 128 Million

Language: English

Launched: 2017

2020 revenue: $1.12 billion

Fulfillment centers: 3

Top category: Electronics & Media
India – Amazon.in

Country Code – IN
[Editor's note: Though India is technically considered an Amazon Europe marketplace, we are also providing the India marketplace data into this piece for geographic reasons.]
India is one of the world's fastest growing economies. By 2025, one-fifth of the world's population will be Indian, and by 2030 there will be over 850 million Internet users on the subcontinent.
It is the eighth largest market for eCommerce, with a revenue of US$46 billion in 2020. The biggest player in that market is Amazon, whose 2020 revenue jumped by 42%. While Amazon has operated in India since 2012 with Junglee.com.The site was primarily a comparison shopping website. Junglee was closed down in 2017 and searches redirected to Amazon.in.
According to RBC, India alone could represent an $18 billion revenue opportunity for Amazon. The firm's analysis projects that by 2023, India could account for 13% of Amazon's international sales, and 4% of the company's total revenue. 
Population: 1 billion

Language: Hindi, English

Launched: 2017

2020 revenue: $1.12 billion

eCommerce revenue share in India: 30%

Fulfilment center locations: 60

Top category: Electronics & Media
How to Get Started Selling in Amazon Asia
Amazon provides a four step process for Amazon sellers to expand their business to Japan, Australia, India and Singapore.
Decide where and when to sell. Assess the costs to register in a country and the the taxes you need to pay against the potential interest in your products in a given country/marketplace.

Register and list the countries in where you want to sell. Keep in mind that product must be listed in the native language of the country you are selling in.

Decide on how to ship and fulfill (either FBA or FBM; FBA may be the easiest option, at least to get started).

Manage your business, provide customer support, and scale.
In other words, it's not that much different than selling on the U.S. site. Amazon does support services for managing sales, customer service and translations into English for those sites where English is not the primary language.
For more specific instructions, refer to our guide: How to Sell Globally on Amazon.
A Helpful Tool to Sell in Amazon Asia
Getting started in these markets with FeedbackWhiz has never been easier. With just the click of a button, you'll have the expansive functionality of FeedbackWhiz's powerful tools you've come to learn and love ready to penetrate into these markets. 
FeedbackWhiz users now have the ability to fully automate the functionality of Amazon's Request a Review Button without the unnecessary addition of browser extensions. Now, imagine automating review requests to billions of new customers around the planet in seconds. 
And with the powerful profits and analytics tool, you can aggregate all the important data from all of your products across ALL your marketplaces. Or segment by individual marketplaces to pinpoint which item is your most profitable in specific markets.
Tips and Reminders on the Amazon Asia & Pacific Marketplace
Still not sure if you are ready to sell in Amazon Asia? We tapped six well-known Amazon experts with one question: What advice can you give to sellers looking to expand into new Amazon marketplaces and sell globally?
Amazon Global Selling is not for everyone. There are many considerations and potential complications to consider before diving in, so it isn't the sort of program that a seller should join without doing some serious research first. Most businesses that fulfill their own orders and don't intend on utilizing FBA for international sales probably won't want to deal with shipping long distances away.
Again, keep in mind that you have to list products in the language of that country's Amazon marketplace and adhere to all VAT rules and other legal regulations. Make sure you fully understand what you are getting into before getting into it.
Final Thoughts on the Amazon Asia & Pacific Marketplace
If you're considering going transpacific with your business, FeedbackWhiz can make your entry so much easier. It provides a range of order and feedback management, email automation, product review monitoring and notifications and a profits and accounting tool that works in all the Asia-Pacific marketplaces. Watch a demo to get started. 
Best of all, you can try out the software with a 30-day free trial. FeedbackWhiz is your passport to the Amazon Asia-Pacific marketplace.
*Editor's Note: This article on Amazon Asia was originally published on August 2, 2021. It was updated on July 11, 2022.