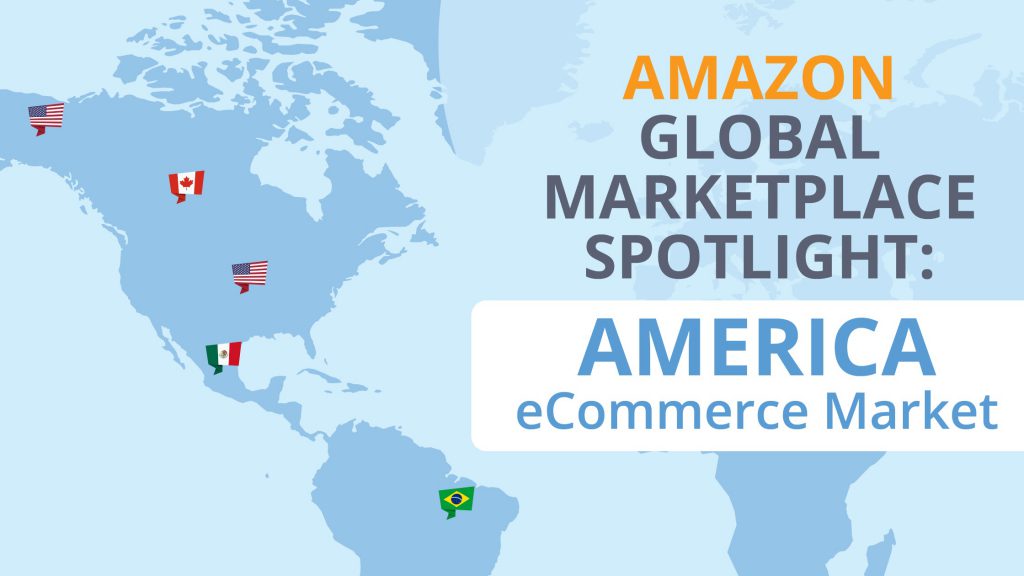 Amazon started in the U.S. (in the garage of Jeff Bezos's Bellevue, Washington home). It opened a dedicated website for Canada in 2002, for Mexico in 2015, and for Brazil in 2012. Amazon America sellers currently can sell across the United States, Canada and Mexico from one account. Indeed, 50 percent of the top 500 North American sellers market across multiple marketplaces, up from 32 percent in 2020. In short, the Amazon America marketplace is HUGE.
You can easily sell to the United States, Canada, Mexico and even Brazil with an America Unified Account. If you are an Amazon seller marketing only to a single country in the Americas, you are missing out on a significant cross-border opportunity. Let's explore the Amazon America marketplace in our second regional marketplaces spotlight.
In this post we take a look at:
This is part two of our three part series on the 20 worldwide Amazon marketplaces. For more information on the other reason, you can read more on:
Why Sell in Amazon America? Why Not?
North America accounts for Amazon's largest slice of net revenue sources ($386.06 billion, 104.41 billion in 2020 of which were generated from non-U.S. countries). The North America segment contributed 61 percent of net sales in Q1 2020.
It would be one thing if selling outside of your country were an immense hassle. But since Amazon makes it easy for you, why not test the beyond borders potential. 
You may have to create separate SKU listings depending on whether you are fulfilling yourself in one case and using FBA in another. But this is a minor inventory management matter. 
In addition, the pandemic has made eCommerce an even more vital part of the North and South American economy, a trend that is likely to continue even post COVID. The wider Americas market not only represents significant potential for you to reach new customers and generate sales, but represents a significant opportunity to diversify your revenue streams and improve cash flow.
A Brief History of the Amazon America Marketplace
Interestingly enough, Amazon started selling internationally first in Europe just three years after the company was founded before expanding north and south of its U.S. domestic borders with a dedicated Amazon-branded website. 
In Canada, Amazon employs more 23,000 full- and part-time employees at fulfillment centers and various other facilities and recently announced plans to hire 1800 more for corporate and IT positions. There are two fulfillment centers in Mexico and eight logistics centers  in Brazil. Of course, as the home base and country of origin, U.S. operations and sales predominate.
The Size of the Amazon America Marketplace
Amazon North American sales totaled $64.37 billion in 2021 1Q, up 40 percent from the previous year. It almost goes without saying that the U.S. is the largest marketplace of the Americas. It is in fact the largest eCommerce retailer in the U.S., with an estimated 66.4 million households subscribed to Amazon Prime.  In addition, using their regular account, an Amazon customer can seamlessly order across borders.
There are more than 50 million users in Mexico with orders delivered to 25 cities a day. In Canada, Amazon received 238 million visits in 2020. In Brazil, eCommerce grew by 68% in 2020 over the previous year. That blew away the expected 18% revenue growth that was forecasted for 2021. Indeed, Brazil is considered an up and coming hot market for online shopping to over 80 million Brazilian consumers.
Amazon sellers in the U.S. are tapped into a tremendous marketplace of opportunity. Expanding to other countries in the Americas makes that potential all the more opportune.
Country-Specific Amazon America Stores
Note: Sources for country information include Statista, and  ecommerceDB, as well as Amazon.
Country Code – US
Amazon accounts for nearly 50 percent of all eCommerce sales in America. It is the leading eCommerce retailer in the U.S. Sixty six percent of Amazon users reported that they relied on Amazon as their primary search engine, with the primary reason for shopping on Amazon being price and low shipping costs.
Population: 332 Million

Language: English

Launched: 1995

2020 revenue: $222.6 billion

Top category: Electronics 
Country Code – CA
Thirty thousand third-party sellers from all 13 Canadian provinces grossed more than $1 billion on Amazon.ca in 2019. It is the leading eCommerce market in Canada, with a market share of about 50 percent.
Population: 37.9 Million

Language: English/French

Launched: 2002

2020 revenue: $7391 million

Top category: Electronics & Media
Country Code – MX
Amazon Mexico has more than 50 million users, delivering orders to 25 cities a day. It is the largest online retailer in Mexico with a market share of 13.4 percent. eCommerce revenue in general is expected to grow by 12.9 percent in 2021.
Population: 130 Million

Language: Spanish

Launched: 2015

2020 revenue: $1.4 billion

Top category: Electronics 
Country Code – BR
Amazon began selling books in Brazil in 2012, adding other categories in 2017. Books, specifically ebooks, remain the leading category; 80 percent of all ebooks bought in Brazil are purchased on Amazon. Brazil is also the country with the fastest growth in Amazon Prime subscriptions.
Population: 214 Million

Language: Portuguese

Launched: 2012

2020 revenue: $585 million

Top category: Ebooks
How to Get Started Selling in Amazon America
Amazon provides a four step process for Amazon sellers to expand their business internationally:
Decide where and when to sell. Assess the costs to register in a country, the taxes you need to pay against the potential interest in your products in a given country.

Register and list in the countries where you want to sell. Keep in mind that products must be listed in the native language of the country you are selling in.

Decide on how to ship and fulfill (either FBA or FBM; FBA may be the easiest option, at least to get started, though this is currently not available in Brazil).

Manage your business, provide customer support and scale your business.
In other words, it's not that much different than selling on the U.S. site. Keep in mind that Amazon sellers currently can sell across the United States, Canada and Mexico from one account. You will have to translate your listings into Spanish to sell in Mexico, and into Portuguese to sell in Brazil. Amazon Canada is in English, though there is an option to switch to French. You'll also need to understand and follow the legal requirements of a particular country.
For more specific instructions, refer to our guidelines on How to Sell Globally on Amazon.
Getting started in these markets with FeedbackWhiz has never been easier. With just the click of a button, you'll have the expansive functionality of FeedbackWhiz's powerful tools you've come to learn and love ready to penetrate into these markets. 
FeedbackWhiz users now have the ability to fully automate the functionality of Amazon's Request a Review Button without the unnecessary addition of browser extensions. Now, imagine automating review requests to billions of new customers around the planet in seconds. 
Tips and Reminders on Amazon America
Is expanding into Canada, Mexico and/or Brazil a good idea for your business? We tapped six well-known Amazon experts with one question: What advice can you give to sellers looking to expand into new Amazon marketplaces and sell globally?
Amazon Global Selling is not for everyone. There are many considerations and potential complications to consider before diving in, so it isn't the sort of program that a seller should join without doing some serious research first. Most businesses that fulfill their own orders and don't intend on utilizing FBA for international sales probably won't want to deal with shipping long distances away.
Again, keep in mind that you have to list products in the language of that country's Amazon marketplace and adhere to all legal regulations. Make sure you fully understand what you are getting into before getting into it.
Final Thoughts on Amazon America
If you're considering selling across the Americas with your business, FeedbackWhiz can make your entry so much easier. It provides a range of order and feedback management, Amazon email automation, product review monitoring and notifications and a profits and accounting tool that works in all the Americas marketplaces. Watch a demo. 
Best of all, you can try out the software with a 30-day free trial. FeedbackWhiz is your passport to marketplaces on the two continents of North and South America.
*Editor's Note: This article on Amazon America was originally published on July 26, 2021. It was updated on July 12, 2022.