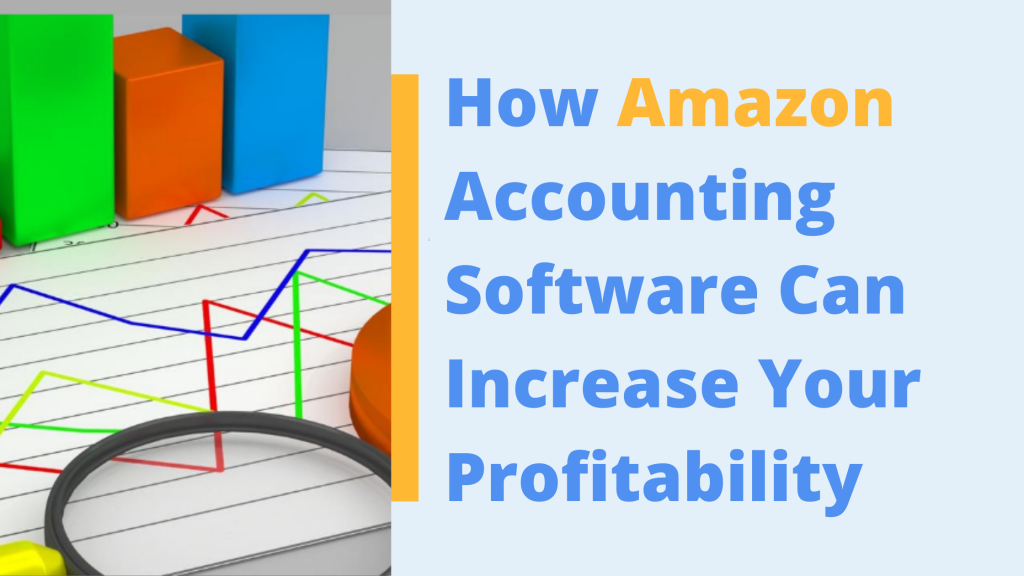 How do you as an Amazon seller measure success? A common answer is "total sales." But you could be making a lot of sales and still not be as profitable as your potential. As James Thomson writing in Big Commerce points out, "There are a number of issues that even large or long-term Amazon sellers don't figure out." Many sellers are leaving money on the table because they lack the tools to properly assess all their financial data. 
So, what kind of tool does this?
You might at first think, "Well, I've got an inventory management system and it has a profit and loss tool. That should do the job."
The problem is it doesn't. Typically these inventory management apps lack a reconciliation feature as well as a balance sheet, two key elements of any accounting system. Whether your Amazon business brings in more than $1 million or less than $100,000 in sales, you need top-notch accounting systems that provide profit and loss reports.
Enter Amazon accounting software.
Amazon accounting software is especially designed to support full management of your Amazon orders, fees, PPC (Pay per Click), COGS (Cost of Goods Sold), and other expenses. An Amazon accounting tool provides you with full visibility into the product insights and data you need to: 
Boost sales and profits

Reduce Amazon fees

Easily assess trends 

Quickly identify slow moving inventory

Save time in running your business more efficiently

Sell more

Improve profitability
In this post we'll cover:
Important insights that affect business profitability you may be missing out on

6 key capabilities of Amazon accounting software 

Why you can't afford not to have Amazon accounting software 
What's Eating at Your Profits? 
More than ever before, consumers are shopping online and shopping through Amazon. During the third quarter of 2020, Amazon generated total net sales of almost $96.15 billion, surpassing even the $69.98 in the same quarter of 2019, according to Digital Commerce 360. Fifty four percent of all units sold come from third party sellers.
While it's never been a better time to be an Amazon seller, it's also a more challenging time. Evan as sales are trending upwards, businesses may lack an accurate picture of how profitable they are if they lack full insight into overhead costs such as:
Amazon sales and taxes

Adjusted margins after Amazon fees

PPC spend

Return rate

Promos 

Fixed and recurring costs
Consequently, calculating net profit can be difficult. It's particularly messy—and inaccurate—without the right tools. To truly understand how profitable you are, you need to analyze and record every cost and profit going out and coming in. 
The good news is there is a cost-effective solution that provides such a deep dive into your business operations. Amazon accounting software details both micro- and macro-level visual views with graphs and charts that cover everything from a single ASIN to overviews of your entire business. All quickly accessible and easily understood.
There are a number of issues that even large or long-term Amazon sellers don't figure out.
Related: What is Average Unit Retail (AUR) and why does it matter?
6 Key Capabilities of Amazon Accounting Software 
Mike Cortes writing in WebRetailer observes, "Accurate bookkeeping is the foundation for any eCommerce business. Proper accounting can take that foundation and build a successful future for you and all that you worked hard for."
Let's take that a step further. A proper Amazon profit and accounting tool tells you not only how your business foundation is currently built, but how you can build on that foundation further. It does this by providing you with:
Let's break each of these down a little further.
1. Dashboard Analytics
Amazon sellers have a lot to keep up with: sales, taxes, refunds, COGS, promotional expenses, as well as various other costs of doing business that affect overall profitability. It's way too easy to get lost in the woods if all this data is on multiple spreadsheets, reports and websites. Data visualization lets you see the proverbial forest for the trees using a single convenient dashboard.
With a few simple clicks, you can import any data related to your business and compare it with any other relevant data. You can easily create and compare key business metrics by creating interactive charts and graphs that visually display relationships and trends.  Instead of scrolling through what seem like endless multiple spreadsheets and Quickbooks, now all you need is a quick glance at a customizable dashboard to view how your business is performing. 
2. Sort Product Data with Customizable Labels
Your products display important data that includes cost of goods, selling fees, advertising expenses, etc. You can also add customized labels to sort for when you wish to analyze product groups.
As an example, you could create a "Household Goods" label or "Personal Audio" label. There's no limit to the number of labels you could create. Then, to see all the data for the products under that label, all you need to do is click the category and the accounting tool sorts it automatically. It's an easy and extremely helpful tool to analyze specific product groups.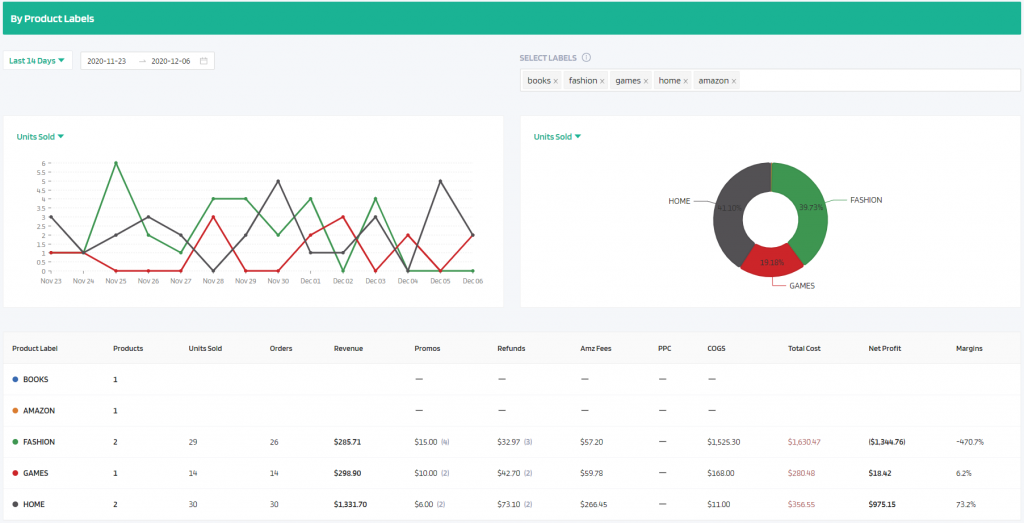 3. Import/Export Data and Select Custom Data Ranges
Aggregate and group data across single as well as multiple Amazon marketplaces and set custom data ranges to view data. For example, you could set up a chart that displays how certain stores and products performed over selected time frames, e.g., Last Quarter, Last Month, Last Two Weeks, Yesterday, Today. 
4. Identify and Act on Trends
Not all sales trends are immediately obvious; more than a few Amazon sellers have been caught holding  excessive inventory for products that have waned in popularity. Clearly presented data offers an accurate depiction of trends at a glance. You won't be caught unawares of things that are no longer sustainable, as well as being better positioned to capitalize on trends that are helping your business.
Related: Amazon Trends – 6 easy ways to find the best things to sell on Amazon.
5. Identify Best and Worst Selling Products and Their Costs
The ability to see your top performers leads to insights on what accounts for your profit margins and set future sales strategies. In addition, the ability to easily and quickly pick out poor performers allows you to either develop strategies to boost sales or even eliminate the product.
There are also a variety of Amazon fees associated with product sales. Needless to say, keeping track of every single fee on every single transaction and, moreover, determining how all of these fees affect your bottom line is where a profit and loss tool is particularly effective.

6. View Product Performance in Global Amazon Markets
You aren't limited to viewing US Amazon data alone. You can view sales of products in various currencies and how they are performing internationally. This can help you determine the profit potential to launch products in a different country. 
Related: The top 6 reasons to use Amazon accounting software.
Amazon Accounting Software is Essential to Your Business Success
Whether you are a new or experienced Amazon seller, an Amazon accounting software solution is an absolute must for your business. It not only saves you hours of time tracking inventory, payments  and expensing, it provides a tool to effectively measure what's going right with your business, what's not going so right and, most importantly, gain insights into factors that need to be fixed or eliminated that might otherwise go unnoticed. 
FeedbackWhiz Seller Analytics and Accounting Tool

FeedbackWhiz provides Amazon sellers with an accounting tool to track all of your product listings. Quickly and easily Identify what is making you business profitable as well as what may be making you less profitable. Measure your performance and optimize your Amazon book keeping system to:
View well-designed and colorful graphs, charts and other intuitive interfaces depicting key seller metrics.

Include all costs of inventory management that the Amazon financial management system doesn't allow sellers to track.

Break down sales, taxes, promotions, refunds and seller fees.

Analyze best and worst performing products.

Organize expenses into precise, relevant categories.

Assign labels and tie to specific ASINs and SKUs.

Input cost of goods calculated by units.

Customize your Amazon revenue and expense tracking system.

Use a detailed expense and COGS manager.

Compare sales metrics across Amazon marketplaces. 

Automatically convert currencies.

Analyze sales data across all 20 international marketplaces to identify which markets are most likely to buy certain products.
Best of all, you can try out FeedbackWhiz's Amazon Seller Analytics Profit and Loss Tool with a free 30 days risk free trial. Once you experience how easy it is to get such an in-depth look at the profitability of your business, you'll realize how a tool like this pays for itself.
Interested in learning more about how a profit and accounting tool can help your business grow? Watch this webinar highlighting the FeedbackWhiz Profit and Accounting tool.