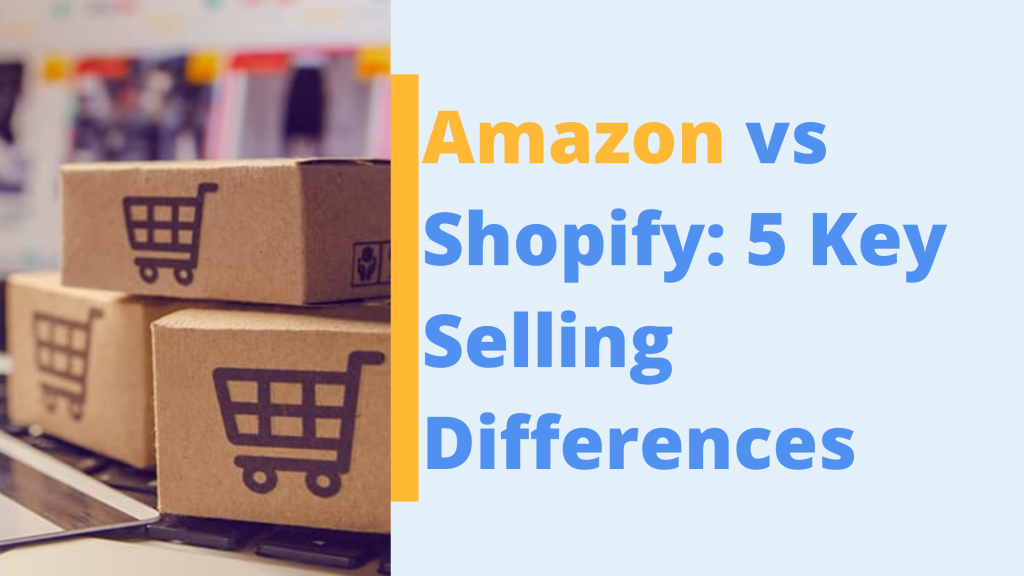 When you're doing business, it's crucial to have a presence on as many channels as possible. This way, you can reach your target audience and entice them to buy from you. This usually starts with two popular online marketplaces: Amazon vs Shopify.
If you've been considering selling on one or the other, this article will help you make a decision. Here are some key differences between Amazon and Shopify that might help make your decision easier.
The Focus of Amazon
Amazon's focus is variety. It offers a vast number of different products from different sellers. There are over 300 million products from third-party sellers on Amazon. And that number is constantly growing.
But with so many options, it can be challenging to stand out and get noticed. Shopify, on the other hand, focuses on the power of simplicity.
With Shopify, there are just 100 product categories to choose from. This makes it easier for customers to find what they want more easily and quickly than they would on Amazon, which has thousands of product categories to choose from.

The Focus of Shopify
Shopify is a platform designed to provide an easy way for businesses to sell their products online. This is where its focus lies, so if you're looking for a platform that provides tools for handling customer service or managing your inventory, Shopify might not be the best option. 
Amazon has those other functions as well as selling products online. For example, if you sell a product on Amazon and don't have enough inventory in stock, Amazon will automatically source it from third-party sellers or one of its warehouses. You can also use Amazon's fulfillment services to take care of shipping and returns for you.
Shopify vs Amazon
There are many things to consider when deciding whether to sell on Amazon or Shopify. Let's look at some of the key differences between these two well-known eCommerce platforms.
Ease of Use
Both Amazon and Shopify are easy to use, but when it comes to making an account, setting up your products, and managing your own online store, Shopify is the easier option.
On Amazon, you have to set up your account for your company to be listed in the online marketplace. With Shopify, all you have to do is create your company account and never worry about updating your profile again!
Selling on Shopify means you have a platform that's easy to use and comes with an endless selection of apps so you can sell your products in many formats.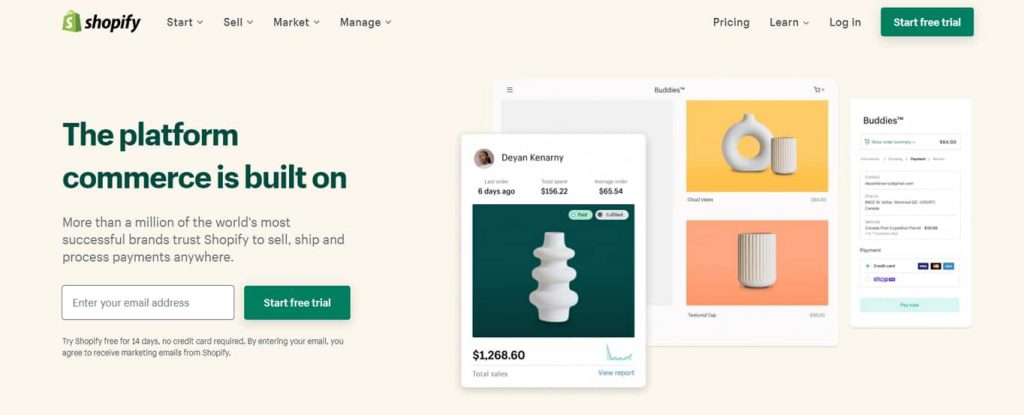 Pricing
If you sell expensive, high-quality products, Amazon is likely more lucrative for you because they offer higher commissions on their items sold.
Suppose you're selling lower-priced items or more affordable packages with many different options for buyers. In that case, sites like Basic Shopify may be better for you as there is no fee for listing products or managing a store. You can charge whatever price points you want without worrying about an extra commission fee per sale.
Advertising Space
Shopify does not allow ads and eCommerce tools on-site, whereas Amazon does provide advertising space if you want to advertise your own store on their eCommerce platform. If you wish to place ads on both sites or just one site, depending on what kind of eCommerce business you have, this should factor into your decision process.
Online Sellers
Amazon has more than 3 million sellers on its site, so you're not alone! Shopify only has around 100,000 sellers, which means there is less competition for your products.
DID YOU KNOW: Amazon accounts for nearly 50 percent of all eCommerce sales in the US?
Processing Fees
Both sites offer multiple payment gateway options to help you sell online. With Amazon, payments are accepted through direct bank accounts or merchant accounts. You can also withdraw funds into a checking account from your Amazon Seller Account or opt to receive payments via an ACH transfer every two weeks. Take note, Amazon Professional accounts may be charged for referral fees and transaction fees.
This is great if you want quick access to your money! But be aware that some banks charge transaction fees for wire transfers, and others may ask you to pay the interest yourself if it isn't paid off in time, which could be pretty costly.
Shopify payments use credit and debit card processing EWAY and Stripe. The fee schedule is $0.30 + 2.9% of each transaction, which will help keep costs down while still getting paid for your sales quickly and easily!
Types of Products on Amazon
While Amazon does have a wide variety of products, the products are primarily big-ticket items. They sell everything from books to kitchen appliances to clothing. In contrast, Shopify is more for smaller businesses that offer a variety of products and want to sell them online.
Types of Products on Shopify
The Shopify store is more limited than Amazon regarding what you can sell. Amazon is open to all types of products, whereas, on Shopify, you're limited to things like clothing or digital goods. Amazon has many different categories like books, electronics, and home & kitchen.
How Do They Set Up Their Online Stores?
Amazon and Shopify each have their way of setting up an online store. On Amazon, the storefront will be on the right-hand side of the screen as you scroll down.
In some cases, this can make it difficult to search for a specific product because you will have to make your way back to the homepage if you want to find a particular product.
Shopify is different because they have a grid-based layout that makes it easy to find products. They also have a wide variety of templates that can be customized to suit your brand's needs.
Key Differences of Amazon and Shopify
Accessibility
Amazon is more accessible than Shopify for shoppers because it has more products and more promotions.
Marketing
Amazon FBA does not offer any marketing tools to sellers, but Shopify does, which means you can work with the company to develop a marketing strategy and execute it.
Storage
Amazon will charge you for storing your products when they're not in use, whereas Shopify offers unlimited storage at no additional cost.
Fees
Aside from seller fees, which are the same on both platforms, Amazon charges an annual fee for accounts with high sales volume (anything over $10 million). Shopify does not charge such selling fees.
Support
Amazon FBA has a 24/7 customer service line that is free to call for any customer-related issues or questions; however, on Shopify, most customer service issues must be handled via email, and responses can take up to 24 hours. 
Factors To Consider
Shipping Costs
Selling on Amazon can be more expensive because you have to ship your product to them. When you sell on Shopify, the customer orders it, and the company ships it out for you.
Return Policies
When you sell on Amazon, you can only offer a return by mail. If you want to offer a return on Shopify, you can do so through the app.
DID YOU KNOW: Amazon may owe you money with FBA reimbursement?
Advertising
One of the first things you might notice about Shopify and Amazon is how they advertise to consumers.
Amazon offers a variety of advertising opportunities, like sponsored product ads and keyword-targeted ads. With these options, you can reach a broad audience or hone in on specific groups of people interested in similar products as yours.
Shopify offers something called "Shopify Sponsored Products" that lets you promote your product to people browsing other stores on Shopify. The idea is that if someone visits one store and sees your product, they might come back to your store to buy it. This is an excellent option for Shopify sellers because it helps them notice other shoppers.
Marketplace vs Ecommerce
Amazon is an online marketplace, which means it is one of many stores that sell products on Amazon. This makes it more difficult to stand out among products like books and other goods available for sale.
On Shopify, you can set up your store where people can visit to purchase your specific brand or product line. You also have the benefit of knowing that when someone shops at your store, they are buying from you instead of another third-party company selling through Amazon.
Amazon mainly works with an individual seller, whereas Shopify offers business accounts for businesses interested in selling online or expanding their eCommerce site into multiple countries.
Shopify works great for smaller established companies because there are already plenty of products available on Amazon. Shopify offers a one-stop-shop for all of their eCommerce needs for these companies.
Amazon is great for consumers because they have so many products and options available through the platform. On Shopify, you can choose to sell your products on other platforms, which only makes the overall shopping experience easier and better for consumers.
Selling on Shopify and Amazon both come with unique pros and cons. However, what works best depends on your business size and personal preferences.
Amazon vs Shopify: Final Thoughts
When starting with eCommerce, it cannot be easy to know which platform is right for your business. The 5 key differences outlined above can help you determine the best option for your company and customers.
*Editor's Note: This post was written by our friends at BlueTuskr, a full service marketing company for brands ready to accelerate their online growth.