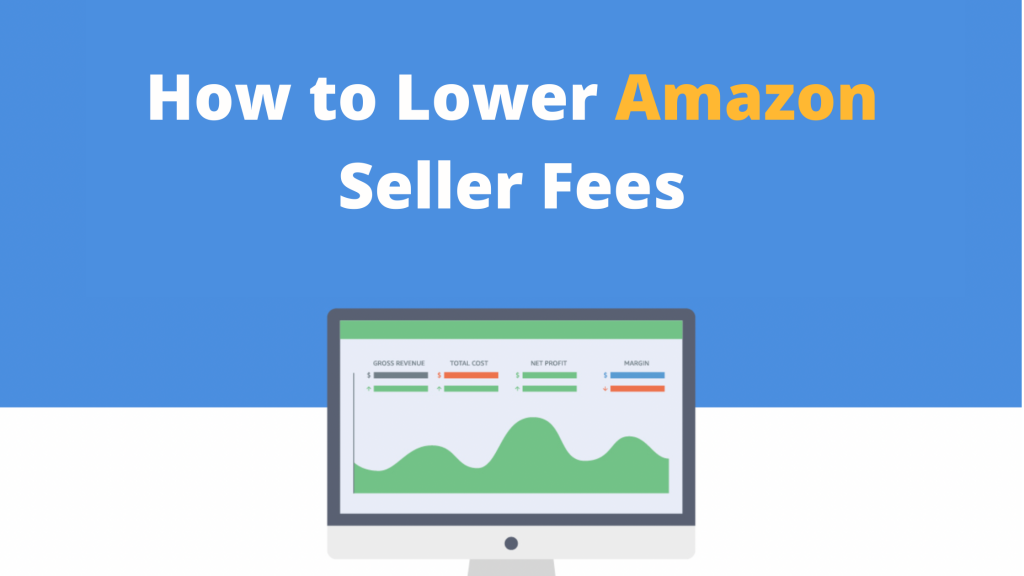 When it comes to selling on Amazon, fees are one of the many business expenses that Amazon sellers must endure. These fees are worth paying for most sellers as they grant access to the biggest online marketplace in the United States and one of the world's most efficient fulfillment networks as well. But even with these perks, sellers are always looking for ways to lower Amazon seller fees.
Unfortunately, most of these fees are set by Amazon and can not be lowered. There are a couple of exceptions to this rule though, and also some tips to consider when calculating and factoring Amazon seller fees into your cost of doing business.
This short guide will cover what these fees are and how you can lower Amazon seller fees in 2022.

What are Amazon seller fees?
Amazon seller fees describe the various charges that go into selling on Amazon. For example, say that you produce handbags for $10 each and sell them for $30 each. Without any seller fees, your net profit on every handbag sold would be $20. But if you have ever sold anything online before, you know that transactions are not that simple.
For starters, there are shipping fees, whether you are shipping directly to the customer via Fulfilled by Merchant (FBM) or to an Amazon fulfillment center to have your products Fulfilled by Amazon (FBA). There are also multiple fees that are incurred on every sale as well as overall fees for using Amazon's marketplace and warehouses. These fees must all be accounted for when determining your business's profitability.
What are some examples of Amazon seller fees?
Here is a breakdown of the various seller fees that Amazon sellers are required to pay. Understanding how these fees work can help you to avoid some of the most expensive mistakes on Amazon.
Selling Plan
There are two options when it comes to selling plans on Amazon – the Individual plan and the Professional plan. The Individual plan gives you limited access to Amazon's seller resources for free while charging you a flat rate of $0.99 per item sold. The Professional plan gives you full access to Amazon's seller services and costs $39.99 per month. It also eliminates the $0.99 per item fee that comes with the Individual plan.
Referral Fees
In exchange for having access to millions of customers around the world by selling on Amazon's online marketplace, sellers are required to pay a referral fee on every item they sell. This fee is a set percentage of the total price of the sale including the item price, shipping price, and option gift-wrapping charges. 
Referral fees vary by category. The most standard referral fee is 15% of the total price of the sale or a minimum of $0.30. You can check the referral fees for your categories on Amazon.
Fulfillment Fees
Sellers that use the Fulfillment By Amazon service are required to pay fulfillment fees that cover packing, handling, and shipping your orders, customer service, and product returns. These fees are based on the weight and dimensions of your products, with larger and heavier items incurring higher fees.
If you choose to fulfill your own orders using Fulfillment by Merchant, you will receive shipping credits based on the category you are selling in and the shipping services selected by the customer. You are required to fulfill these purchases using the proper shipping methods even if the cost of shipping ends up being higher than the shipping rate credit you receive. 
Read: The Pros and Cons of FBA v. FBM
Inventory Fees
Monthly inventory storage fees are charged to sellers that store inventory in Amazon's fulfillment centers for FBA sales. These fees are based on the size and weight of your products. Other potential inventory fees include product removal fees and long-term storage fees.
Refund Administration Fees
If you refund an order for which you have already received payment, Amazon will refund you the sale price and the referral fee. You will be charged a refund administration fee as well however which is the lesser of 20% of the referral fee or $5.00.
How to Lower Amazon Seller Fees in 2022
Now that we've reviewed the various fees, let's talk about what you can do next to lower Amazon seller fees. Here are 5 ways you can lower Amazon seller fees today.
1) Sign up for a Professional seller account.
Some sellers that want to try selling on Amazon out on a small scale opt for an Individual seller account instead of a Professional seller account. This makes sense if you sell under 40 items a month, but most sellers will sell far more than just 40 units each month. Make sure that you don't forget to sign up for a Professional seller account before you sell 40 items in a month to avoid the unnecessary $0.99 per item fee that comes with having an Individual account.
2) Cut down on your shipping costs or find a new source.
Unfortunately, sellers don't have any control over the shipping charges that are required to send your products in to Amazon's warehouses or to have your products shipped directly to the customer. You can, however, save money on your own shipping and packaging costs to increase your profit margins.
Another way is to find a new source of products. Though most Amazon sellers use China, India offers unique positives for sellers.
Related: 10 tips for great communication with Chinese suppliers.
3) Consider storage fees when sending in inventory.
Amazon charges monthly inventory storage fees on all of its products. Standard-size items incur a storage fee of $0.75 per cubic foot from January through September and $2.40 per cubic foot from October through December. Oversize products cost $0.48 per cubic foot from January through September and $1.20 per cubic foot from October through December. Dangerous goods are even more expensive to store, and long-term storage fees are incurred on products that spend more than 365 days in an Amazon warehouse.
Stocking products is a delicate science. Not stocking enough inventory can result in lost sales due to your product being sold out while stocking too much inventory can result in unnecessary storage fees. Work to fine-tune your stocking strategies as quickly as possible to avoid these issues, and consider using Fulfilled by Merchant for certain products when it makes sense to do so.

4) Double check your fee charges.
Amazon is a fairly well-oiled machine when it comes to logistics, but with so many millions of different transactions, products, and sellers in the mix on a daily basis, mistakes are made. Some examples of common mistakes include:
Not being properly compensated for a product damaged in the warehouse.

Being overcharged on referral fee by a product listed in an incorrect category.

Being overcharged on storage fees due to incorrect dimension measurements.
Fortunately, Amazon's customer service team is excellent at correcting and reimbursing you for these types of mistakes when you catch them and bring them to their attention. But doing so requires plenty of due diligence on your part to go over your numbers at least a few times a month to make sure that there aren't any discrepancies. 
Read: Strategies to Contact Amazon Seller Support.
5) Make more informed decisions with a profit & accounting tool.
Keeping track of every single fee on every single transaction can be quite overwhelming. It can also be difficult to keep track of how all of these fees affect your bottom line, especially during busy seasons. This is where a great profit and loss tool can come into play.
You might at first think, "Well, I've got an inventory management system and it has a profit and loss tool. That should do the job."
The problem is it doesn't. Typically these inventory management apps lack a reconciliation feature as well as a balance sheet, two key elements of any accounting system. Whether your Amazon business brings in more than $1 million or less than $100,000 in sales, you need top-notch accounting systems that provide profit and loss reports.
Enter Amazon accounting software.
Amazon accounting software is especially designed to support full management of your Amazon orders, fees, PPC (Pay per Click), COGS (Cost of Goods Sold), and other expenses. An Amazon accounting tool provides you with full visibility into the product insights and data you need to: 
Boost sales and profits

Reduce Amazon fees

Easily assess trends 

Quickly identify slow moving inventory

Save time in running your business more efficiently

Sell more

Improve profitability

Track and Lower Your Amazon Seller Fees With FeedbackWhiz
Keeping track of every element of your business without the help of a third-party service can be overwhelming. With the help of FeedbackWhiz's Profits and Accounting Tool, you will always have easy access to all of the costs and profits associated with your business so that you can easily weigh your sales figures against costs like Amazon seller fees, advertising, and shipping.
Knowing exactly how profitable each of your products is after factoring in all of these new fees rolling out in 2022 can help you weather the storm and make adjustments to your product line and fulfillment methods where necessary.
Take advantage of FeedbackWhiz's offer of a 30-day free trial to try the Profits and Accounting Tool for yourself, as well as FeedbackWhiz's other useful Amazon seller tools including feedback management, 24/7 listing and product monitoring, email automation and review management tools.
Looking to lower Amazon seller fees yourself? Why not get started with a free tool! Sign up today for a free 30 day trial and and try out FeedbackWhiz's Profits and Accounting tool.
Download our guide below to learn more about Amazon seller P&L tools.
*Editor's Note: This article on how to lower Amazon seller fees was originally published on January 21, 2021. It was updated on January 4, 2022.