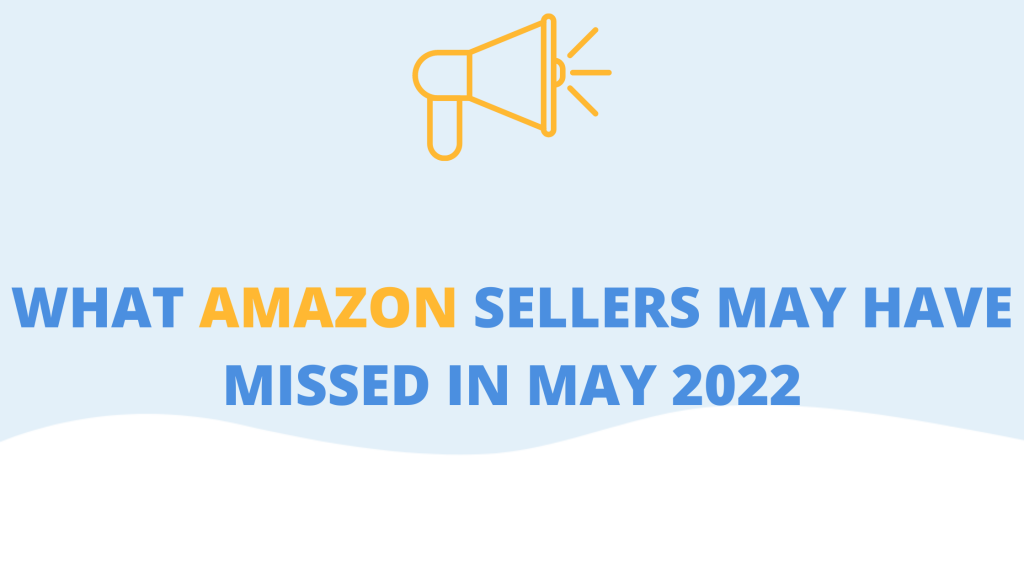 June is an important month for Amazon sellers as it marks the final month of the second quarter and it gives sellers the chance to make their preparations for Prime Day, which will be taking place in July. If you've been too busy to keep track of all of the top news going on in the e-commerce world, we've got you covered with the top stories that Amazon sellers may have missed in May of 2022.
Related: Here's what you may have missed in April 2022.
Amazon and eCommerce News and Statistics from May 2022
Amazon Briefing: One year into Andy Jassy's tenure, sellers see subtle strategic shifts
Andy Jassy took over the role of CEO at Amazon last July. What changes have been made, and how have these changes affected Amazon sellers? This Modern Retail article breaks down some of the strategic shifts that Amazon has made with Jassy in the CEO seat. 
Lady Gaga's Beauty Brand Gives Up on Amazon
Lady Gaga launched a cosmetics brand in 2019 called Haus Laboratories that was set to be sold exclusively on Amazon. The brand has decided to rebrand and relaunch at Sephora, and it will no longer be available on the Amazon marketplace. Here's a look at what went wrong and what this means for Amazon as a one-stop shop.
🎶🎶 Rah, rah-ah-ah-ah
Roma, roma-ma
Gaga, no Amazon
Want your Sephora 🎶🎶https://t.co/QSW6hcBUF2

— FeedbackWhiz (@FeedbackWhiz) May 18, 2022
Despite Seller Pushback, Amazon Revises Buyer-Cancellation Process
The Amazon's announcement in February that it would be changing the way sellers received buyer cancellations requests was met with a lot of resistance from sellers. Unfortunately for those sellers who prefered the old way, Amazon rolled out its new buyer-cancellation process last month. You can read more about this process at Ecommercebytes.
Amazon Stops Hiding Its Private Label Brands
While Amazon's "Amazon Basics" line has always been transparent about being an Amazon owned and operated brand, Amazon's involvement in other private label products owned by the company have not always been clear to consumers. This is changing as Amazon has started to label certain product pages with an "Amazon brand" or "Exclusive to Amazon" badge.
Can Walmart Finally Take on Amazon Prime Day?
This year, Walmart is introducing a new sales event called "Walmart+ Weekend". This event will be Walmart's answer to Amazon's Prime Day, offering paying members with exclusive deals while also using celebrities to perform and promote the sale. It will be interesting to see how much success Walmart has with this new event, which is scheduled a month before Prime Day taking place in June.
US E-Commerce Nears $1 Trillion
E-commerce in the United States has nearly doubled over the last three years. With $975 billion being spent over the past month by consumers online, it looks as though e-commerce in the United States is only months away from hitting the remarkable $1 trillion mark.
The Data Point: 61% of Online Sellers Increased Marketplace Usage in the Past Year
Amazon sellers have been steadily moving into other marketplaces over the last year. With alternatives to Amazon such as Shopify, eBay and Walmart at the disposal of sellers, sticking to just one online marketplace is becoming a less attractive option.

Amazon Seller Tips from May 2022
How to Avoid an Amazon Account Suspension When Requesting Product Reviews
Requesting product reviews is an important part of doing business on Amazon as it will help you to generate more feedback on your products. But if you aren't following Amazon's Terms of Service when requesting product reviews, your account could be in jeopardy. This guide breaks down what you need to know to stay within the rules and to avoid having your account suspended.
The Amazon Seller Podcast Private Label Show
Whether you are just getting started in the private label game or have been selling private label products for decades, chances are you'll still find some useful information from the Amazon Seller Podcast Private Label Show. Each episode has a title and description that will allow you to navigate to the shows you are most interested in listening to.
What Are Amazon Seller Feedback Tools?
The importance of product reviews and seller feedback on Amazon can not be overstated. Using third-part tools to generate more product reviews and to manage the ones that you receive is a great way to build and maintain your brand on the platform. This article breaks down some Amazon Seller feedback tools and what makes them so useful.

3 Reasons Why Amazon Listing Monitoring is Critical For Your Business
There are a number of issues that can arise on your Amazon listings on any given day, from something nefarious like listing hijackers adding fake information or reviews to losing out on sales when another seller takes over the buy box. This article goes over what Amazon Listing Monitoring does and how it can help keep your listings on Amazon in good standing.