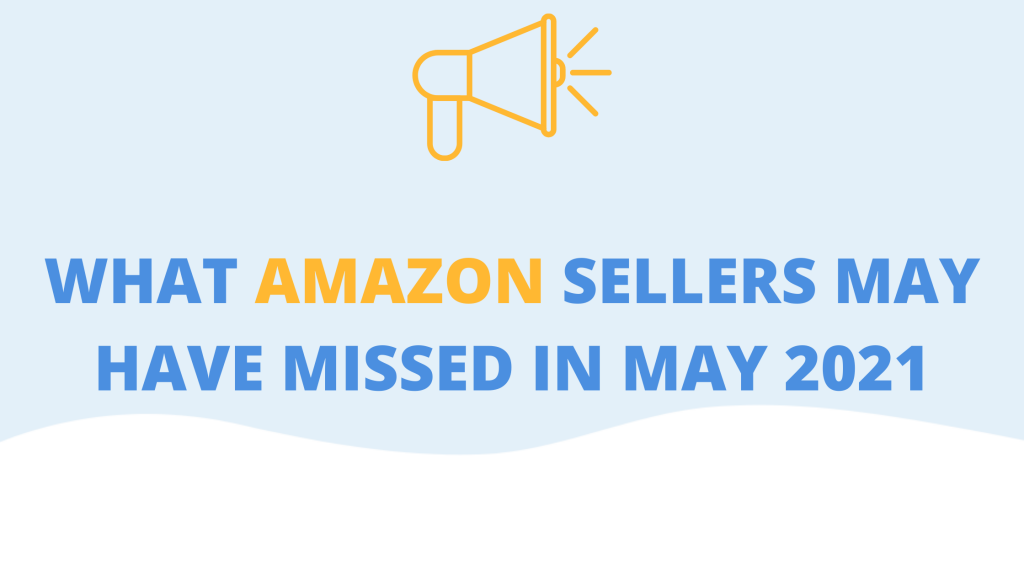 With May coming to a close, Amazon's Prime Day 2021 is officially right around the corner. This month's roundup covers everything you need to know about the upcoming Prime Day as well as some other interesting facts and news tailored specifically to Amazon sellers.
Related: Here's what you may have missed in April 2021.
Amazon Articles in May You Need to See From Around the Web
When Is Amazon Prime Day 2021?
After months of anticipation, sellers finally have a date for Amazon Prime Day. The event will run for 48 hours starting on June 21 and going through the end of June 22. For more details on the event, check out this breakdown from the New York Times.
Amazon Opens Doors to Sellers From Nearly 100 More Countries
Amazon has nearly doubled the number of countries eligible to sell on its platform now. Sellers in 85 new countries join the 103 countries that were already allowed to sell on Amazon. This expansion should only help Amazon continue to grow into a larger retail superpower around the world.
Amazon Suspends Amazon-Native Brands Mpow and Aukey
Amazon has suspended over a dozen sellers located in China for participating in fake review schemes. This move illustrates how serious Amazon is about keeping its product reviews legitimate and how sellers should always make sure to generate product reviews in legal ways as opposed to attempting to game the system.
Amazon to Retire Prime Now, Allow 2-Hour Deliveries On Main App
Prime Now launched in 2014 and has been a popular app among Amazon shoppers who used the service to receive two-hour same-day deliveries. With Amazon striving to offer these types of deliveries directly from its main marketplace, the Prime Now app will be retired in favor of driving more traffic to the Main Amazon app.
Amazon Says Get that HTML Out of Our Catalog
After July 17, 2021, Amazon will no longer support HTML in product descriptions. Amazon sellers should check all of their product listings for HTML code before July 17 to ensure that there will be no formatting issues on their pages when the switch is made. The move is being made to increase security and make pages easier to read on devices that do not support HTML.
Snap, Amazon Appellate Rulings Pave New Paths to Tech Liability
A recent lawsuit against Snap involving the suicide of a teen that was the victim of cyberbullying on its platform has raised new questions about the liability businesses have over the actions that take place on their platforms. This is an interesting piece that ties in to Amazon's own liability lawsuit on its responsibilities for the products that third-party sellers sell.
Staying Compliant with Amazon's Request a Review Button
Amazon's terms of service are always being updated, and keeping track of what the latest rules and regulations are can be difficult. This guide from our friends at Black Label Advisor breaks down how Amazon's request a review button works, what its strengths and weaknesses are, and how to make sure your product review requests are compliant with Amazon's guidelines.
And Some Valuable Amazon Information From FeedbackWhiz in May
Amazon Prime Day Prep 2021: The Complete Guide
Prime Day is officially just weeks away. Regardless of how much or how little you've prepared to this point, there are still plenty of actions that you can take to increase your sales and success on Prime Day 2021. Our Complete Prime Day Prep Guide covers everything you need to know from now until after Prime Day is over.
7 Quick Tips For Amazon Sellers Before Prime Day
Don't have time for a deep dive into Prime Day prep right now? Bookmark that guide for later and check out these seven quick tips that all Amazon Sellers should know to get you in the right mindset for June's big sales event.
eComWhiz Podcast: The Inconvenient Facts About Influencer Marketing with Norm Farrar
Using influencers to market your products may seem like a good idea given the popularity of social media personalities and their large outreaches. But there's a lot that goes into what makes an influencer a good or bad fit for your business and products. Our recent podcast covered everything you need to know about how influencer marketing works and what you should know before trying it out on your Amazon business. Have a listen below.