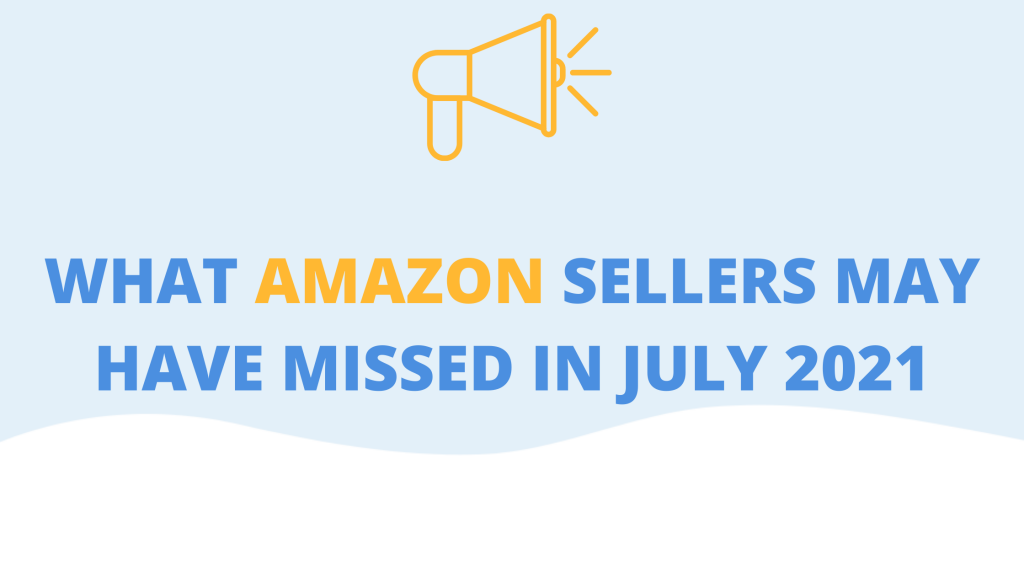 It's hard to believe as we turn our calendars to August that the fourth quarter is suddenly just a few months away. As 2021 continues to zoom by, you may have missed some of the interesting articles that were published in July. We've curated a list of topics that Amazon sellers should check out that include some projections on the future of Amazon, tips for your business and some pieces with a worldwide scope.
Related: Here's what you may have missed in June 2021.
Amazon Future Forecast…..in July
The future of online retail looks a lot like QVC, with live streams of influencers, including dogs, doing the hawking (Washington Post)
Live-streamed shopping events are projected to generate over $10 billion in sales in the United States this year. Companies like Walmart and Amazon are taking notice. What could this mean for the future of online marketing, and more importantly, your digital strategy?
Amazon's possible exit from seller fulfillment may spur competition, raise costs (SPGlobal)
The Ending Platform Monopolies Act is trying to force Amazon to sell its successful "Fulfillment by Amazon" program. If this were to actually happen, what would the ramifications be for third-party sellers? 
I hope it doesn't. If it did though, that would be one of the single largest acquisition events to occur in this century. I would add though that moments of populism in US politics have a way of making anti-trust legislation happen.

— Uzi Ibrahim (@IbrahimUzkar) August 6, 2021
Amazon Disappointed. But Virus Trends Could Stop Sales Slowdown. (Barrons)
Amazon missed its quarterly sales estimates for the first time since 2018, which disappointed shareholders and caused Amazon's stock to drop 7%. But as mask mandates and other restrictions start making a comeback due to the Delta outbreak of the coronavirus, Amazon could be due for another spike in sales.
Amazon Seller Software FeedbackWhiz to Expand its Service Portfolio (PRNewswire)
FeedbackWhiz is pleased to announce a key expansion of its service with the formal launch of integrating its software into 8 new international Amazon marketplaces. The advanced automation and management software has been designed specifically for Amazon sellers to help them increase profits and reviews across all 20 Amazon marketplaces. Read more on Yahoo! Finance.
Top help you get started – or sell even more! – in new Amazon marketplaces, we've compiled a series of spotlights designed to educate you on the size and history of some of the world's biggest marketplaces and to walk you through the process of getting started in selling in these markets. Follow the links below to learn more about selling in America, Europe, and Asia-Pacific.
These are the top global eCommerce markets (emarketer)
Did you know that Asia-Pacific is the largest market for retail economics by a wide margin? With digital sales of just under $3 trillion in 2021, this year's sales in Asia-Pacific are expected to be three times higher than those in the United States. Learn more about the biggest markets around the world here from this July emarketer article.
Amazon Sellers Can Now Hire Chatbot-Trained VAs From VAA Philippines for Better Customer Engagement & More Reviews (PRNewswire)
VAA Philippines has emerged as one of the only company in the world currently specializing in virtual assistant services specifically for Amazon sellers. Would a chatbot make sense for your Amazon business and brand? Learn more about this artificial intelligence device in this article.
Tips For Your Amazon Business
Eshopbox launches smart connect with Amazon Prime to enable faster deliveries
Eshopbox is offering third-party sellers an alternative to storing their products in Amazon's warehouse. Products stored with Eshopbox can now be shipped with Prime, but with some benefits over the FBA warehouses including no stock limits and stock being available for other third-party fulfillment platforms as well. You can read more about the service in this July article.
3 Easy Ways to Maximize Amazon Profits (GetIda)
Great sellers are always on the lookout for new ways to maximize their profits on Amazon. Here's a breakdown of three helpful techniques that you can use to do so.
How to Value Your Amazon FBA Business
You may be able to recite your business's gross sales or profit numbers, but do you know how much your Amazon business is actually worth? And what factors go into deciding this? An interesting read for both small and big Amazon businesses alike.
How to Start Selling in Amazon Gated Categories
Have you ever considered branching into a new category but decided against it due to Amazon's gated categories policy? In many cases, unlocking a gated category is not too difficult, especially if you already have a pre-existing presence in that category. Check out this helpful guide for more details.