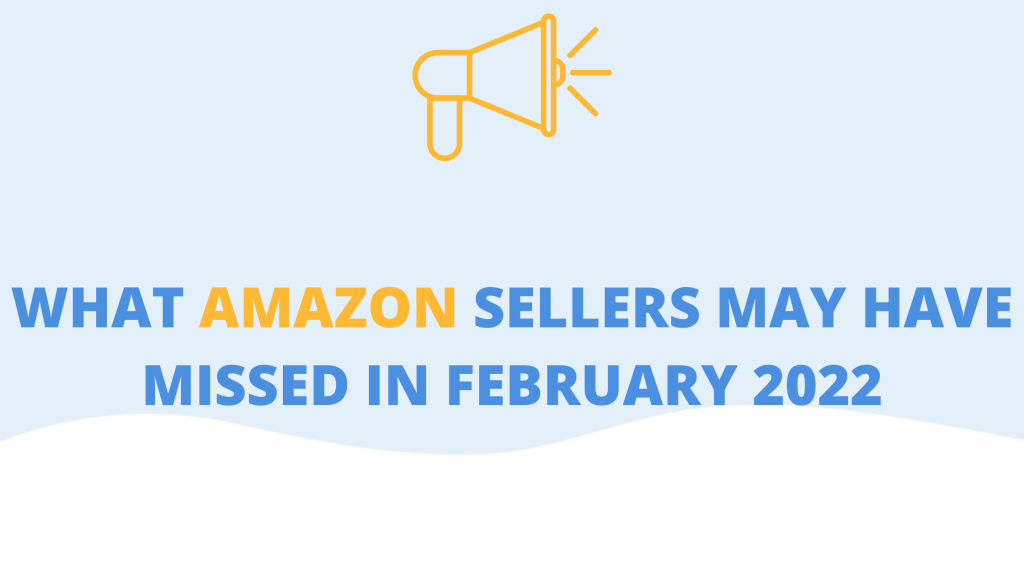 Even with COVID-19 cases on the decline, supply chain issues have continued to be a problem for many Amazon sellers. Whether your business has been dramatically affected by these issues or has managed to continue to run smoothly, we know that you've still got your hands full as we move deeper into the new year. We've got you covered with this curated list of Amazon seller related articles that you may have missed in February of 2022.
Related: Here's what you may have missed in January 2022.
February 2022 Amazon News and Updates
Missing Profits: 93% of Amazon Sellers Lost Revenue From Supply Chain Disruptions
Many Amazon sellers enjoyed success selling on the platform in 2021. But that success was often hindered by global supply chain issues. This Modern Shipper article breaks down some key statistics from sellers polled about these negative affects.
Amazon Sues Two Companies That Allegedly Help Fill the Site With Fake Reviews
Keeping reviews authentic and trustworthy has always been a major point of emphasis for Amazon. With that in mind, it shouldn't come as a surprise to see the company fighting back against propagators of fake reviews. CNBC reports on Amazon's legal action against two popular fake review generating sites.

Third-Party Markets See Opening Against Amazon
Amazon is the king of the e-commerce world, and that isn't likely to change anytime soon. But other online retailers aren't giving up without a fight, and many third-party sellers are finding viable alternatives to selling on Amazon elsewhere. Even if you intend to continue to sell on Amazon, it is still worth looking into other options for potential growth.
Amazon Offers Sellers New Discounts on Shipping
Amazon sellers are always looking for ways to save on shipping fees, and Amazon's Buy Shipping program is giving them the chance to do that with discounts available on shipping labels. The program isn't perfect though as there is still some confusion around which shipments these discounts apply to. Ecommercebytes takes a closer look at the program in this article.
Information About Upcoming Changes to Buyer-Initiated Order Cancelations
Sellers have complained for years that Amazon's current order cancellation process makes it too easy for sellers to miss these cancellations in their Buyer-Seller messaging tool. In April, Amazon will look to make this process more efficient for sellers with changes including banner alerts for cancellations on the Manage order page.
Amazon has a good track record of customer service for sellers, who can contact the help team via email, chat or phone. Sellers will now have another way of getting help from customer service with Amazon's new Amazon Seller Help account on Twitter.
Thank you, @FeedbackWhiz 😀 – Stoney

— Amazon Seller Help (@amznsellerhelp) March 3, 2022
Amazon Seller Tips and Strategies from February 2022
What is Amazon Automation? (And Why You Should Care)
A lot goes into running a business and selling products on Amazon. Any improvements to efficiency can lead to more time freed up to generate profits in other areas. This guide covers how automation on Amazon can help take your business to the next level.
3 Amazon Seller and FBA Tools to Help You Scale in 2022
Fortunately for third party-sellers on Amazon, there are plenty of great tools out there that can help you do things like generate and manage your product reviews, analyze in-depth reports of your profits and losses and protect your brand against competitors. This Payability article takes a closer look at three of these tools and how they can help your business.
Explaining the Difference between Amazon ACoS, TACoS, and ROAS
Optimizing ad spending is one of the top priorities for many Amazon sellers as advertising is such an important aspect of selling on the marketplace. If you are unfamiliar with these metrics that measure the return of investment on advertising, this guide will walk you through each of them and let you know when they are applicable.

*Editor's note: The above article was edited in February 2022. 

Amazon University Adds Courses on Selling Restricted Products
Gaining access to restricted categories or products can make a huge difference for Amazon sellers looking to sell in a specific niche. Amazon's Seller University has added courses on the process required to unlock products and categories in which you may or may not be gated.
How to Prepare Your Amazon Exit Strategy (Even If You're Not Ready to Sell)
Whether you are just starting your Amazon journey or are close to selling your business and moving on to something else, this guide should have something for you. It breaks down what makes your Amazon store valuable and what aggregators are looking for when they buy third-party Amazon businesses.
The 6 Fastest Growing Amazon Product Categories Right Now
Not sure what category to sell in? This helpful feature takes a look at six of the fastest growing Amazon product categories, with details and statistics on what makes these particular categories so popular.