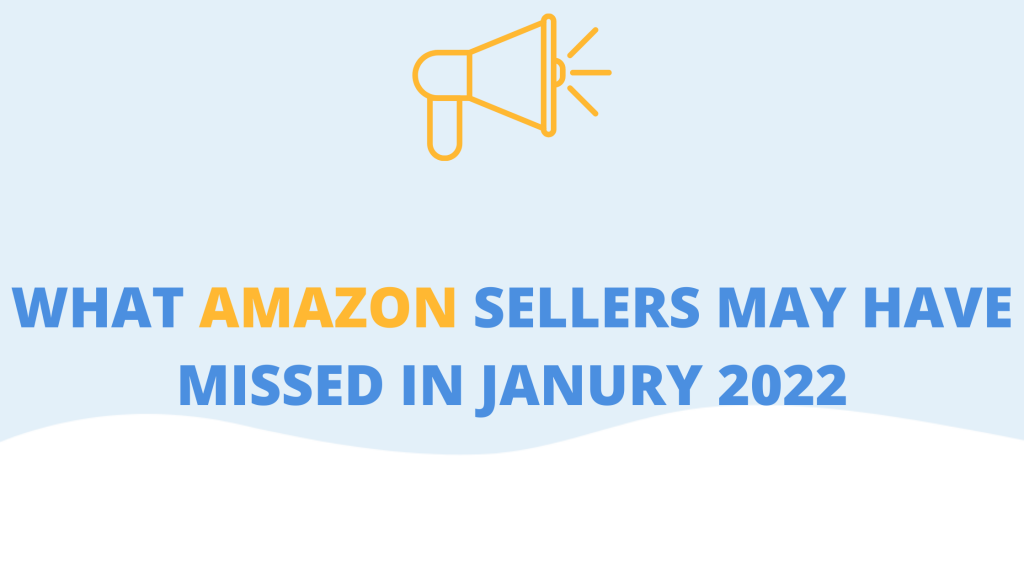 Amazon sellers have finally turned their attention to 2022 with the fourth quarter of 2021 and its aftermath coming to a close in January. As supply chain issues and the Omicron variant of COVID-19 continue to serve as obstacles to Amazon sellers, it's understandable to get behind on the latest Amazon news. We've got you covered with a curated list of the top stories that Amazon sellers may have missed in January.
Related: Here's what you may have missed in December 2021.
Top Amazon Stories From January 2022 With Complementary FeedbackWhiz Insights
Amazon to Expand Account Phone Support to Pro Sellers
Issues with IPI and account health are extremely stressful to sellers, and trying to find solutions through Amazon FAQs or customer service chat and email can be frustrating. Fortunately for professional sellers, Amazon has rolled out a Call-Me-Now option for sellers who want to discuss their account's status with a customer service agent. This article gives more details on the program.
Sellers React to Amazon's On-Demand Expanded Phone Support to Pro Sellers
As mentioned above, the lack of reliable seller support by phone has been a hot topic among Amazon sellers. This change has also sparked plenty of commentary, ranging from serious responses to humorous ones. FeedbackWhiz has compiled some of the most useful and entertaining responses here.
Now Amazon can tell you that your account is suspended for no reason, seven days a week! https://t.co/SeYuQ5ql8T

— Zachary Brandt (@BrandtZach_) January 17, 2022
When's the Right Time to Sell Your Amazon or eCommerce Business?
On the topic of Amazon businesses being sold, our friends at Singapore aggregator Rainforest recently went in depth on when to know it's the right time to sell your Amazon or eCommerce Business. Whether you are considering selling today or are just wondering what to look out for in the future, this should be a useful read for most eCommerce business owners.
Thousands of Amazon sellers using Twitter to gain fake or incentivised reviews
As long as Amazon review continue to carry weight and importance in the marketplace, there will always be Amazon sellers looking for shortcuts to gain more positive reviews on their listings. This story covers a growing trend among sellers using Facebook and Twitter to incentivize positive reviews despite this being in direct violation of Amazon's TOS. 
Protect and Monitor Your Amazon Listings With Hijacker Alerts
Amazon sellers that resort to illegal tactics to generate positive reviews on their own product listings have also been known to use similar tactics to create fake negative reviews for their competitors. FeedbackWhiz's 24/7 Hijacker Alerts can help protect you from a flood of negative reviews and other nefarious methods that competitors may try to use to sabotage your listings.
Amazon Marketplace Owners Can Now Be Bought Out in Crypto
Whether you like it or not, cryptocurrency seems to be here to stay. And now thanks to Elevate Brands, Amazon sellers approached about selling their business can receive their payout in cash or crypto. CoinDesk has more on this story along with comments from Elevate Brands CEO Ryan Gnesin.
Other Amazon Related News and Information from January 2022
Amazon Take On Visa Over Fees All Retailers Set To Benefit If They Win
VISA has leveraged its popularity among consumers to dramatically increase prices and fees on retailers. Amazon and other major retailers are looking for ways to fight back against the rising costs of these fees, and the fallout of this battle will have long-term ramifications for both the retail companies and credit card companies involved.
Amazon must pay $2M and end program after price-fixing investigation by Washington AG
The attorney general of Washington found Amazon guilty of artificially increasing the prices on third-party seller listings through the now suspended "Sold By Amazon" sales program to increase sales on their own brands. Amazon has accepted this penalty and has agreed not to reactivate this program in any form in the future.
Amazon Singapore launches new shipping solutions for sellers
Amazon Singapore is beginning to roll out shipping solutions that are designed to lower the costs of shipping on Merchant fulfilled items by supplying shipping labels and negotiating contracts with local shipping companies. You can learn more about the "Amazon Easy Ship" program in this Singapore Business article.
U.S. Retail Spending, Manufacturing Drop as Omicron and Inflation Surge
The Wall Street Journal reports that sales at retail stores, online and restaurants dropped by 1.9% in December, and that there was also a decrease in manufacturing output for the first time since September. These drops towards the end of the holiday season were likely caused by inflation and the Omicron variant of COVID-19.
What is Cost of Goods Sold (COGS) and Why Does it Matter?
Amazon sellers have many different sales metrics and statistics at their disposal to help them analyze the success and profitability of their businesses. One of these metrics is Cost of Goods Sold (COGS); FeedbackWhiz explains what this metric means and why it is one you should pay attention to.
Wanna get all the latest and greatest news and selling tips delivered directly to your inbox? Simply subscribe to our newsletter by submitting your email below!