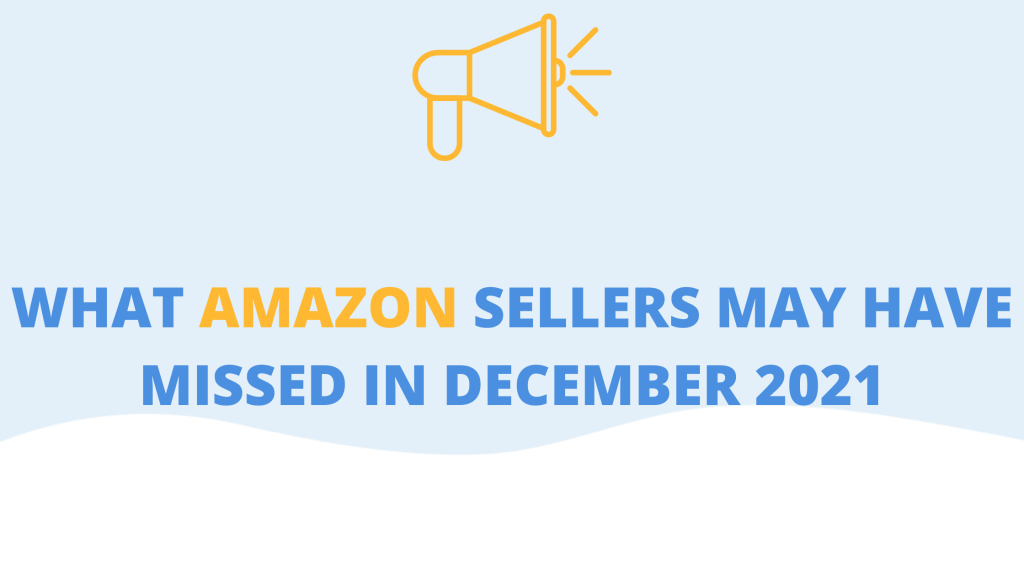 December tends to be one of the busiest months of the year for many Amazon sellers. Sellers who put in the work and preparation in the months leading up to the last month of the fourth quarter earn the fruits of their labor in December, all while still making sure products are in stock and monitoring their listings. Not to mention making time for family and friends during the holidays. We understand that you may have missed some of these interesting Amazon-related stories last month, so we've rounded them up for you here.
Related: Here's what you may have missed in November 2021.
Top Articles from December For Amazon Sellers
Marketplaces Year in Review 2021
Marketplace Pulse has provided an incredible, in-depth breakdown of everything that happened in 2021 and what we learned from it. This feature goes in depth with statistics and information on topics including Amazon's growth, third-party sellers, Shopify emerging as a contender, and what to look for in the future. This is a must-read.
8 Ways to Use Amazon Brand Registry to Increase Sales – FeedbackWhiz
Amazon's Brand Registry has been around long enough now that most independent brands who sell on Amazon have already registered with it. But are you getting the most out of this robust program? This list of eight ways to increase sales using the Amazon Brand Registry should have something useful for everyone selling their brand on Amazon.
Know What You Can Export From India To Rule The Global Market!
The majority of Amazon sellers in America source and manufacture their products locally or through manufacturers in China. These are both obviously viable options; but there are other options out there as well. Exporting from India offers many unique and profitable opportunities, and this article covers some of the advantages of Indian exports.
View this post on Instagram
How to Edit My Amazon Negative Reviews – FeedbackWhiz
Buyers have the option of editing their reviews should their opinion on a product (or the customer service they receive) change. Sellers can't edit reviews left on their page, though there are actions they can take. This article covers everything you need to know about dealing with negative reviews.
Amazon Reaches Labor Deal, Giving Workers More Power to Organize
In a major concession by Amazon, the company has reached a settlement to allow its workers to unionize. This is a huge change as Amazon has been notoriously anti-union during its rise into an e-commerce giant. The New York Times covers the details of this major shift here.
How to Tell If eBay, Amazon, and Facebook Marketplace Items Are Stolen
Is the price on an item you are considering purchasing too good to be true? Is the seller acting strangely or completely out of reach? Red flags like this could be indicators that the product being sold has been stolen.
Amazon Captures Over One-third of In-store Shoppers Within a Day, Numerator Reports
Consumers have gotten into the habit of going into brick-and-mortar stores like Walmart and Target to browse and inspect products before eventually price-checking them and potentially buying them on Amazon. Numerator breaks down the numbers behind this practice including what stores and categories it happens most frequently in.
Amazon plans major expansion in Austin, to hire 2,000 workers
Amazon currently has a tech hub of over 3,000 employees located in Austin, Texas. That group is about to expand considerably with over 2,000 new hires coming in the Austin area. This article breaks down what makes Austin so appealing to Amazon and other tech companies.