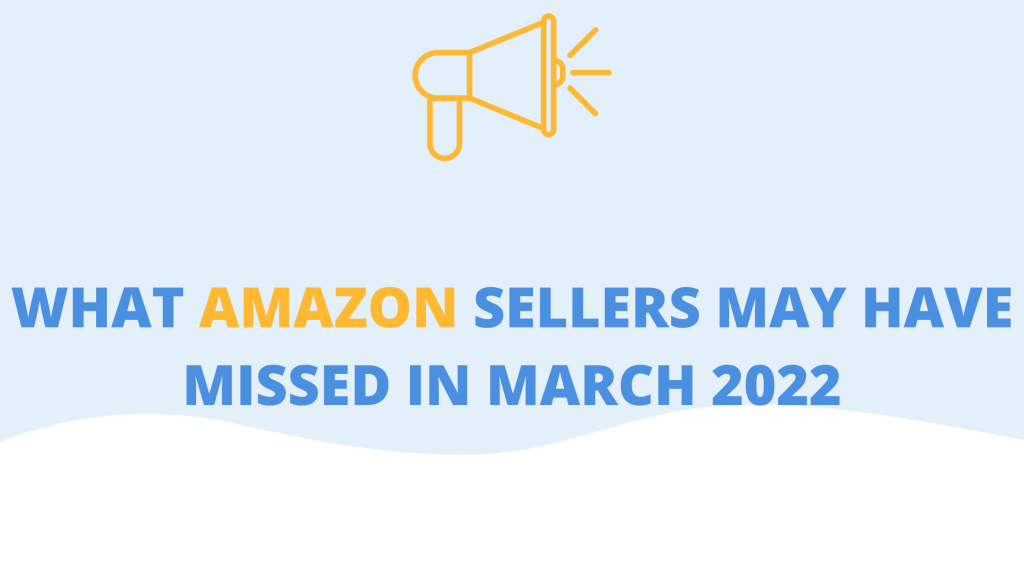 It's hard to believe that the first quarter of 2022 is already in the books as March is in the rear view mirror. Amazon sellers are gearing up for the second quarter and are also already thinking ahead to Prime Day 2022 which historically has taken place in January.
In this month's recap of what Amazon sellers may have missed in March, we've got a good collection of news and statistics from around the web as well as some useful instructional articles that can help you take your Amazon business to the next level.
Related: Here's what you may have missed in February 2022.

Amazon Seller News from March 2022
Amazon Acquires E-Commerce Software Start-Up Veeqo (Verve TImes)
Amazon actually acquired Veeqo back in November but had not publicized the acquisition until last month. Veeqo specializes in helping online business sell products on Amazon and other platforms. Acquiring it should allow Amazon to improve on its already robust and top-tier logistics and infrastructure.
Target Is Not Scaling Its Marketplace (MarketPlace Pulse)
Target's online marketplace currently only has 450 third-party sellers and has continued to stick with an invite-only policy when it comes to adding new sellers. While this policy does give Target quality control over its third-party platform, it also severely hampers the marketplace's growth potential and ability to compete against heavy-hitters like Amazon and Walmart.
Twitter expands e-commerce efforts with launch of mobile storefronts, Twitter Shops (Tech Crunch)
Twitter is introducing a new shop program that will give merchants the opportunity to showcase a collection of up to 50 products on their Twitter profiles. This is a growing trend among social media companies as Twitter joins sites like Instagram and TikTok that already have shop features available on their platforms.
Why a Top Seller Is Dropping His Amazon Ad Budget to Zero (eCommerce Bytes)
Bryan Porter of Simple Modern took to Twitter to explain his decision to cut advertising budget, claiming that customers who would have already made purchases via organic listings were instead clicking on the advertised listings to buy. This sparked an interesting debate on whether his theory is correct or if removing ads would cause the organic listings to drop in the rankings.
9 Myths About Amazon Product Reviews You Never Knew Weren't True (Brand Builder University)
There are plenty of theories and opinions out there when it comes to Amazon product reviews. Some of the information you may have heard before may not actually be true. This article breaks down nine myths about Amazon product reviews and the real truth behind them.
American Sellers Retaking Market Share on Amazon (MarketpPlace Pulse)
After years of losing ground to third-party sellers in China, third-party sellers in America have been gaining that ground back in recent months with increased market share. This is a promising trend for domestic sellers who it appeared were being slowly weeded out of the online marketplace on Amazon.
Amazon UK Lets Brand Owners Talk to Critical Buyers (eCommerce Bytes)
Amazon UK is rolling out a new feature that will allow sellers to contact customers that have left a critical review on one of their products. Early responses have been mixed, with some sellers complaining that this feature is too limited given that they aren't allowed to ask the customer to change their review.
Useful Tips and Tools from March 
Amazon Prime Day Prep 2022: The Complete Guide
It's never too early to start thinking about and preparing for Prime Day. This massive sales event can provide a huge boost to sales for Amazon sellers, and getting ahead on preparation will put you in better position to succeed. Here's our guide on steps you can take to start getting ready for Prime Day.
5 Key Differences Between Selling on Amazon and Shopify
Interested in selling on Shopify? Your experience on Shopify will be a far different one than what you experience as an Amazon seller. Here's a look at five key difference between selling on Amazon and Shopify including tips on how to succeed using both.
How to Easily Break Down All Your Amazon Seller Fees (Without a Huge Accounting Team) – Turnkey Product Management
Trying to get a grasp on Amazon's complex seller fees can be a daunting task for sellers of all experience levels. This article provides valuable information on Amazon fees and how you can keep track of them.
Amazon A+ Content: 4 Best Practices to Inspire Your Product Descriptions
Data has shown that optimizing listings on Amazon A+ Content can increase sales by as much as 10%. Make sure that you are optimizing your listings and getting the most out of Amazon A+ Content with this useful guide on delivering great product descriptions on all of your products.
Selling on Amazon UK in 2022: Is It Worth It? Here Are The Pros and Cons
Expanding into new markets can give you access to a whole new batch of customers. But this expansion comes with its own costs including time and higher fees due to international shipping and logistics. Before deciding on whether or not selling on Amazon UK is right for you, read this article on the pros and cons of selling in this market.