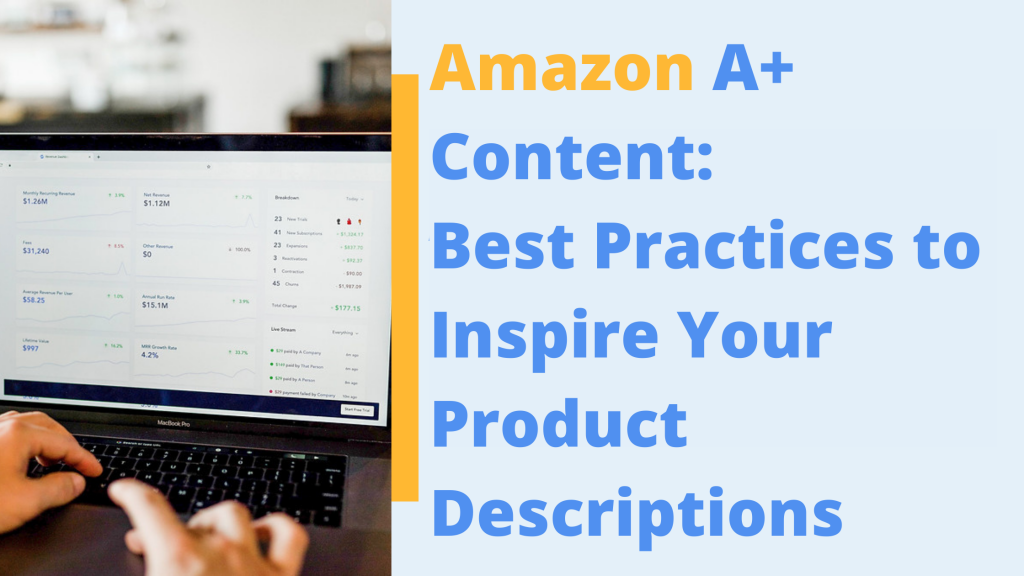 Amazon A+ Content allows sellers to use magnified images and content to describe their brand voice, product features, and other details via visual storytelling. In addition, Amazon A+ Content allows businesses to create an additional section of their listing page to grab shoppers' attention and potentially increase conversions and rankings.
A+ Content is located on the Amazon product listing page and goes beyond the standard text block and bullet points. This allows brands to modify the product description for any product ASIN they choose and to add powerful imagery to the mix to capture the consumer's eye.
They can also express their brand identity through product detail pages. In addition, sellers can illustrate their brand story to distinguish themselves from other sellers on Amazon's marketplace as part of their A+ Content. Another benefit of utilizing A+ Content is gaining consumers' trust and establishing your brand name to encourage new buyers to purchase your products and set yourself up for repeat purchases from previous consumers while building brand loyalty.
Related: 8 Ways to Use Amazon Brand Registry to Boost Sales.
Some data has shown that improving product detail pages using A+ Content and listing optimizations can increase conversions. TurnKey has seen great results with brands utilizing A+ Content, and Amazon has mentioned that A+ Content averages a 3%-10% increase in sales for an item. Some information from Amazon states that sellers who do not use this free service will miss out on a chance to improve their margins and gain new customers. If you wish to maximize sales, it is crucial to create ample content to convert new customers that might not be sure if they should buy from you.
You can't rely solely on A+ Content to increase conversions. It is vital to have a technical strategy to drive conversions as well.
In this article, we will dive in to cover the best practices for utilizing Amazon's A+ Content tool. It's easier for customers to connect with your brand because of the visual nature of this feature. 
Let's dive into 4 A+ examples of Amazon A+ Content to help inspire your product descriptions.
4 Best Practices When Utilizing Amazon A+ Content
1. Deliver Brand Identity – Collagen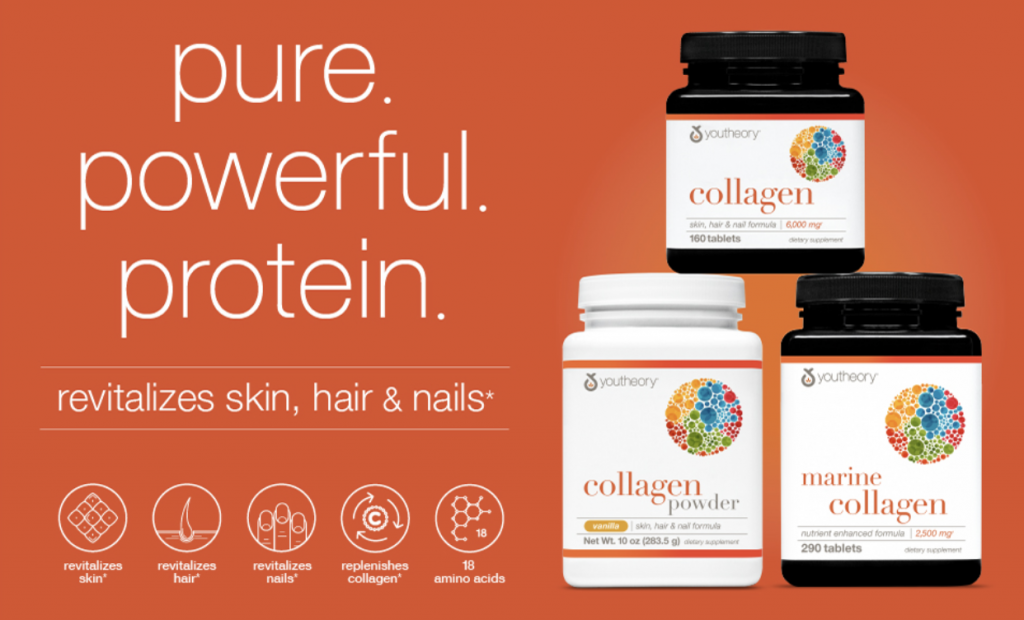 You should always clearly identify your brand on the product detail pages to distinguish your brand and products from your competitors. Amazon's A+ Content allows brands to expand on product details and gives them control over their visual identity. This results in consistent branding across channels as well as legitimizing the product within Amazon. A+ Content offers Brands a unique opportunity to tell their story, highlight key features and expand on product specifications through visual content.
2. Always Use High-Quality Lifestyle Images & Infographics – Artemisinin
Product images can be used as marketing tools to promote and highlight your products. Pictures tend to be a more persuasive sales tool than text. Always use high-quality images to ensure you are putting your best foot forward when it comes to showing off your brand. You should include at least four images per product in your A+ Content. Providing these high-quality images will help customers visualize what it would feel like to own your products, and be sure to incorporate lifestyle images and infographics into the mix.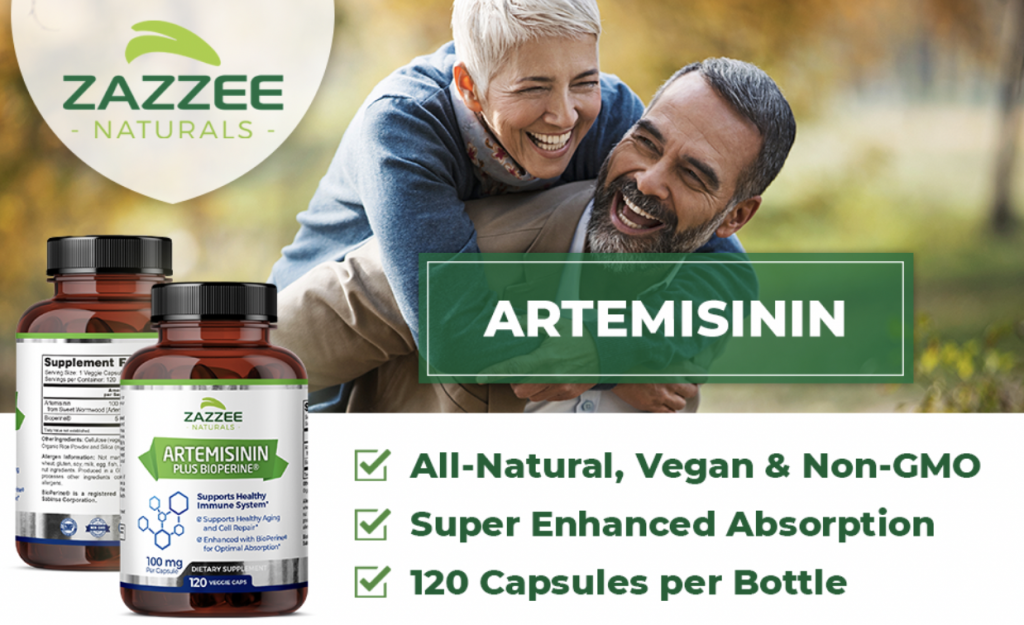 There is a lot of competition on Amazon so using high-quality images is key to building successful A+ Content and helping with sales conversions. Things to consider for best practices regarding images for your A+ Content:
Photographs of the product in action are permitted and can be done so using lifestyle images.

You must not duplicate images for A+. The product should be the focus.

Avoid mentioning competitors, and other brands' products.
Here at TurnKey, all of our A+ contents are image-based meaning we do not use the text boxes offered by the Amazon template. Based on multiple split tests our team has rolled out we have seen that adding text boxes to the A+ content will bring the conversion rate down but relying solely on images you see an increase.
3. Cross-Sell Products – Artemisinin
Amazon has stated up to 35% of its revenue comes from cross-selling. Additionally, another study found upselling is responsible for 4% of all eCommerce sales. So, this is an area of the A+ Content you will want to take full advantage of! A module offered in the A+ Content on Amazon is called side-by-side comparisons. Side-by-side comparisons between the different product models can be a powerful way to upsell.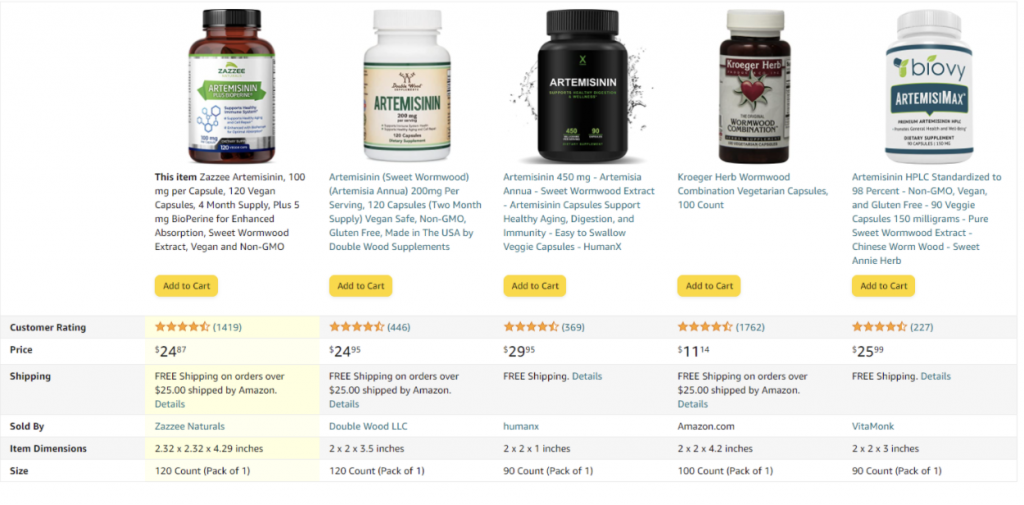 The side-by-side comparison chart is a great way to highlight key features of each product so that shoppers can choose the best item for their needs. This will encourage them to buy within your brand. Cross-selling products can help you increase sales margins on different ASINs.
4. Amazon SEO
A+ Content enhances the user experience on your listing page, which helps increase sales and the value of Amazon SEO. If your products aren't converting to sales, then ranking high won't be very beneficial. Utilizing A+ Content with images and comparative information allows users to make better-informed buying decisions. Which in turn is ultimately something that can help your conversions.
In addition to helping with conversions, A+ contents give you an opportunity to include additional keywords in the backend search terms no text box needed! Our team recommends you utilize the backend section for each image in your A+ content, as of this writing you are allowed 100 characters per image.
Boost Your Sales and Revenue with Amazon A+ Content
Amazon A+ Enhanced Brand Content can be a powerful tool to increase sales and revenue when you sell on Amazon by boosting your brand. Creating A+ Content for your products is a great way to effectively communicate your brand identity and value proposition by using enhanced detail pages. This will help build trust and loyalty with Amazon shoppers and ultimately help increase your revenue. It can all be overwhelming and if you are looking for some guidance, TurnKey is happy to do a free audit of a brand's Amazon listing to help them identify what they could do to improve their conversion rates (such as missing or improving A+ content).
In addition to everything we listed above another great perk to creating A+ Content is to help utilize as much real estate on your listing page as possible. Enhanced Brand Content is one of many marketing techniques you can utilize in Seller Central to aid in the development of individualized strategies that increase sales and profitability for clients.
Remember, A+ Content will help bring your product to life even further using high-quality images, both lifestyle and infographics. The more information you can get in front of consumers, the better. A+ Content is a great tool to build brand identity and help conversions!

Jeff Lieber and his team from TurnKey Product Management provided this article. TurnKey is an Amazon consulting company that sells over 8-figures in revenue for its clients each year. Whether you're just starting or are an Amazon expert, TurnKey can help take your sales to the next level. Click here to visit TurnKey's website where you'll find free resources and training on how to scale to 7+ figures on Amazon. Plus, you can contact TurnKey there to help scale your business.