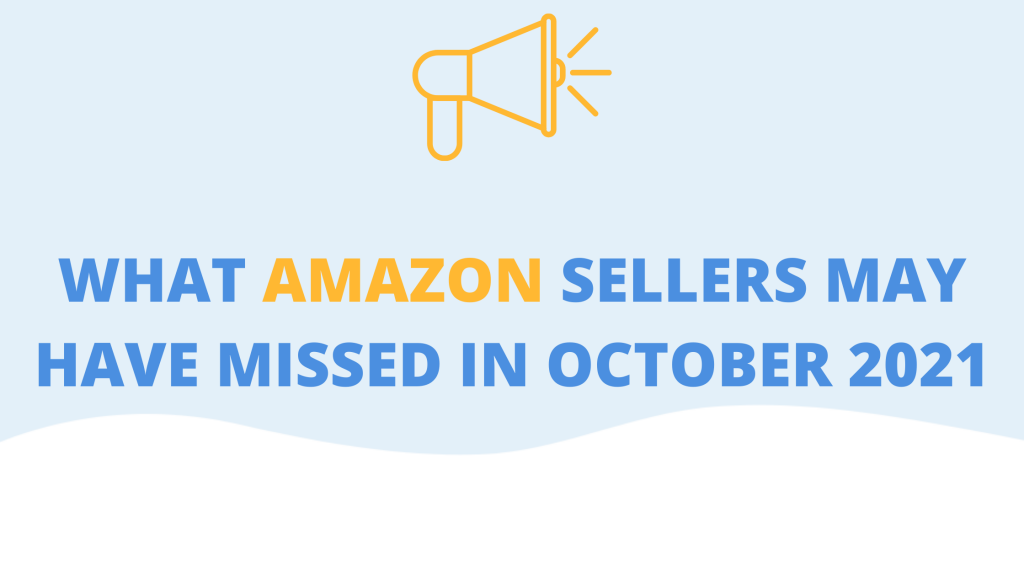 The end of October and Halloween signals the beginning of the holiday season in the United States. Black Friday, Cyber Monday, and month-long holiday themed lightning deals are all right around the corner. But this year's festivities have a dark cloud overhead in the form of supply chain issues that have been affecting both small and big businesses all year long.
In October's articles that you may have missed, we've curated some pieces on what to expect from supply chain problems, new Amazon tools, and other general articles that you may find interesting.
Related: Here's what you may have missed in September 2021.
October Supply Chain Information and Updates
Amazon Earnings Suffer as Growth Slows, Costs Rise
Amazon has been on such a massive upwards trajectory for years, and the COVID-19 pandemic only added to that trajectory as customers in quarantine flocked to Amazon for their online shopping needs. But growth has finally started to slow down for the online retail giant as supply chain and labor market issues rage on.
President of truck driving school says driver shortage is causing supply chain issues
There are many factors contributing to the global supply chain issues that are causing so much trouble for so many business. One factor is that there simply aren't enough drivers to meet demands. Hear the full NPR podcast above.
Amazon's plan to serve customers this holiday season
Amazon has been dealing with the logistics of supply chain problems since the start of the COVID-19 pandemic back in early 2020. The company has a plan for keeping things running smoothly as demand on products surges this holiday season.
View this post on Instagram
L.A. port to become 24-hour, 7-day-a-week operation to ease shipping backlog
Los Angeles's population currently sits at just under 4 million people. With so many people consuming so many products, the city is looking for solutions to the supply chain backlog. One of those solutions comes in the form of keeping the Port of Los Angeles open around the clock in the coming months.
Amazon Will Avoid Empty Shelves?
Marketplace Pulse research shows that 75% of the top 100,000 sellers on Amazon.com have the majority of their inventory stocked in Amazon FBA warehouses. Third-party sellers will play a large role in keeping Amazon's shelves stocked this holiday season.
Looking for some actionable tips on improving your inventory management as you manage the supply chain crisis? We've got you covered with our inventory management tip guide.
Some New Amazon Tools Debuted This October
2021 Amazon Small Business Empowerment Report
Amazon's 14-page Small Business Empowerment Report is chock-full of useful information and statistics for Amazon sellers. You can access the PDF using the link above and can read it online or download it directly to your computer or mobile device. You can read the full report by clicking on the link above.
How Amazon Accounting Software Can Increase Your Store's Profitability
Every dollar counts when it comes to your Amazon store's profitability. Amazon accounting software can help you to keep track of all of your business costs and sales statistics so that you can access all of the information you need to maximize your profits this holiday season and beyond.
Amazon Launches New Local Selling Capabilities to Help Small Businesses Grow by Reaching More Customers in Their Area
One of the biggest perks about selling on Amazon is the ability to reach millions of customers around the country or even around the world. But what about your local community? Amazon announced – during their accelerate event –  new in-store and same-day local pickup options are giving sellers the chance to increase sales in their home towns.
Amazon Seller Software: 6 Questions to Ask When Evaluating Seller Tools
There are so many fantastic third-party seller tools and services available to Amazon sellers nowadays. How do you decide which one is right for you and your business? Reviewing these six questions will help you to determine what tools and services may be best for you.
Amazon Debuts Product Opportunity Explorer Tool
Not sure what to sell on Amazon? With the new Product Opportunity Explorer, Amazon sellers will gain access to useful information on new and high-demand niches that may be worth investing in. Learn more about this tool and consider using it as a resource in your product creation strategy.
Other Amazon-Related News and Statistics from October
"In 18 months, there will be bloodshed" — what's next for Amazon aggregators?
Amazon aggregators that bought up and merged many Amazon storefronts together were printing money for a while, but the unprecedented events of 2020 and 2021 have put this business model in jeopardy. Sifted breaks down the issues these aggregators are facing and what could come next for them.
What is the Difference Between Amazon FBA and Seller Fulfilled Prime
Taking advantage of all of the fulfillment options at your disposal is a great way to make sure that you don't miss out on fourth quarter sales due to Amazon FBA warehouse sellouts. Here's a breakdown of how Seller Fulfilled Prime shipping works and how it compares to Fulfilled by Amazon.
ICYMI: Cassidy, Durbin Pen Op-Ed on Online Marketplace Transparency | U.S. Senator Bill Cassidy of Louisiana
A new era of transparency lies ahead for Amazon and other online retailers. This op-ed takes a look at what new laws in regards to online transparency will mean for businesses and consumers.
6 Ways To Prepare For Black Friday and Cyber Monday
Black Friday and Cyber Monday are two of the biggest sales events of the year. Maximizing profits on these days is essential to getting the most out of your fourth quarter earnings. These six tips will help make sure that you are fully prepared for these big November sales staples.
How to Easily Increase Amazon Profit Margins By Doing Less
Work smarter instead of harder is an age-old adage, and one that Amazon sellers should take to heart in a day and age when so many things can be optimized and outsourced. This guide covers some of the ways that you can increase your profits while saving yourself time and effort along the way.