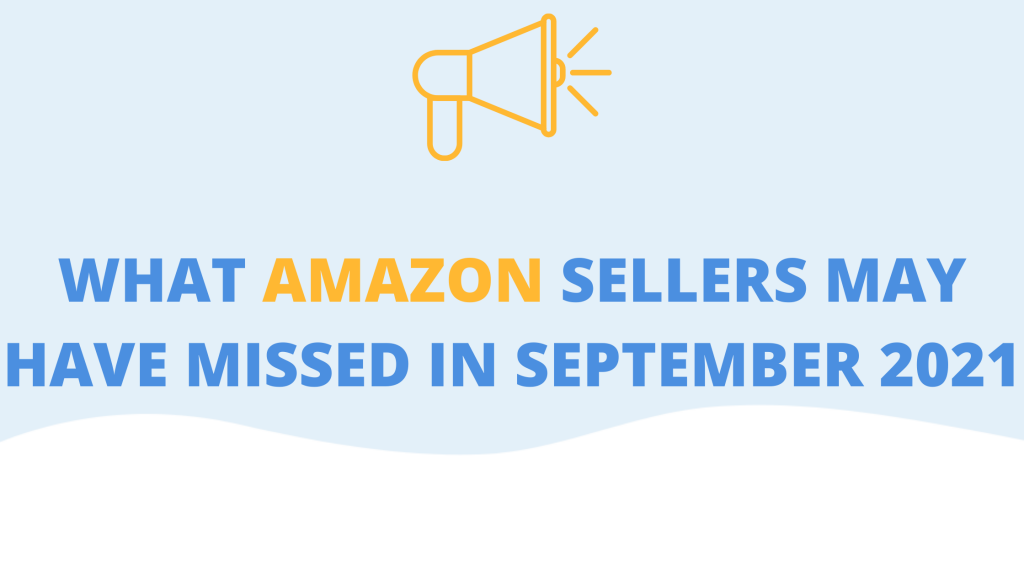 The start of October marks the beginning of the fourth quarter for Amazon sellers. This is an exciting time of year for many Amazon sellers who will see a big spike in their sales numbers. But it can also be a stressful time, especially this year with so many potential logistics issues on the horizon. The September slate of articles covered a wide range of topics including these potential obstacles.
And this just in, Amazon Black Friday deals are launching as early as TODAY to customers. You can read more from Amazon's official press release.
We've compiled a list of all the top stories you may have missed.
Related: Here's what you may have missed in August 2021.
Congrats to the Big September Giveaway Winner!
We partnered up with several other brands to run a 48 hour flash sale on Twitter, and boy did one winner come out big. Over $10,000 in prizes were awarded to FBA affiliate @braxken (see below). Until the next giveaway friends!
Congratulations to @braxken, the winner of this colossal Amazon giveaway! And a big thanks to our sponsors: @BlackLabelAdvsr, @NormFarrarJr, @Getida365, @PickFu, @MerchantWords, @FeedbackWhiz, @AmazonASGTG, @Sellers_Funding, and @HarrisonW_IV. Braxton, please contact each! https://t.co/4ZMYDtphYT pic.twitter.com/ZL3d6dId3H

— Jon | Black Label Advisor (@BlackLabelAdvsr) September 30, 2021
September Around the Web
Welcome to the Delta economy: You can't always get what you want when you want it
Global supply chain disruptions are causing all kinds of problems form product shortages to shipping issues. And there are other issues Amazon buyers and sellers are dealing with, too. This article breaks down how these problems are effecting shoppers.
Amazon's top third-party seller in U.S. plans to go public via SPAC
Pharmapacks has grown to be the No. 1 seller on Amazon in the United States. Its upcoming merger with Highland Transcend Partners I Corp. means that the company will soon be going public. This CNBC report has all of the details on the company and the merger.
Amazon Extended Holiday Returns Policy – Holiday 2021
Much to the dismay of many Amazon sellers, Amazon has brought back its policy from last year that will allow all items purchased between October 1 and December 31 to be returned up until January 31. This huge window could cause a lot of additional returns for sellers who sell seasonal items. 
China power crunch spreads, shutting factories and dimming growth outlook
As if there aren't enough issue in the global supply chain, China has been dealing with a power crunch since mid-September that is causing power shortages across the country. Learn more about what the reason behind these power shortages is and how they are affecting logistics in China.
New Law Makes Amazon Disclose Worker Productivity Algorithm | Tech.co
A new California law will make Amazon and other retailers that employ over 1,000 warehouse workers reveal their work quotas. This law is designed to protect workers from unreasonable quotas and those being asked to ignore health and safety laws. This report goes over the bill and what it could mean for Amazon in more detail.
Opinion: Bill D'Alessandro on FBA aggregators
We've shared a lot of links about the rising popularity of FBA aggregators in recent months. In a detailed Twitter thread, Bill D'Alessandrio breaks down how supply chain issues and large amounts of debt could spell big trouble for a handful of these aggregators.
Not naming names, but many FBA aggregators are getting WRECKED by supply chain issues.

It's the combination of lots of debt, the challenges of running multiple brands at once, and a quirk of Amazon's FBA model.

Here's a behind the scenes thread of what's going down… 🧵👇

— Bill D'Alessandro (@BillDA) September 22, 2021
Amazon and Lendistry launch Amazon Community Lending pilot program for SMBs in U.S.
Amazon and Lendistry have teamed up to create a program in which small businesses can take out short-term loans for up to $100,000 to sustain and grow their businesses. Getting into the loaning business stands to provide yet another revenue stream for Amazon.
Amazon Seller Faces a Sudden $181,000 Billing Glitch
In this horror story fit for the Halloween season, Amazon seller Zu Adams discussed the turmoil she went through as she was mistakenly charged $91,000 for back-to-back months. While this is obviously a fluky occurrence, it does serve as a reminder to always stay on top of your account and the fees you are being charged as not all Amazon mistakes will be this obvious.
Around FeedbackWhiz in September
11 Hilarious Amazon Reviews: How to Use Customer Humor to Sell More Online
Amazon reviews are supposed to be a useful resource for other Amazon customers to use when making their buying decisions. But in some cases, reviews also end up being a source of humor. Here are some funny reviews along with some advice on what to do if you ever get one like this.
Top 12 Most Expensive Amazon Mistakes That Are Killing Your Profits
There's nothing scarier than losing profits. Whether you are new to Amazon or a seasoned veteran, you may be making some common mistakes that cut into your monthly profit. Take a look at this list of mistakes which also includes tips on how to correct them.
Thwart Amazon Hijackers By Owning The Buy Box
Amazon sellers know how valuable the buy box is. Competitors may look to steal your buy box with counterfeit listings or undercut pricing. Here's a guide to making sure that you keep the buy box on your products.
How to Sell Globally on Amazon & Is It Right For You?
Selling globally on Amazon is a great way to expand your customer base and increase sales. Of course, expanding into new markets also comes with its share of challenges. Here's a breakdown of the pros and cons to selling globally to help you make an educated decision.
6 Ways To Prepare For Black Friday and Cyber Monday
It is never too early to start preparing for Black Friday and Cyber Monday, two of the biggest sales events of the year. This list of tips will give you a head start on your preparation ahead of these important days next month.
Retail Arbitrage & Building Amazon Feedback
While some sellers build their own brand and sell their own products on Amazon, others resell items that they purchase in retail stores. This business model can be profitable, but it can also be tricky to those who aren't aware of how it works. This article breaks down the practice of retail arbitrage and how Amazon reviews factor in.