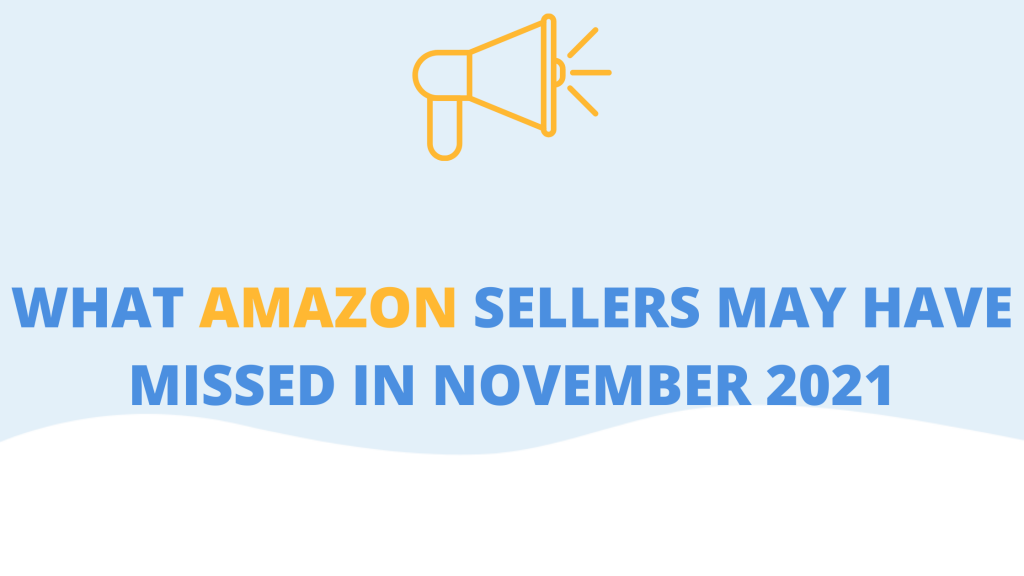 November is one of the busiest months of the year for most Amazon sellers. Preparing for Black Friday, Cyber Monday and the crucial month of December is enough to keep any seller busy. For the data-driven sellers, it's non stop dives into your metrics after peak sales. Fortunately, we have you covered.
Here's our list of some of the most interesting and useful articles that you may have missed as you power your business through the fourth quarter.
Related: Here's what you may have missed in October 2021.
November Changes at Amazon
UK-Issued Visa Cards No Longer Accepted by Amazon (Pymnts)
Amazon is fighting back against the rising costs of transaction fees by refusing to accept Visa cards issued in the United Kingdom starting on January 19. This is seemingly another side effect of Brexit, while both sides prep for big battle between retailer and payment. This Pymnts articles breaks down arguments for both sides.
Amazon Hits Third-Party Sellers with Fee Increases in January 2022
Every year, Amazon re-evaluates its fees and makes adjustments according to fulfillment costs and other factors. Check out how you can mitigate those pesky seller fees in 2022.
Rewards Program Launched for Customer Service by Amazon (ecommerce bytes)
In an effort to promote its new Customer Service by Amazon service, Amazon is offering free or discounted rates to sellers who use the program. This article includes details on the program as well as the new rewards program associated with it.
FTC orders Amazon, other large retailers to send information on supply chain distributions (The Hill)
The Federal Trade Commission (FTC) has launched an inquiry into the supply chain disruption that is affecting businesses around the world. Amazon is one of nine large retailers that has been asked to send information to the agency about supply chain issues. More details on the investigation can be found in this piece.
Other Amazon-Related News and Statistics from November
Covid Didn't Accelerate E-Commerce (Marketplace Pulse)
The eCommerce boom in 2020 fueled by COVID-19 shutdowns appeared to have been a game-changer for the industry. But as time has gone on, we have seen growth level out, suggesting that perhaps the impact of 2020 wasn't as long lasting as expected. Marketplace Pulse provides an interesting breakdown of the numbers.
How Amazon Product Monitoring Can Help Easily Scale Your eCom Business (Payability)
Without proper product monitoring, sellers are missing out on a useful tool that can help them to maintain a healthy online store and to optimize profits. Payability breaks down the benefits of using a product monitoring tool and how you can use this tool to scale your business.
Amazon PowWow Miami: What People Are Saying About The One Day Event
One of the casualties of the 2020 COVID-19 lockdowns was conventions and in-person networking. Fortunately, with vaccinations and safety protocols, these events began rolling out again in 2021 and should continue to go strong in 2022. Here's our recap of the Amazon PowWow in Miami that took place earlier this month.
Amazon Seller Valuations Have Doubled (Marketplace Pulse)
As third-party sellers continue to crush it on Amazon, the way that these business are being evaluated is also changing. Amazon seller valuations have doubled since the start of 2020. Marketplace Pulse analyzes how these valuations could affect businesses and the cost of acquiring them moving forward.
What is Amazon Minimum Advertised Pricing (MAP)?
The minimum advertised pricing (MAP) on a product is the minimum price a manufacturer sets for retailers to be allowed to advertise their product at. While these products can be sold for less than the MAP, they can not be advertised for less. This in-depth breakdown covers the pros and cons of MAPs and how distributors can optimize their usage.