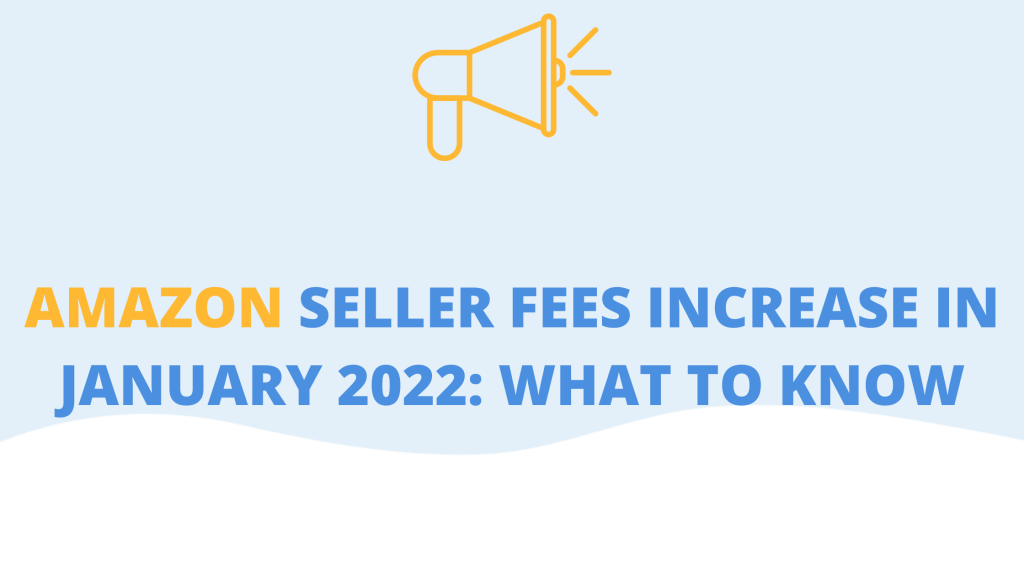 Amazon has historically always made annual fee adjustments in January. Due to the effects of the COVID-19 pandemic still being felt in late 2020, Amazon pushed back its 2021 seller fee increases to June. The 2022 Amazon fee increase is back on schedule for January, hitting sellers with a second fee hike in an eight-month span. Here's a closer look at the new fees that will go into effect on January 18, 2022, and what adjustments sellers can make to deal with them.
What Changes Have Been Made to Amazon Fees
Rate increases vary by product size and shipping weight, with these fees expected to average out to an increase of roughly 5.2% across the board. Amazon sellers can expect the following fee increases to be rolled out this January:
Increase to FBA fulfillment fees, categorized by core FBA fulfillment, FBA fulfillment of apparel, and FBA fulfillment for dangerous goods

Increase to FBA monthly storage fees (starting on February 1, 2022)

The addition of an aged inventory surcharge of $1.50 per cubic foot on items in fulfillment centers for 271-365 days

Increase to FBA removal and disposal order fees (liquidation fees will remain the same)

The weight limit of small and light items will increase from 12 ounces to the pounds and will incur an increase in fulfillment fees
View this post on Instagram
For a full list of the new Amazon fees and an in-depth look at how they will be applied, visit Amazon's 2022 US referral and FBA changes summary page. 
Amazon points to the major changes it has made over the last year as cause for the increase in fees. Amazon said, "Since the start of the pandemic, we've more than doubled our US fulfillment capacity, spent over $15 billion across our fulfillment network to help keep employees safe, hired more than 628,000 people, and increased our US average starting wage to $18.00 an hour. That includes opening more than 350 new fulfillment centers, sortation centers, regional air hubs, and delivery stations in the US."
"In 2022, we will adjust FBA fulfillment fees to partially offset the higher permanent operating costs we face going forward."
What You Can Do About Increased Fees
Unfortunately, there isn't any way to avoid Amazon fee increases. As a trade-off to selling on Amazon's massive online marketplace and taking advantage of its convenient FBA fulfillment program, sellers are at the mercy of whatever fees Amazon decides to charge. There are however a handful of ways that you can lower your overall Amazon seller fees in 2021 including:
Upgrading to a Professional seller account if you are still on an individual plan

Looking for ways to cut down on your shipping costs

Finding storage alternatives so as not to pay too much in storage fees having your products at Amazon's warehouses

Regularly checking your account for mistakes and reporting these mistakes to Amazon for reimbursement

Analyzing your store's profits in-depth and finding room for improvements with the help of

FeedbackWhiz's Profits and Accounting Tool
Use Amazon Seller Tools to Maximize Profits Despite Fee Changes
Keeping track of every element of your business without the help of a third-party service can be overwhelming. With the help of FeedbackWhiz's Profits and Accounting Tool, you will always have easy access to all of the costs and profits associated with your business so that you can easily weigh your sales figures against costs like Amazon seller fees, advertising, and shipping.
Knowing exactly how profitable each of your products is after factoring in all of these new fees rolling out in 2022 can help you weather the storm and make adjustments to your product line and fulfillment methods where necessary. Take advantage of FeedbackWhiz's offer of a 30-day free trial to try the Profits and Accounting Tool for yourself, as well as FeedbackWhiz's other useful features including feedback management, account monitoring and email management tools.