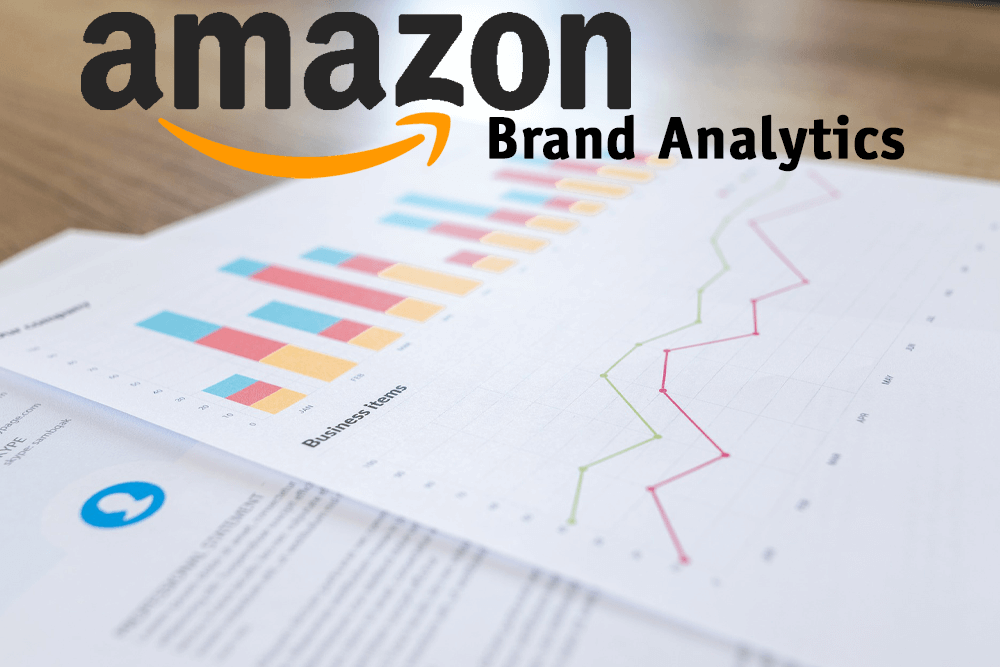 Over the last few months, Amazon has been rolling out Brand Analytics, a tool that gives sellers valuable insights into how their ASINs and brands are performing. To be eligible to use Brand Analytics, you must have your brand registered through Amazon's Brand Registry. A lot of the information that sellers used to have to pay for with Amazon Retail Analytics are now available for free under Brand Analytics. Let's take a look at what it covers and how you can use it to your advantage.
Amazon Search Terms
The most powerful tool in Amazon's Brand Analytics may be its section on search terms. Users can see how popular specific keywords are in relation to others and how these keywords are performing for specific ASINs.
Search Frequency Rank – While Amazon does not give you the exact amount of traffic that each search term is producing, it does rank them from based on their frequency, with #1 being the most common search, #2 following and so on. For example, you may learn that over the last week, "wireless speaker" was the most commonly searched term to find your product, and "bluetooth speaker" was #2.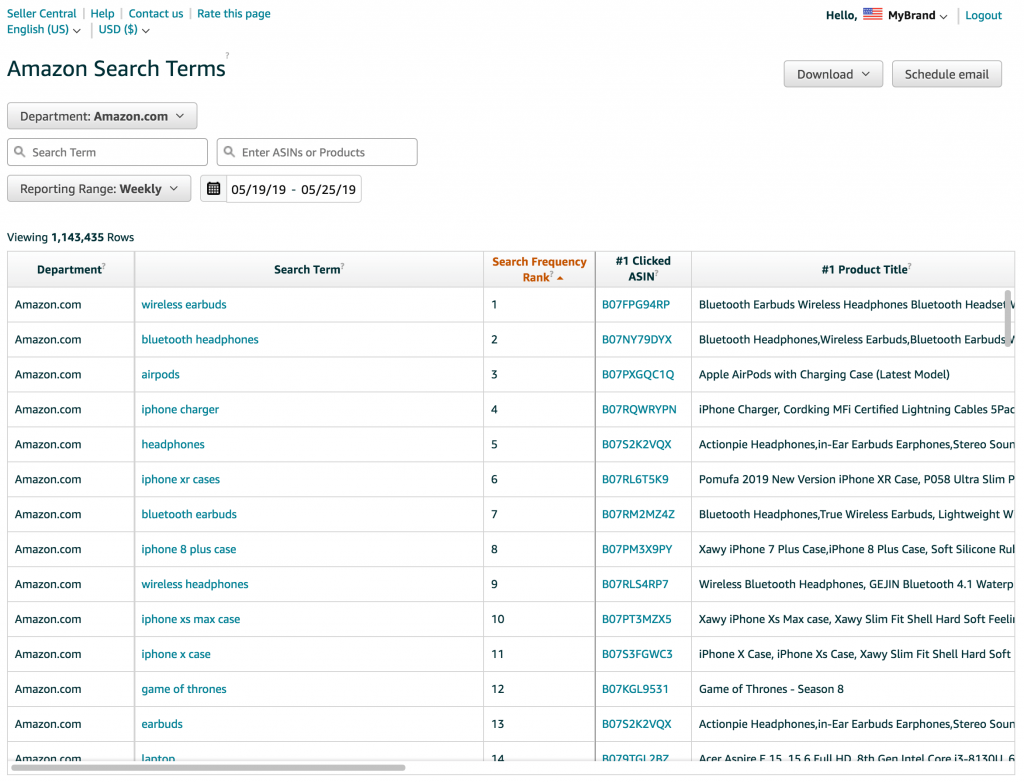 Click Share and Conversion Share – The click share for a product is the number of times that a customer clicked on a specific product for a search term divided by the number of times that a customer clicked on any product in that search term. Keeping the math easy with round numbers, if 100 people click on something after searching "bluetooth speaker" and your product received three of those clicks, that product's click share would be 3/100 = 3.00%.
Conversion share works the same way but documents sales instead of clicks. It represents the number of times a customer bought a specific product for a search term divided by the number of times a customer bought any product in that search term.
While there can sometimes be a correlation between these two figures, that isn't always the case. Some products may receive a high number of clicks but suffer from low conversion rates while others may get a higher number of conversions off of a lower number of clicks. Studying the performance of your products and its listings can help you pinpoint where there may be room for improvement, whether that comes from advertising to boost click share or price and description adjustments to boost conversion share.
Most Clicked ASINs– For each search term that your product is showing up in, you can see the top three ASINs that are being clicked on within that search term, whether your product is among these ASINs or not. You can use this information to analyze what you and/or your competitors are doing right to have such a strong click share on that term.
Item Comparison and Demographics Reports
In addition to the comprehensive search terms tool, Amazon's Brand Analytics has two more helpful features in the Item Comparison and Demographics Reports. Overall, Brand Analytics is an exciting free tool that Amazon sellers should explore and take advantage of.
Item Comparison Report – This report shows brand owners the top five products that were most frequently viewed on the same day as your products. It also shows the percentage of time that each of those products was viewed.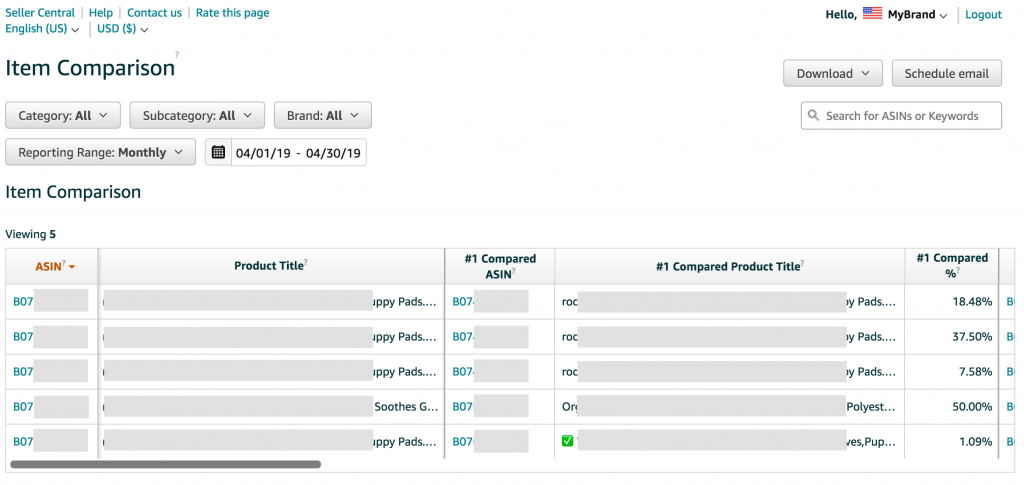 Demographics Report – The item comparison report also features a demographics report that shows users an aggregate breakdown of their customers by age, gender, education, marital status, and household income.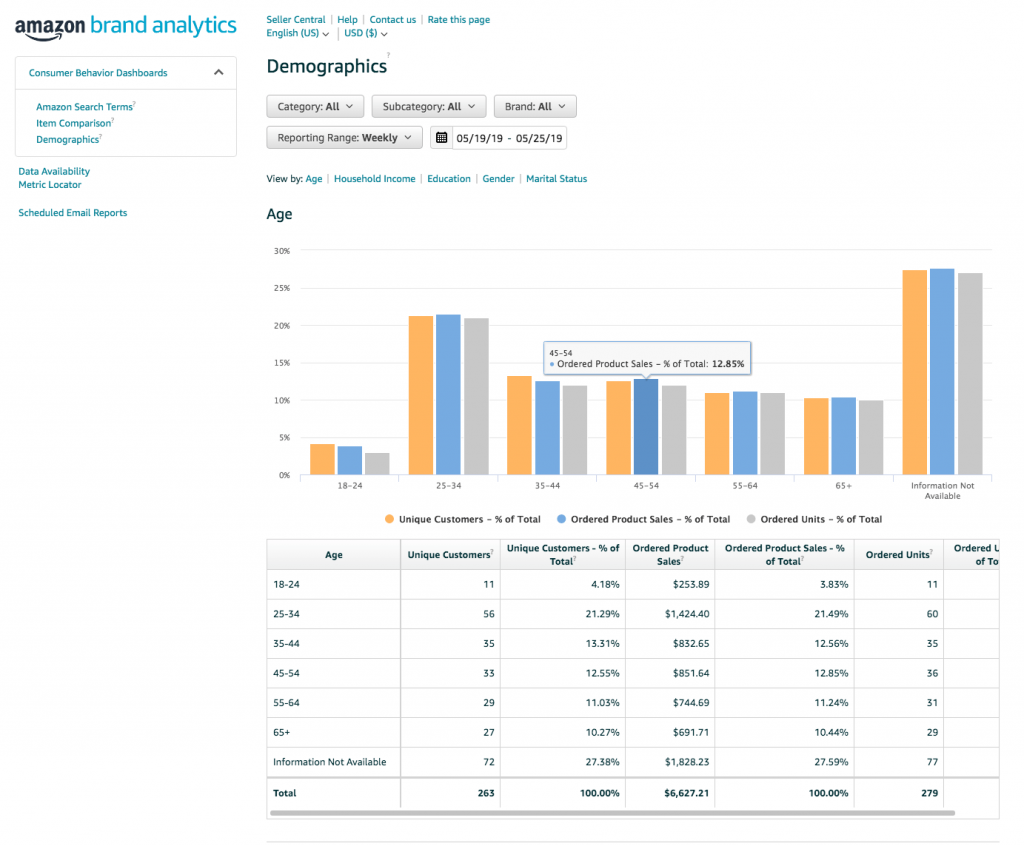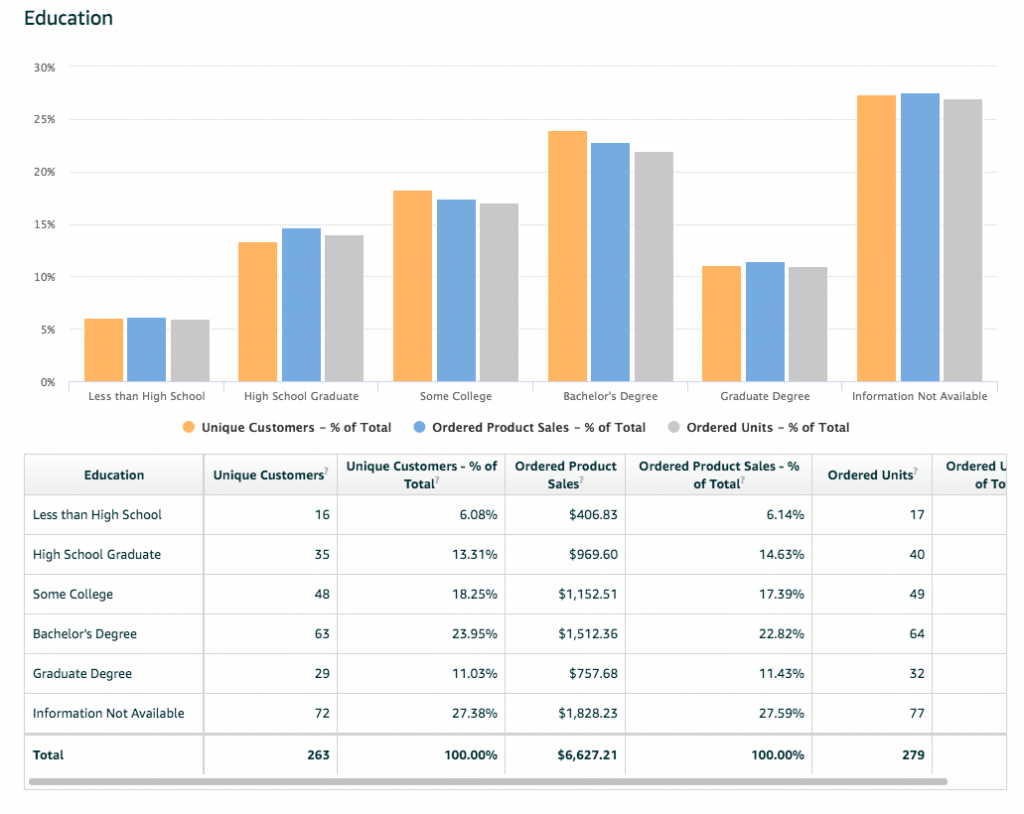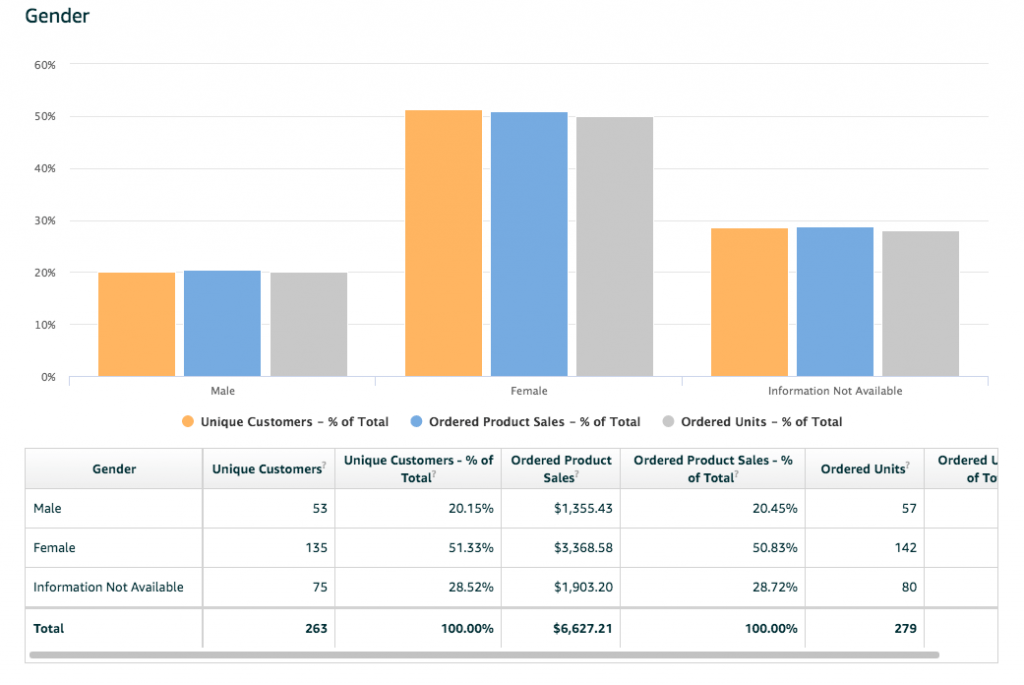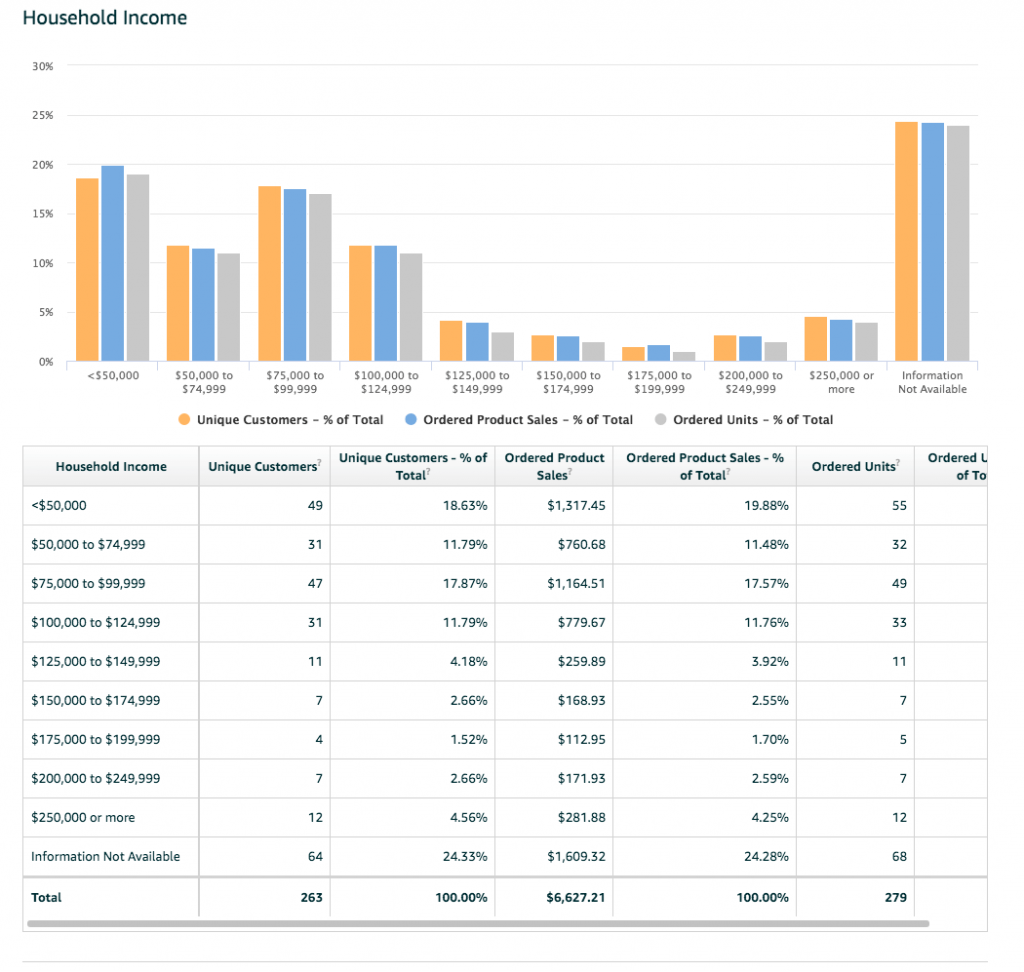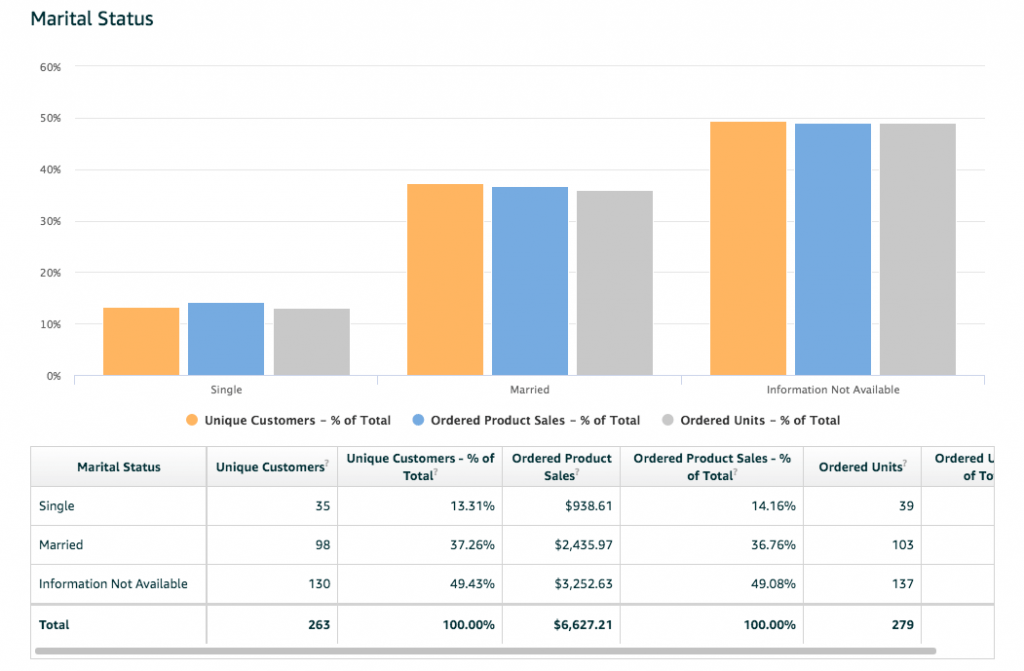 These metrics are based on the primary account holder's information and can be sorted into categories including unique customers, ordered product sales, and ordered units for each demographic segment. A better understanding of your demographics can help give you more insight into how you should build your ads and FeedbackWhiz email marketing campaigns.