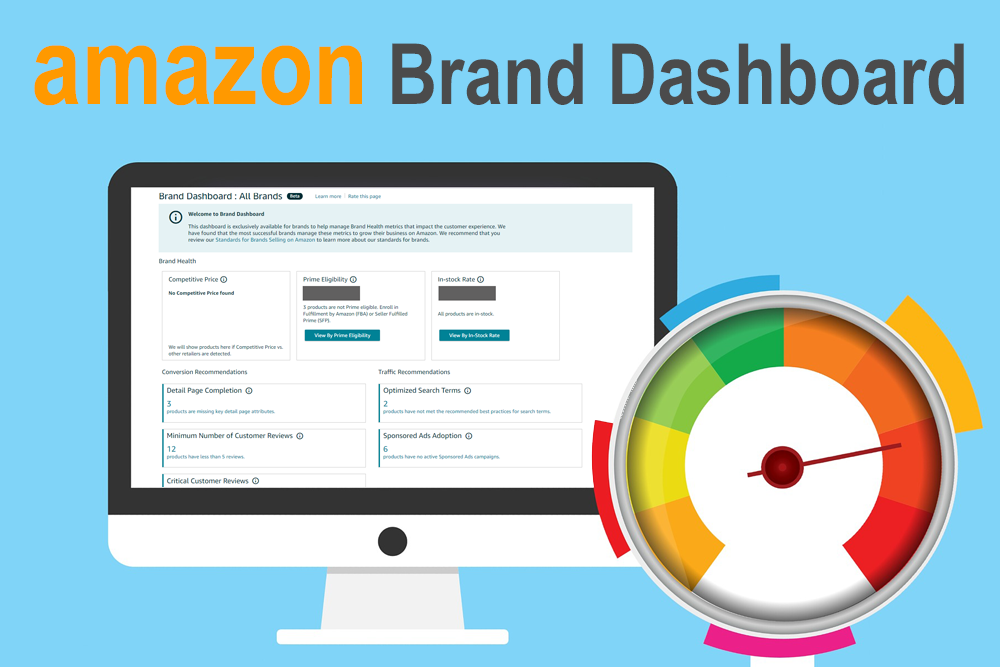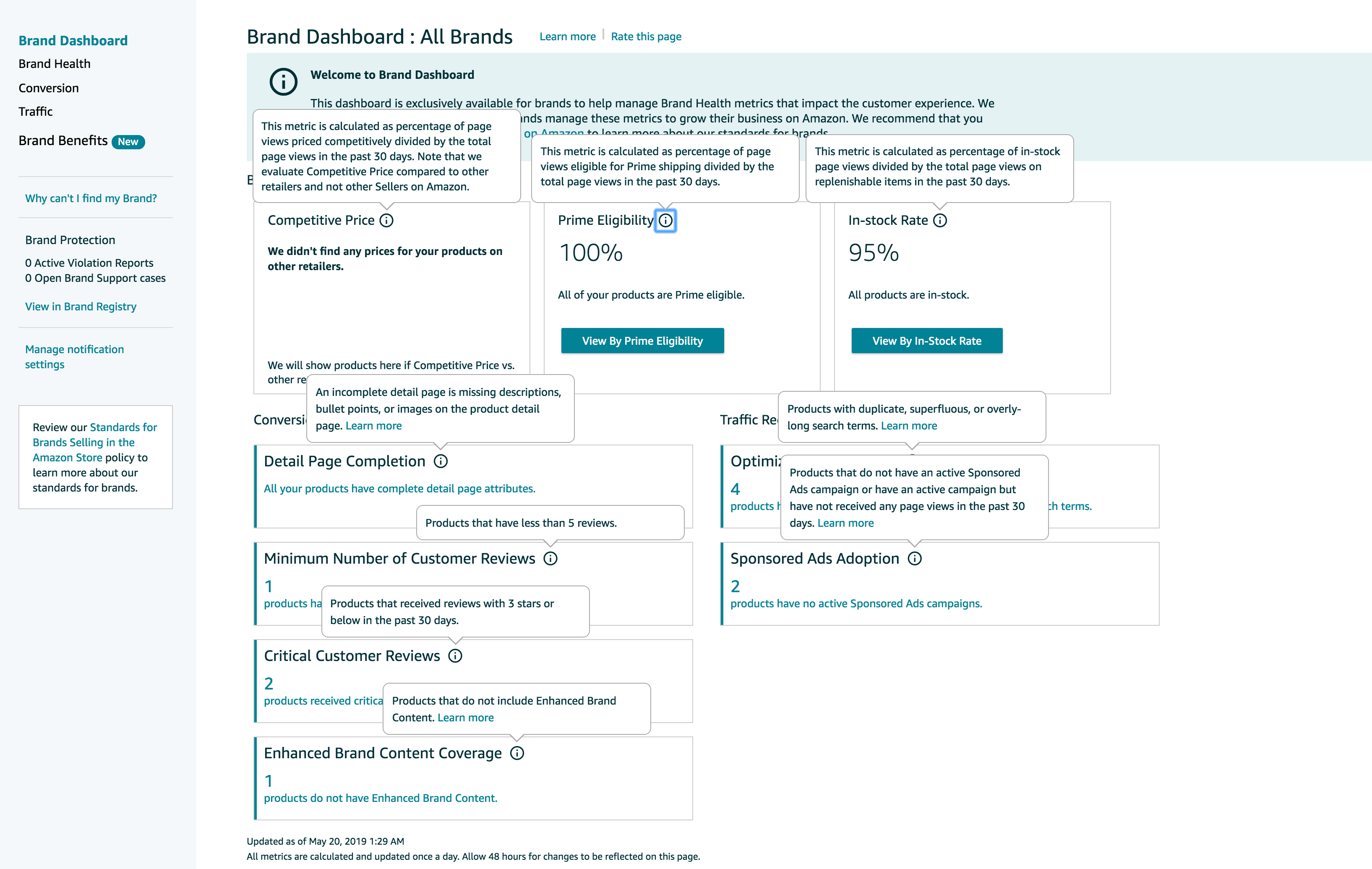 Earlier this year, Amazon introduced the Brand Dashboard to sellers on the platform who have registered their brand in the Amazon Brand Registry. Eligible brands can use the dashboard as a tool to check in on their brand's health and to receive feedback from Amazon on potential improvements that could be made to their listings.
Here's a look at the features listed on the Brand Dashboard and what they could do for your brand. While many sellers may already be keeping up with some (or all) of these metrics, having them all in one convenient place is a nice addition to Seller Central.



Brand Health
Competitive Price – The competitive price feature scans other retailers to see if any of your products are listed at a lower price somewhere else. This section also reports on "uncompetitive page views", or page views you received while not at the lowest price, over the last 30 days. Competitive pricing reads "We didn't find any prices for your products on other retailers" if this is the case.
Prime Eligibility – This section lets you know what percentage of the page views you have received over the last 30 days were for products eligible for Amazon Prime. If lower than 100%, you will be able to see just how many of your page views are going to products that are not Prime eligible.
In-stock Rate – The In-Stock Rate tab keeps you up to date on if any of your products are out of stock, and on how many page views are coming in on products currently out of stock.




Conversion
Detail Page Completion – All of your product detail pages on Amazon should include a description, bullet points on features, and images of the product. If any of your description pages are missing one or more of these key elements, that information will be listed here.
Minimum Number of Customer Reviews – On the Brand Dashboard, this section will highlight products that have received five or fewer product reviews. Under the Conversion tab, it will list the total number of reviews received. Sellers can use FeedbackWhiz's services to improve the number of reviews coming in on their products.
Critical Customer Reviews – This section lets sellers know which of their products have received reviews of three-stars or lower, and how many such reviews have been received. We went over how to respond to Amazon negative customer reviews in a post earlier this year.
Enhanced Brand Content Coverage – Amazon offers Enhanced Brand Content (EBC) to its registered brands. The EBC tool allows sellers to create a unique brand story, text, and images. Products that are not taking advantage of EBC features are listed in this section of the Brand Dashboard.


Traffic
Optimized Search Terms – This tool checks your product's item titles to make sure that none have "duplicates, superfluous, or overly-long search terms". The optimal title should be clear and concise and about 60 characters long.
Sponsored Ads Adoption – Products listed in this section of the dashboard are those that either don't currently have a sponsored ad campaign or those that have not received any page views from their active campaign in the last 30 days. This tool can be used to fine tune your advertising strategies.
Customer Reviews
For years, Amazon sellers have been requesting a more comprehensive way of accessing their product reviews from Amazon. The company finally delivered on these requests with the Customer Reviews section of the Amazon Brand Dashboard.
When the Customer Reviews tab on the dashboard is selected, sellers will be able to see all of the product reviews that customers have left on their products over the last month. These reviews can be filtered by "Star Rating" or by "Time Period", with the options on time period including "this week", "last week", or "older". Brand owners can also search for specific products by ASIN to see what reviews have come in on that product.
With each review, sellers will have the option to take one of three actions:
1. Add a comment – This allows the seller to replay to the review directly through the Brand Dashboard's interface
2. Mark as done – Once a desired action has been taken or the review does not require action, the seller can use this action to mark the review as "done" so that they don't have to return to it in the future.
3. Report abuse – If the review does not adhere to Amazon's customer review guidelines, the seller can use this action to report the comment as abusive for review.
Before responding with a comment, FeedbackWhiz users should use their template for handling negative reviews to email the customer about the review. Thanks to this addition to the Brand Dashboard, it is now easier than ever to see when you receive a negative product review and who it came from, giving you the power to try to address the situation in a productive manner.