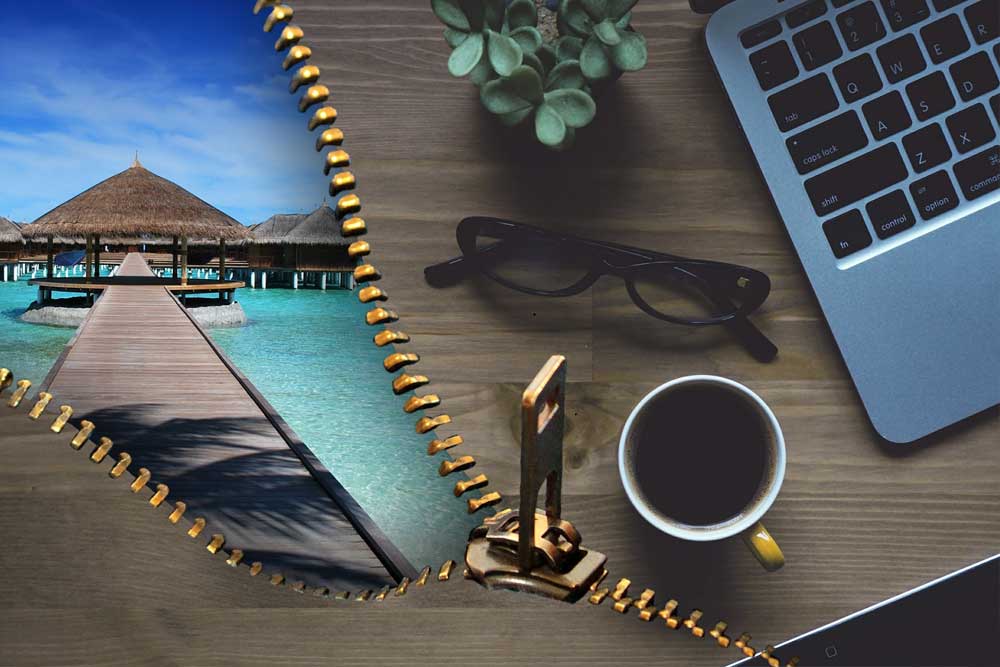 Going on vacation doesn't have to mean closing up shop. With Fulfilled by Amazon's Vacation mode, you can keep selling even while you're away!
Everyone deserves a holiday, but unfortunately, the beast that is Amazon never, ever sleeps. Customers are demanding and are used to having what they want when they want it. If they can't buy your stuff when they're ready, they will be more than happy to give their money to someone else.
Fortunately, you don't have to choose between a much-needed break and your livelihood. By using the tools supplied through Fulfilled by Amazon, you can continue to make money while on vacation.
Going on vacation
For a basic Amazon seller looking to take a vacation, life can sometimes be rather hectic. You have to find someone trustworthy to manage inventory while away and you'll have to spend a little time each day checking in on the daily operations. In other words, these vacations are not much of a holiday.
One way to avoid this is to change your listing status to inactive, taking your listing offline until you're ready to sell again. To do this, go to your 'listing status' page, select inactive and your products will be removed from the sale within the hour. Once you come back, simply return to the listing status page, select active and you're ready to sell once more.
Remember to avoid changing your listing to inactive at the last minute. The inactive status will only stop customers from placing new orders and will have no impact on existing orders that may come in right before the status takes effect. You will need to ensure that you have time between the moment you deactivate your listing and your departure to fulfill any outstanding orders.
This will help you avoid the problems that arise when customers are left waiting on unfulfilled orders. Leaving things hanging in this manner can drive down your feedback scores and land you in hot water with Amazon.
Selling while you're on holiday
The good news is that if you use Fulfilled by Amazon (FBA), your store can continue selling without you. FBA is one of the best ecommerce solutions out there. It allows you to take advantage of Amazon's unrivaled storage, packing, and distribution system to fulfill all your orders.
In surveys of the most reputable companies, Amazon consistently ranks at or near the top. Amazon has worked hard to build a reputation for quality and reliability, and there is no reason you shouldn't leverage some of this for yourself.
Before you leave, set your listing to 'vacation mode', ensure you have no pending orders or customer issues left and make sure all your unsold inventory is packaged and ready at an Amazon warehouse. From there, Amazon will take care of everything. As soon as a customer places an order, it will be shipped. If the customer is dissatisfied or has any problems, Amazon will manage the customer service and work with them until they are satisfied. You will still have to respond to messages within 24 hours, but aside from that you can sit back and relax.
Thanks to the wonders of digital technology you can easily keep tabs on operations while you're away. This is where tools like FeedbackWhiz come in handy. This platform will continue to notify you of feedback as and when it comes in. You can receive notifications related to listing changes(hijackers, titles, buy-box), track the status of orders, create emails or look into your sales data and monitor all your product reviews. While you're away you can set up automated email sequences to continue contacting customers and encouraging them to leave feedback and product reviews.
With all of this information, you can create insights into several aspects of your business. For example, you can search all product reviews of certain ASINs or search by specific keywords to identify any common trends. If you see a recurring problem cropping up, you can remedy the situation to improve your performance in the future.
Indeed, with the data and insights that FeedbackWhiz provides, you can use this holiday to analyze your progress, track performance and develop fresh strategies.
Using FeedbackWhiz can help you maintain communications with customers. You can check your seller page for any messages from buyers but, perhaps most importantly for sellers on vacation, FeedbackWhiz allows you to automate emails. You can set emails to go out when a product is shipped, giving the buyer a quick note of thanks, explaining how to use your product, and offering contact links should any problems arise. This is also a good place to include links to the product reviews page so you can keep your reviews rolling in while you're away. You can also set emails to go out when negative product reviews are received, helping you resolve problems even when out of the office.
Our access to technology often makes it difficult to turn off and take a true vacation. But, in this case, between FBA and FeedbackWhiz, you can keep turning a profit without even turning on your laptop. By automating many of your communication processes, whether you choose to check in daily or not, you can enjoy your holiday without having to sacrifice customer relationships or revenues.