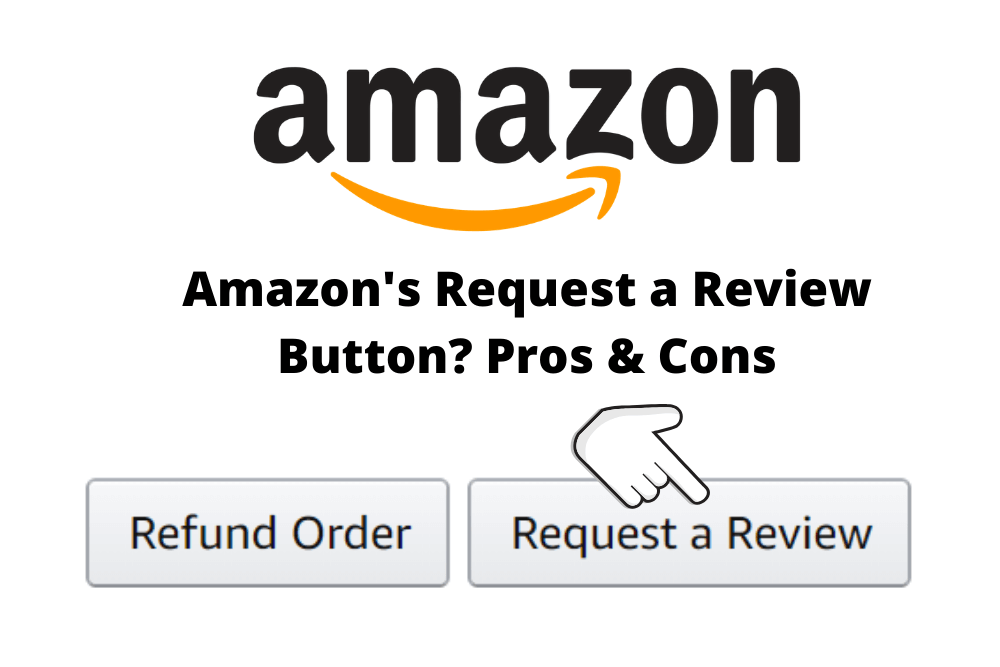 *This post was updated on 6/09/2020.
Last week without warning or an official announcement from Amazon, some sellers noticed a new "Request a Review" button in Seller Central. The new mysterious button seems to appear and disappear at random, and some sellers are not seeing the option at all. The experts at FeedbackWhiz are ready to demystify the new feature. Here's everything we know so far:
Amazon's "Request a Review" Button: The Specifics
After logging into Seller Central some sellers will see the new "Request a Review" button appear next to the traditional options of "Print a Packing Slip" and "Refund Order" on the Order Details page of individual purchases. Depending on the nature of your store and the product sold, you may see this option hours after a sale has been completed or potentially up to four days later.
Many sellers who have seen the button appear on their recently completed orders are rightfully hesitant to click on it without more information from Amazon on how the process works. Those who were brave enough to give it a try reported that the button will disappear after it has been clicked. This finding is consistent with the note that appears from Amazon after activating the review request.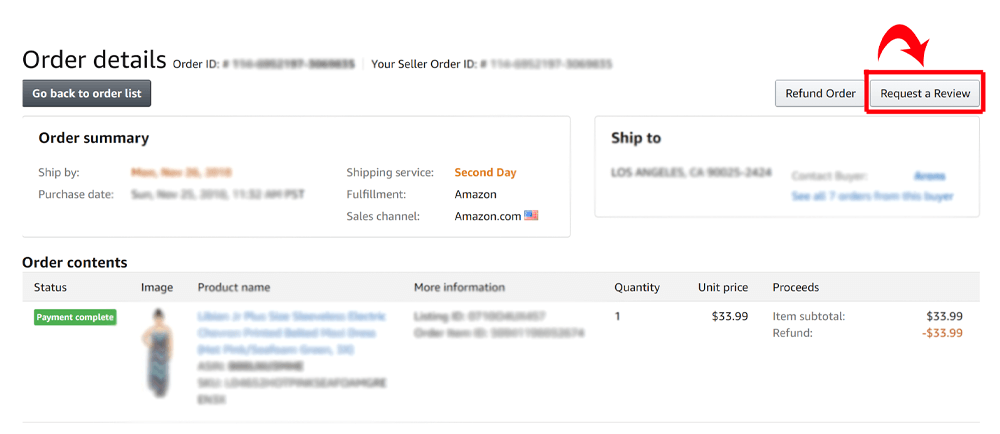 Why Don't I Have the Amazon "Request a Review" Button?
There are several reasons why the "Request a Review" button may not appear on specific orders. The most likely reason the button might be missing from your orders is that the customer already left a review for the purchased product, and there's no reason to request further feedback. Another possible reason would be if an Amazon-automated or third-party review request has already been sent for the order.
It seems that Amazon is attempting to control and limit sellers' abilities to freely communicate with buyers, beyond the power of their Terms of Service.
If you're one of the many sellers who haven't seen this new option yet, it may only be a matter of time before it appears in your Seller Central account. Major changes like this take time to roll out across large platforms like Amazon so you can expect to see it in the near future.
Based on our research, most sellers in the US and EU are already seeing the Request a Review button appear on their accounts, but the change has not been rolled out to all national marketplaces. This fact, along with the disappearance and re-emergence of the button for sellers who have seen it, could mean that Amazon is testing the feature to determine its efficacy in controlling how customers ask for reviews. Amazon wants to rein in pushy sellers from spamming customers and soliciting reviews in an inappropriate way. Only time will tell if we're headed for a global rollout of this new seller feature.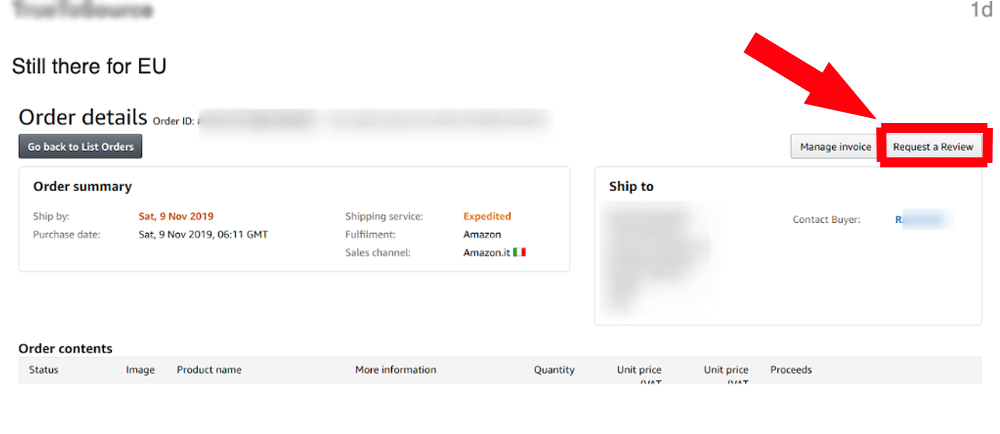 Implications of the "Request a Review" Button for Sellers
We've mentioned Amazon's recent push to more strictly enforce its policies concerning review requests in previous posts. Recent message board posts to Amazon Seller Forums are loaded with chatter about accounts being suspended with only vague reasons coming from Amazon. Sellers are unsure why their accounts are being blocked from communicating with their customers or for how long. And now, the sudden push toward Amazon sanctioned communication make these temporary suspensions appear particularly suspicious to some sellers.

However, there is still some contradictory language used on whether sellers are allowed to use buyer-seller messaging to request for reviews.
To be clear, yes you are still allowed to user buyer-seller messaging and 3rd party apps to request for reviews and yes you can use links to direct them to leave feedback or reviews. Please refer to the buyer-seller messaging overview page for specific details: https://sellercentral.amazon.com/gp/help/help.html?itemID=202125900&language=en-US
All sellers should be well aware of how to stay on the right side of Amazon's Terms of Service, but here's a brief recap of the major things to avoid when contacting your Amazon customers.
Coercing positive reviews or manipulating negative reviews: Regardless of the communication type, sellers should never attempt to persuade buyers to leave favorable reviews. This includes requests for shoppers to contact the seller directly to address any concerns before leaving a review and language such as "If you enjoyed the product, please leave us a review".
Offering discounts, coupons, or free products in exchange for reviews: Up until 2016, Amazon allowed sellers to offer deep discounts or even free goods to boost their reviews. But now this is seen as a manipulation of the review system that shoppers depend on to decide which products to purchase.
Certain links or URLs: Amazon clearly states in their Terms of Service that no external links outside of Amazon along with product and storefront links are permitted in any type of communication.
Sending promotional emails or attempting to market your Amazon storefront: Communication with buyers should be limited to information specifically related to their recent purchase. Sellers cannot direct shoppers to additional product pages, third-party websites, or even their store's homepage.

Deciding if You Should Use the "Request a Review" Button
With the profound impact of product reviews and seller feedback on the way products are ranked in Amazon's A9 algorithm, savvy sellers competing for Amazon rankings are keen to keep the positive reviews flowing in whatever way they can.
This new feature does give sellers who are short on time the option to quickly request reviews through the form email without any concerns of violating Amazon's Terms of Service. It may be a reasonable option for sellers who aren't currently doing anything to request reviews and need to quickly and easily implement a review strategy.
However, for Amazon sellers who understand how important it is to maximize product reviews, the disadvantages of the new "Request a Review" button are obvious.
Firstly, there is no way to automate emails with the "Request a Review" button. If you are a high volume seller who completes a large number of orders every day, it would be extremely time-consuming to view each order manually and activate the review email for each individual order. With third party Amazon seller tools like FeedbackWhiz, automating email campaigns across many orders is much faster and easier. Besides automation, you lose the ability to blacklist angry customers who may have reached out to you with issues or had a bad experience. Using the Amazon "request a review button" can be a double-edged sword as you can be soliciting for negative reviews as well.
Secondly, there is no option for personalization. A generic email is automatically generated by Amazon without customized subject lines or content of the email that helps sellers relate to their customers. With email automation tools like FeedbackWhiz, it's possible to craft an email written in your own voice that is more likely to prompt a user to review your product. Simply clicking the "Request a Review" button and hoping that the buyer responds to a generic automated email without a thoughtful, personal message is probably a long shot. In the long run, buyers will become insensitive to opening these types of emails and the end result is you are missing out on the one opportunity to convert an email into a review. Savvy Amazon sellers know that they often need to go the extra mile to provide top-notch customer service, engage their customers, and increase the likelihood of earning a favorable review.
And last, but not least, one of the biggest advantages of creating custom emails is the ability to build brand awareness by displaying your logo. Sellers want to maximize every opportunity to build a personal relationship via messaging and branding. Having the ability to send an initial email when orders are shipped with tools like FeedbackWhiz allows you to send buyers attachments and product information. In this email, you are allowed to ask the customer to reach out if when the product arrives and things are not to their satisfaction. By giving the customer peace of mind before they get their product not only cuts down on the negative reviews but builds that initial relationship with the customer. This, in turn, will give you a much higher chance of getting them to leave you a review in your customized review request email.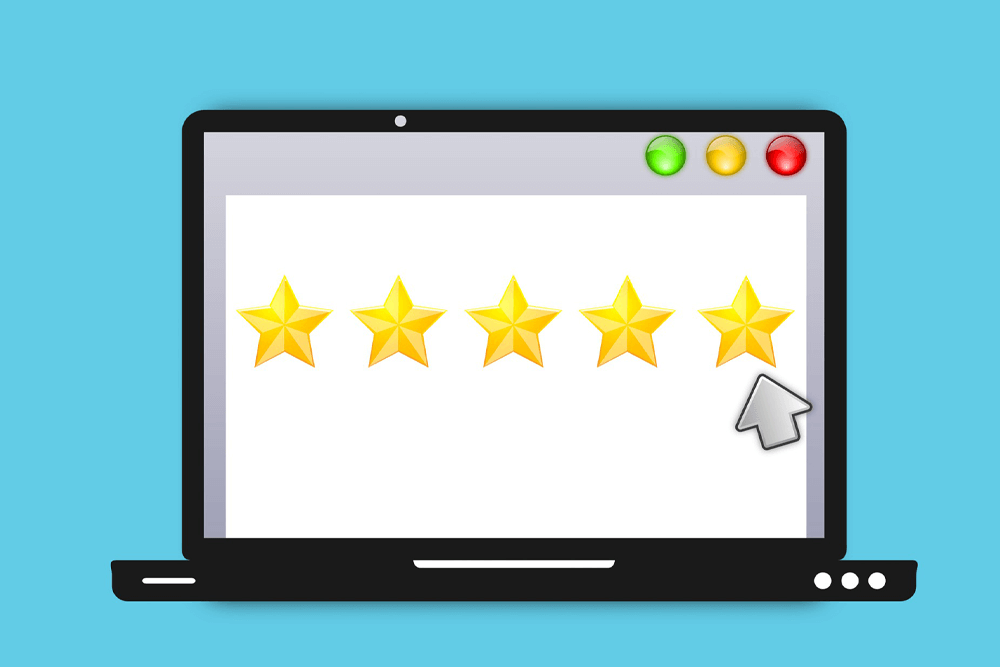 The Bottom Line on Amazon's "Request a Review" Button
If you're pressed for time with no customized email campaigns running for your Amazon store and sell products only at a low volume, this new feature may be just what you're looking for. It's a swift and simple process to click a button and know that your customers will receive a request to leave feedback for your product. The secondary benefit of utilizing the new button is its ability to bypass the new customer opt-out option. However, be aware that customers will have a separate opt-out option for these automated emails as well.
In business, as in life, form emails are never as effective as customized, personalized communications. Form emails become old, redundant, and will eventually be ignored or deleted over time. With increasingly limited ability to contact buyers, smart sellers will seek every opportunity to maximize the potential of those finite touchpoints. Creating engaging emails that resonate with your customers is the best way to generate product reviews, and it's possible to do exactly that with powerful and compliant product review tools like FeedbackWhiz.
For Amazon sellers who want the best of both worlds, FeedbackWhiz has added the Amazon email to our available prebuilt templates so this Amazon-approved language can be used for automated campaigns.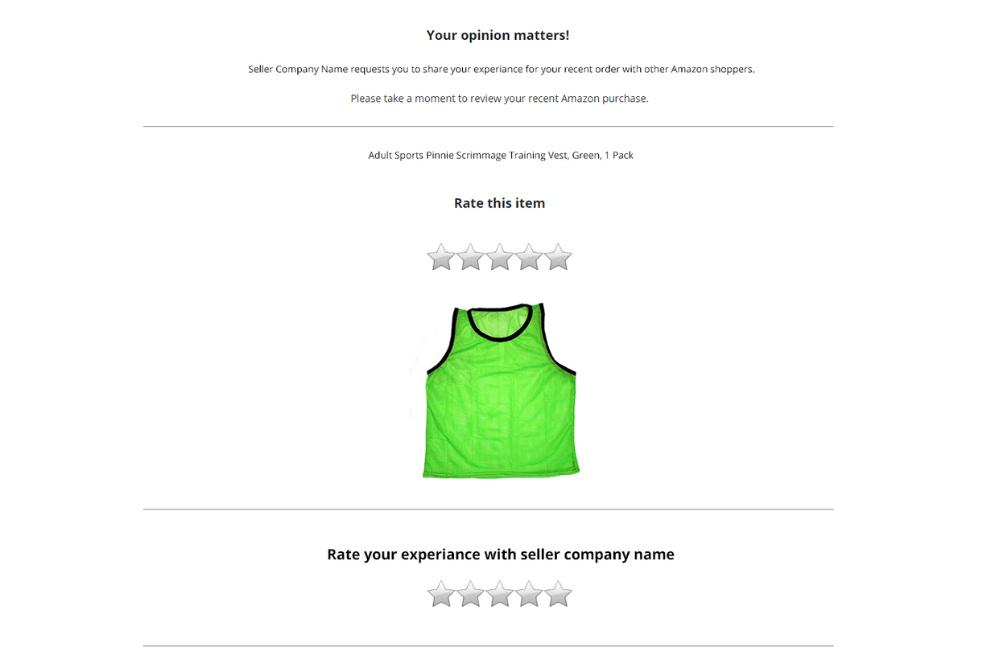 Amazon Request a Review vs FeedbackWhiz Summary
| | | |
| --- | --- | --- |
| | Amazon Review Request Button | FeedbackWhiz Review Request |
| Review Request Automated | Yes* | Yes |
| Custom Date/Time to Send Request | Yes* | Yes |
| TOS Compliant Template | Yes | Yes |
| Custom TOS Compliant Templates | No | Yes |
| Personal writing style in text | No | Yes |
| Include Attachments | No | Yes |
| Multiple Templates | No | Yes |
| Include Branding on Template | No | Yes |
| Email Open Rates | No | Yes |
| Product Image Included | Yes, limited size | Yes, custom size |
| Custom Clickable "Leave Product Review" Button | No | Yes |
| Request Product Review | Yes | Yes |
| Request Seller Feedback | Yes | Yes |
| Blacklist Customers | Yes* | Yes |
| Custom Subject Line | No | Yes |
| Message Translated into Buyer's Language | Yes | Yes, but not automatic |
| Clickable Stars | Yes | Yes |
| Includes Buyer Name | Yes | No |
| Buyer can reply (via Buyer-seller messaging) | No | Yes |
| A/B Test Subject Lines | No | Yes |
| | | |
| *Full Automation features available with FeedbackWhiz app. | | |