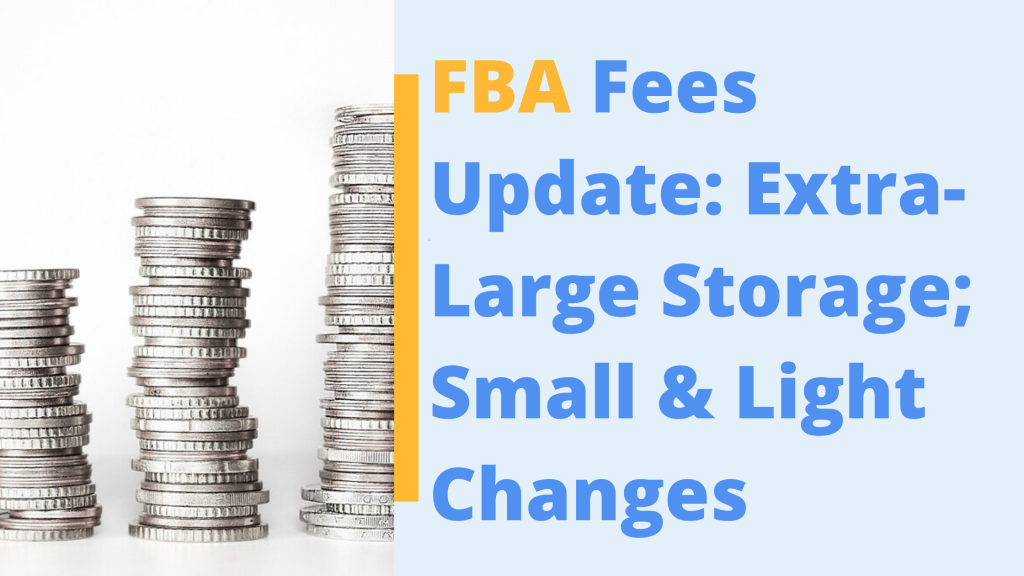 Amazon made two announcements on Monday impacting sellers who use its FBA fulfillment services. It's adding another storage type for "extra large" items; and it's making a change to its "Small and Light" program.
Here's a short guide on what these new Amazon FBA fees and updates are and what you can do today to ensure you're making the most out of the FBA program and fees. Don't forget to check out our short guide on how to avoid FBA storage fees too!

Amazon FBA Fees and Updates April 18, 2022
"Extra-Large" Storage Type Added
Amazon announced that effective April 18, 2022, another storage type will be available to sellers: extra-large, which is in addition to the oversize storage type. Amazon will automatically reclassify sellers' inventory that qualify for the extra-large storage type, it said. "This new storage type gives you more flexibility in how you manage your inventory and quantity limits for larger items."
Extra-large and oversize storage types are not the same. Orders for these items are handled through separate fulfillment networks.
The table below shows the criteria between the two storage types.
Small and Light Program Increases Threshold
Amazon also announced a change to its Small and Light program on Monday:
"We're pleased to tell you that FBA Small and Light will increase the price threshold for eligible products from $8 to $10, effective April 28, 2022.
"This change allows more of your products to become eligible for the program and receive fulfillment discounts. Other program eligibility requirements, such as weight limits and product dimensions, will remain the same.
"Small and Light offers reduced fulfillment costs on qualified items, helping you sell more of your low-cost products to the hundreds of millions of Amazon customers who shop in our stores around the world."
Stay on Top of Your Amazon FBA Fees & Costs
There are several ways you can lower Amazon selling fees. Equally important is for you to stay on top of mistakes Amazon sometimes makes with fulfillment fees, inventory handling and customer returns. These mistakes are reimbursable, but for the sake of your cash flow you need to take fast action.
 Keeping track of every single storage fee can be quite overwhelming. It can also be difficult to keep track of how all of these fees affect your bottom line, especially during busy seasons. This is where a great profit and loss tool can come into play.
FeedbackWhiz's Profits and Accounting Tool breaks down all of your Amazon seller fees, costs, and sales into attractive, easy-to-read and understand charts and graphs. By analyzing your most profitable and least profitable products, you can get a better idea of how fees are affecting your profits and make adjustments where necessary to try and lower Amazon seller fees.
Try it free today! Sync your seller central account with FeedbackWhiz to determine what fees you're being hit with and how you can minimize your costs.