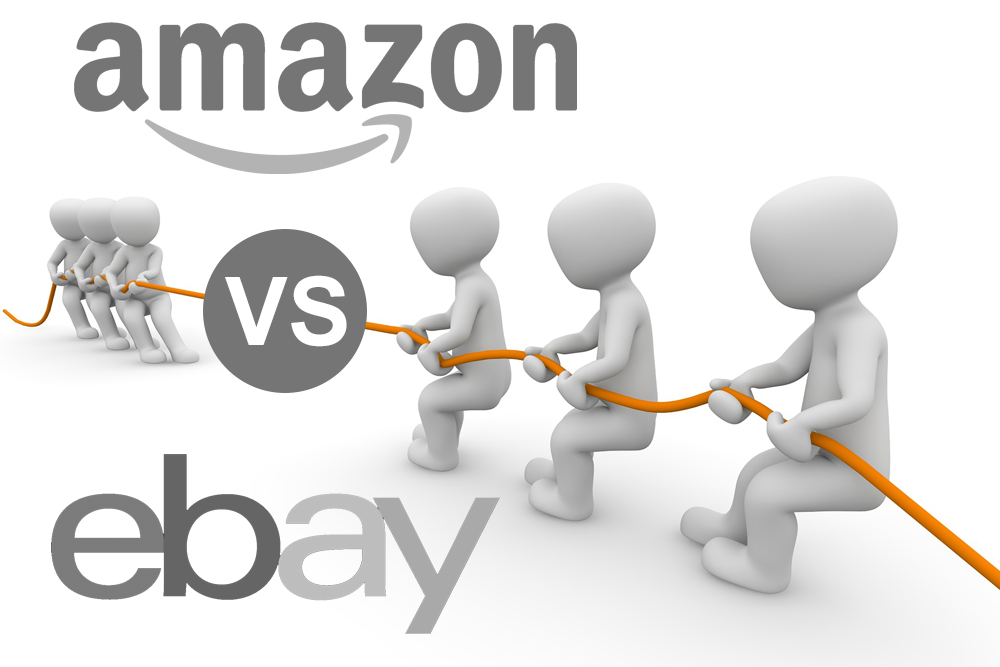 It's the ultimate face-off between the two giants of online shopping. Amazon and eBay are the world's most popular online marketplaces, but which is better? It's time to find out.
Here's a question many new sellers ask: "which is better, Amazon or eBay?" It's an intriguing and surprisingly complicated question to answer and will, to a certain extent, depend on what you're looking for from your online selling experience. Both platforms have their fans and both have unique features that no one can beat, but which comes out on top? To answer that question, let's try scoring them on the key battlegrounds of e-commerce.
Price
First things first, how much will it cost to list on each platform? Generally speaking, eBay looks to be the cheaper option as its fees are noticeably lower than Amazon's, but on the other hand, there are quite a lot of them. Let's break things down further:
Insertion fee:

You'll get 50 of these free each month and if you open a store you'll get more.

Final value fees:

They levy a final value fee at 10% of the sale price when your item sells or if they decide that you intend to sell outside of eBay. So if you ask for a contact's email address in the context of buying, eBay will decide that you intend to complete the purchase outside of their system. These fees may also be increased if you fail to meet their performance expectations. If your rate of 'item not as described' feedback is very high, you will be charged an additional 4% fee.

PayPal:

eBay insists on using PayPal. And PayPal comes with its own fees. This is 2.9% of the transaction amount plus a flat rate of $0.45. If you want to have a really top-notch eBay listing which grabs the buyers' eyes, you will also need to pay optional listing upgrade fees.
All this and we haven't begun to talk about shipping costs which you may want to absorb in order to give your customers the benefit of free shipping. When taken together, these fees can add up.
When using Fulfilled by Amazon (FBA), your fees are generally higher but will vary depending on how expensive your product is to ship or store. If it's large and heavy, for example, the fees will be higher. Amazon provides a useful graph which helps you to calculate the profit you might earn on each product. Amazon FBA fees include everything from storage to shipping, and of course, you'll be responsible for the costs of shipping your items to an Amazon warehouse.
On the surface, Amazon is more expensive but when using FBA, you can save money through saving time.  You don't have to worry about the time spent packaging, storing and shipping items. Amazon does all this for you, so your time can be spent finding other ways to improve your revenues.  
Buyer Persona
Buyers go to eBay and Amazon looking for relatively different things. eBay has been around since 1995 and has earned itself a reputation for being the best place to buy second-hand goods. You can buy almost anything on eBay.
In contrast, Amazon is a place buyers go to looking for new and high-quality items. So, if you're selling used items eBay might be your best bet.
Price of products
Product pricing also differs between the two platforms. eBay's auction model creates a lot of uncertainty for sellers because you're not in control of your profit margin. You can choose a fixed price on eBay, or add a 'make an offer' option which allows buyers to negotiate with you. You could choose whether or not to accept that offer.
With Amazon, your pricing is fixed. If you get your research and pricing right, you can continue selling this product at a healthy profit year after year after year.
Size of the market
Launched in 1995, eBay has become one of the biggest online marketplaces in the world with around 170 million active users worldwide, but Amazon is even bigger with 304 million active users. Around half of all online shopping was done on Amazon last year according to a survey from eMarketer. On the other hand, poor old eBay rolled in with just a 6.6% share of the market.  
At the last count, Amazon had around five million different sellers and is adding around a million new sellers each year. In terms of accessing a marketplace stocked full of potential buyers, Amazon is extremely difficult to beat.
Trust and protections
Trust is vital for any online retailer. From a seller's perspective, eBay might look great because it is more difficult to accept returns and refunds. You can even add a no return option although this might put off many of your potential buyers. Of course, dissatisfied customers can hit your account with complaints, which can make it much more difficult to convert new buyers, but generally speaking, the power between seller and buyer is more balanced on eBay.
On Amazon, the power is weighted in favor of the buyer. The A-Z guarantee is great for customers and is one of the biggest reasons why they may choose an Amazon seller over someone else. It gives Amazon the benefit of being an extremely trusted and reliable source, whereas eBay might feel a little shakier.
Stress and hassle
Amazon comes out on top in this category. The FBA feature relieves a huge amount of stress and takes work off your plate by handling the shipping, storage, and packaging of your products. While this service does come at a cost it, as mentioned above, it frees you up to concentrate on other matters, many of which may be much more profitable. It's all about how much you value your time.
Interacting with customers
With Amazon, customer relationships are vital. Review management software, like FeedbackWhiz, can be crucial in helping you to stay in contact with customers and manage your product reviews. This type of software has been shown to improve the quantity and quality of product reviews and boost your selling power considerably. And, of course, all of this translates into more sales.
So, Who Wins?
Ultimately, the platform you choose to sell on depends on a number of different factors, including how experienced you are as a seller, what you intend to sell, and may units you expect to move. New sellers may choose eBay for its lower fees and as a way to gain experience. More experienced sellers with higher-end products may choose Amazon for its larger marketplace and its emphasis on trustworthiness and quality.
At the end of the day, the winner is the platform that gives you the greatest access to the people who want, and need your product. By considering the points mentioned here, you can determine which marketplace best meets your needs.