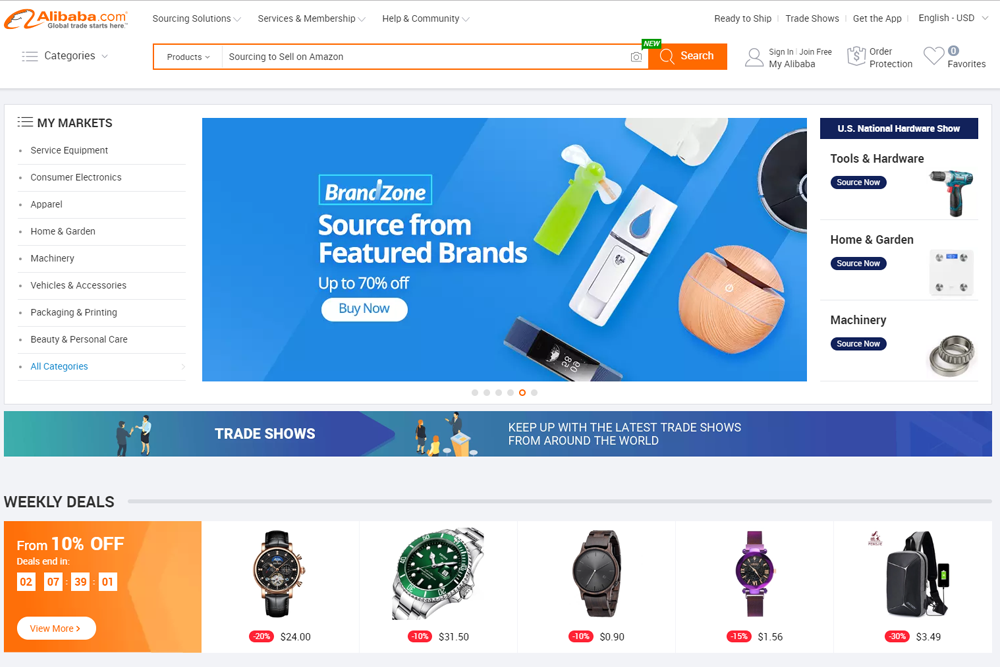 Alibaba is one of the biggest online marketplaces in the world and if you know where to look, it can be a lucrative goldmine for sourcing products to sell on Amazon.
It's a rising giant from the East and can be a lucrative place for sourcing products to sell on Amazon. However, using Alibaba is not without its risks and you will have to choose your products carefully. Here's our guide to how you can safely and successfully source products on Alibaba to sell on Amazon.
What is Alibaba?
Alibaba is a massive marketplace with millions of suppliers and products. It harnesses China's enormous internet population and offers a good private label option for an Amazon seller. It's a chance to find products cheaply which is not currently being sold on Amazon.
But, this platform is not without its pitfalls. Alibaba has, in general, developed a positive reputation for itself, but this does not mean that there are not people on the platform that would be more than happy to take you for a ride. For safety's sake, it's a good idea to only work with gold members. They pay Alibaba a fee to appear higher in their search rankings and are more likely to be a reputable supplier.
You must tread carefully on Alibaba if you are going to reap big rewards.
Decide what to sell
The first step is to decide what you are going to sell. You won't make massive profits if you are selling products that several others are already selling wholesale on Amazon. You should look for something unique that fills a gap in the market or provides a reasonable extension to your current product lines or offerings.
You should avoid branded products. Alibaba is meant to be a place to source items that are generic and haven't yet been picked up by a brand. If you see a brand name on the platform, the odds are good that selling it would be illegal — it is likely to be counterfeit.
Request for quotes
There are a couple of ways you can find potential suppliers. The first and perhaps quickest is to issue a general request for quotes. Go to the tab entitled sourcing solutions and submit an RFQ (request for quotes). This will then take you to this page: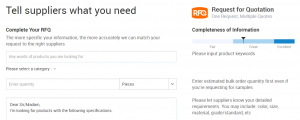 You should fill out these sections:
Keywords for the products you're looking for: All relevant keywords that could pertain to the product you're looking for.
Detailed description: Describe what you're looking for in more depth. You should also include the desired quantity.
Direct messages
An alternative approach is to send direct messages to people who are selling the kind of products you are looking for. To do this you can run a search for a product which should reveal a list of potential options.

You can then message the sellers, stating your interest in their product. You want to find out where they are shipping from, their cost and what quantities they can provide. Remember to ask for a photo of the product to give you added reassurance that the item is legitimate.
You would want to set up a template to reuse to save yourself time. Here is a template we recommend to get the most out each vendor inquiry.
Subject: I'm interested in [your product]
Hello [name, if you have it]
I manage procurement for [your company name] and would like to receive a quote for [the product]. If you manufacture this product I would be interested in receiving more information. You can email me at [your email].
Within your response please include:
Pictures of the product (plus a photo of any details you feel are appropriate. This ensures these pictures are taken for you and are not sourced generically.
Your minimum order quantity.
The price at MOQ (you might also choose another order quantity to judge their price flexibility).
The price to make certain customization changes. (You can skip this question if you're happy to buy the product as it is.)
The closest port.
Many thanks for your time, I look forward to hearing from you.
The more responses you can get the merrier, as this will give you a good selection to choose from. Once the responses have come in you can put them into an Excel sheet and sort through them all. Keep details such as the supplier's name, website, email, minimum order quantity and cost per unit to get a good overview of each product.
Make sure you're buying from someone who is legitimate. The best option is someone who is buying directly from the factory and is not a reseller. There are some telltale signs that you're talking to a reseller. These can include:
They have lots of unrelated items: A lot of items which have no connection is a sure sign they are simply picking up products and trying to flip them.
Lack of documents: Ask for official documents such as ISO 9001. If they're legitimate, they should be more than happy to provide these.
They don't want you to visit: Try to arrange a visit. It doesn't matter if you're too far away to go. If they are a factory, they will be happy to show you around. If not, they will probably make excuses.
You should also ask a few questions to ascertain their suitability. These questions should include:
Do they understand what FBA is and packaging requirements? If you can get them to do this part, it will save you some work at your end.
Do they have the proper certification to ship to the USA or wherever you intend to ship to?
Do they have trade insurance?
How quickly can they ship the products?
Being secure

Using gold suppliers will give you an additional sense of security. Look to see if they offer Alibaba's Trade Assurance program to make sure you're protected. This program is designed to reduce the risks of buying on the platform by guaranteeing that money will be paid back if the supplier fails to meet the terms of the contract.
When you identify a potential supplier, it is a good idea to Google them. A reputable supplier should have at least some internet presence to show for it. Make sure they are established and legitimate.
When negotiating the purchase, it's always a good idea to arrange a Skype conversation with them so you can communicate face to face. Again, get a photograph of the product so you know it exists and that it is in reasonable condition.
Negotiate and buy
Once you have completed the steps listed above, you should have a comprehensive list of potential suppliers to choose from. Try sorting them into different categories such as bad, questionable, okay and good. Scrap the ones in the "bad" categories. Keep the contact details of those listed as questionable, and contact everyone in the good and okay lists.
Ideally, you should have a number of potential suppliers you can choose from. This will put you in a good position to negotiate the final terms and price. Haggling is part of this platform, so the quoted price is very rarely the price the supplier expects you to pay. Just be careful to not negotiate a price so low that manufacturers are inclined to cut corners when putting your product together.
Getting it from China
Shipping the products from China – either to yourself or directly to Amazon – will be a logistical challenge in itself. Shipping directly to Amazon takes less time and avoids middle man costs, but it can cause problems. The supplier will have to package it to Amazon's specifications. Much depends on your communication with the Chinese supplier. If they fail to make it up to Amazon's specifications you could face some serious issues.
You could also choose a middle man. There are lots of these people who are used to prepping for Amazon. They offer greater reassurance that the product will be packaged correctly for Amazon's specifications and give you the opportunity to inspect the product, but they will add time and cost.
You will also need to check that the product complies with safety and import regulations within your country. For example, are there any patents preventing you from selling this product in your country? Is its sale banned? Can it satisfy health and safety specifications? Are these considered dangerous goods and can you sell them on Amazon? Your supplier will not help you out with this – they are only interested in making the sale and, once they have, the responsibility lies with you. If you've contravened import regulations in any way you will have to take responsibility for destroying the product.
Sampling the product
Once you've made your selection, you will be expected to buy a sample. The price of this sample can vary from free (plus shipping) to the full retail price. Remember, if you are having the product custom made, the sample price may be quite high.
When paying for your sample, it is a good idea to use PayPal. This will protect you as a buyer. When it comes to purchasing your supply, it might be more cost effective to use companies like OFX.
Looking to source products on Alibaba for sale on Amazon is a good idea that can produce lucrative results for you. But, as with all online marketplaces, you need to be sure that you are getting exactly what you are paying for. Follow the tips laid out above, and you'll stay safe and be ready to make a profit in no time!