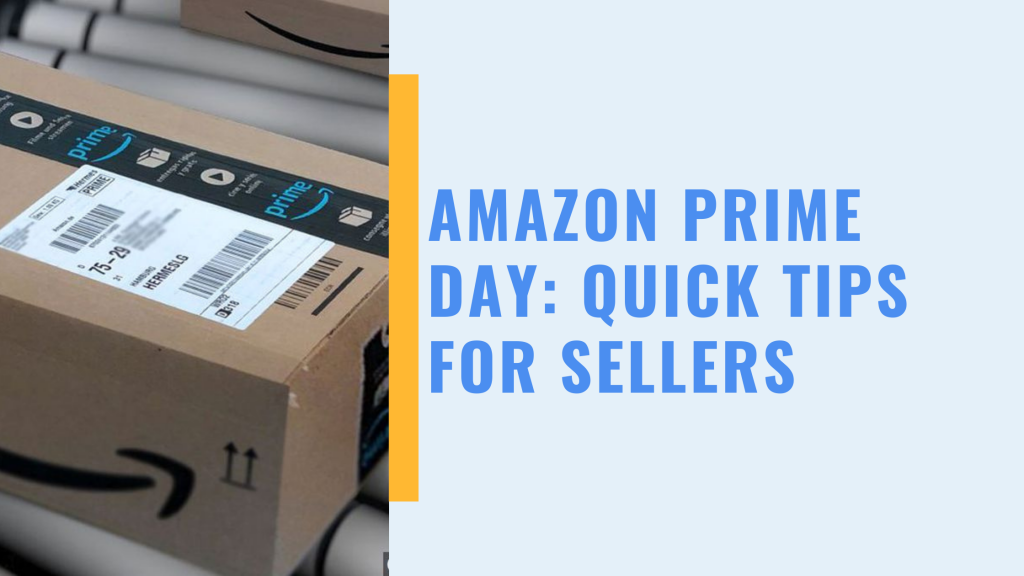 Amazon launched Prime Day as a celebration of the company's 20th birthday on July 15, 2015. While Amazon sellers are battling against all of the other retail and e-commerce giants on days like Black Friday and Christmas, Amazon stands alone on Prime Day.
We've compiled a complete Amazon Prime Day Guide to help sellers drive more sales and profits during the 48 hour rush. Here are some important condensed tips Amazon sellers can follow to prepare for the big day. 
7 Tips to Help You Prepare for Prime Day
1. Know Key Dates For International Stocking
There is no better time than Prime Day to try out expanding into other global markets. But in order to do so, you will need to make sure that you have stock in the appropriate Amazon FBA warehouses around the globe in time to be covered for the event. Here are the Amazon FBA inventory dates to keep in mind:
June 1:

Australia

June 6:

United Kingdom, Germany, France, Italy, Spain, Netherlands, Turkey

June 7:

United Arab Emirates, Saudi Arabia

June 13: Japan
2. Address Negative Product Reviews Right Away
One thing you don't want during Prime Day (and year round) is to lose sales based on negative product reviews. Unfortunately, negative product reviews are just a part of doing business on Amazon; some customers will be unhappy with their purchase and will refuse to remove their negative review regardless of how well you handle the situation. But that doesn't make responding to them a futile effort.
An unhappy customer may remove or edit their product review after you step in to handle the situation with an explanation that solves their problem or a walk-through on the return process so that they can get their money back. Even if they don't, you will still be providing excellent customer service that may win back their business in the future. FeedbackWhiz's Account Monitoring tool can notify you any time you receive an unfavorable review so that you can take care of it as soon as possible.
3. Plan Your Inventory in Advance
Planning your inventory can be tricky for a day like Prime Day. Overstocking can leave you with the headache of having to deal with storage fees long-term while under-stocking can result in missing out on potential sales. Take the time to study past events like previous Prime Days and fourth-quarter sales to make the best stocking decisions that you can.
Consider backing up your Prime Day Amazon FBA stock with fulfilled by merchant stock. This is a great way to make sure that you aren't missing out on sales after your warehouse inventory is sold out. Just be careful not to sell too many units using this method as failure to fulfill sales could result in your Amazon account being suspended. Take accurate stock in both how much inventory you are sending to Amazon's warehouses and how much you have available to fulfill yourself.
4. Automate the Product Review Request Process
The increased traffic and sales that come on Prime Day can lead to more sales even after the event is over thanks to increases in your organic sales rankings and more product reviews on your products. Not all customers will leave product reviews on their purchase, but you can significantly increase the amount that do using FeedbackWhiz's automated email campaigns.
Amazon sellers can use this tool to send out automated emails or to automatically press the "Request a Review" button on Amazon for you after every sale. You can also set different schedules to different products to ensure that your buyers have had enough time to use their product before asking them to review it. This automated process will take the stress of having to ask for product reviews out of your hands and make sure that you never miss out on potential feedback.

5. Temporarily Lower Your Prices
Amazon buyers are expecting discounts on Prime Day. As a result, when it makes financial sense to do so, you should take a quantity over quality of sale approach when it comes to your Prime Day sales strategies. Earning less profit on each unit may be worth it in the long run as each sale will improve your search rankings and give you more opportunities to generate product reviews.
Keep a close eye on your competitors before, during, and after Prime Day. You don't always have to have the lowest priced product in your category, but you do want to make sure that you are competitively priced to take advantage of all of the extra traffic you will be receiving.
6. Check Your Listings For Potential Improvements
Amazon sellers know their products inside and out. This can sometimes lead to incomplete product listings though as a feature or image that might seem totally self-explanatory to you might leave out a detail or the answer to a question that a potential buyer might have. And if your potential customer gets confused or frustrated, they may just leave without giving your product a chance.
Go over all of your product listings with a fine-tooth comb looking for any potential updates or additional details or images that you could provide. Also ask a friend or family member to check out the listing with fresh eyes to give you feedback. If they are confused about anything, chances are some potential buyers might be confused by it as well.
7. Put Extra Emphasis on High and Low Performing Products
It should go without saying that you should make your best-selling and most highly-rated items the focal point of your advertising campaigns and sales strategies for Prime Day. But you should also look at Prime Day as an opportunity to provide a much-needed boost to your under-performing products as well, whether you decide to try to liquidate them or raise awareness about them.
Not sure what your best and worst selling items are? The FeedbackWhiz Profits and Accounting Tool allows you to organize your inventory by most profitable items and least profitable items, giving you quick access to this valuable information with just a few clicks. You can also view in-depth and customizable charts and graphs that cover all of the sales and profit data on your Amazon business. New users can try these tools out free of charge for 30 days.