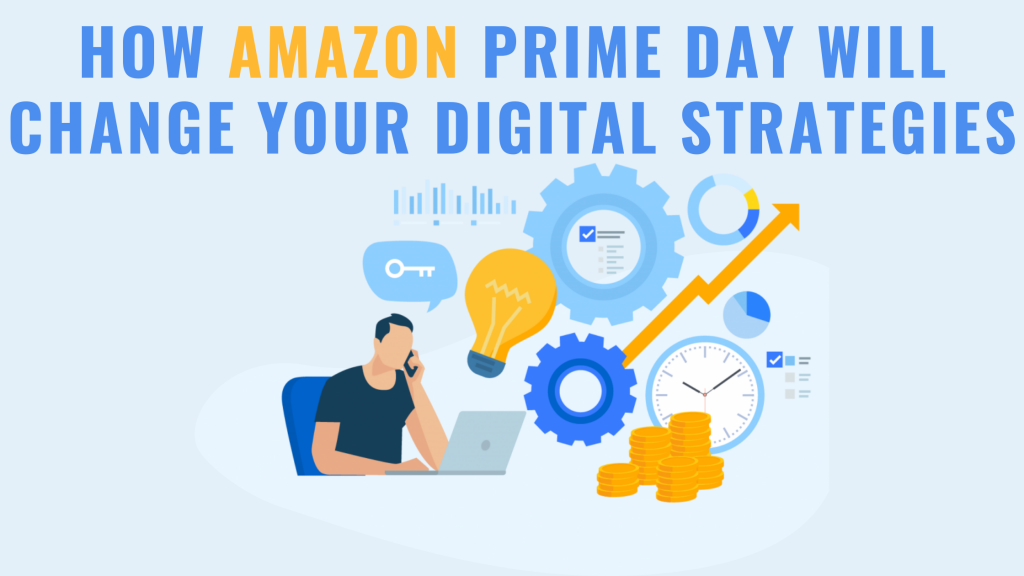 Amazon Prime Day is an exciting annual event for both consumers and sellers alike. It gives Amazon Prime shoppers the opportunity to score excellent deals on products that interest them and sellers the chance to sell their products to a massive global audience. Prime Day 2021 will be 48 hours long and will occur on June 21 and June 22.
Whether you are a casual or professional seller on Amazon, you should expect a significant spike in traffic and sales on your products this Prime Day. The event could also bring about changes in your digital strategies. 
Here are four ways how Amazon Prime Day 2021 could affect your eCommerce business and digital strategies even after the huge sales day.
1. You'll need to spend more on advertising to keep up with the competition.
Advertising on Amazon now costs $1.20 per click on average, according to a recent Marketplace Pulse report. The report states that this represents a 30% increase from the $0.93 average cost per cost at the start of 2021 and over a 50% year-over-year increase from last June when advertisements cost only $0.79 per click on average.
This trend seems likely to continue. Top-performing keywords are out of reach for most small businesses on Amazon as established brands with inflated advertising budgets are able to dominate those. This leaves smaller brands fighting over more niche-specific keywords and search terms, elevating the cost-per-click entry points across the board.
Major sales events like holidays and Prime Day make advertising prices soar even higher as brands want to bring as much of the extra traffic Amazon generates as they can to their product pages. Some brands are even willing to spend so much on advertising that they don't make a profit on certain items, just to boost organic sales and product reviews on those items.
When it comes to crafting your own advertising budget and strategy, it's useful to have as much information as possible at your disposal. A Profit and Loss Tracking Tool can give you an accurate and detailed look at how profitable every product in your Amazon store is and which products are your best and worst sellers. This data can help you decide what products to build advertising campaigns around and how much you can afford to spend on advertising.
2. You will have to plan inventory and fulfillment around Amazon's guidelines.
The majority of third-party sellers take advantage of Amazon's Fulfilled By Amazon (FBA) services to sell their products. The fulfillment service is one of the biggest draws to selling on Amazon as it takes the logistics of day-to-day shipping and returns out of the seller's hands and allows Amazon's warehouses to handle them. 
Unfortunately, using Amazon FBA does have some drawbacks. Sellers must adhere to all of Amazon's guidelines when it comes to what products and their quantities they are allowed to send. A Modern Retail Amazon Briefing earlier this month revealed that many Amazon sellers have reported having their inventory maximums drop out of the blue in late May.
Historically, these types of drops have been related to low Inventory Performance Index (IPI) scores. But many of the sellers complaining about having the inventory they are able to send in limited have stated that their accounts are healthy and their IPIs are in the green. Amazon's warehouses are likely overwhelmed due to sellers stocking up for Prime Day which could explain some of these inventory adjustments.
Situations like this serve as a reminder that utilizing both FBA and fulfilled by merchant (FBM) is a great sales strategy. Having a merchant-fulfilled backup SKU for when unexpected changes occur in Amazon's warehouses or for when you sell out can help you be prepared for the worst. Even if your account was not affected by this recent wave of inventory limits, be aware that this could happen to you in the future.
3. Other eCommerce channels could will be worth investing in.
Prime Day is an Amazon-exclusive shopping holiday. But that doesn't mean that other retail giants are going to go down without a fight. Walmart has announced a "Deals for Days" event that will run from June 20 through June 23. Target is running a similar "Deal Day" that is set to last three days from June 20 through June 22. These types of events should generate online and foot traffic for these companies even if they aren't going to do much to put a dent in Amazon Prime Day's success.
A recent report states that Amazon's growth will slow this season despite projected sales of nearly $12 billion. Prime Day sales grew by 64% from 2016 to 2017, by 67.5% from 2017 to 2018, and by 67.9% from 2018 to 2019. Growth from 2019 to 2020 dipped to 43% despite a record $9.91 billion in Prime Day sales, and growth could be under 20% from last year to this year.
Dipping growth numbers aren't an indication that anything is wrong with Amazon, just simply that reaching new heights will get more difficult as time passes considering how meteoric the platform's sales numbers already are. Heavy is the head that wears the crown; platforms like Walmart, eBay, and Etsy may never be able to rival Amazon, but they will certainly try.
And this provides an interesting opportunity for brand owners looking to branch out beyond Amazon. The Walmart Marketplace is trying to emulate Amazon's success by catering to third-party sellers and plenty of small businesses are enjoying strong sales in other online marketplaces as well. As Prime Day gets online shoppers excited to look for deals all over the web, now is as good of a time as any to invest some time into expanding into other marketplaces if it makes sense for your brand to do so.
4. Prime Day growth will be slower, but the event will still be king.
Prime Day has established itself as a massive sales event since its inception in 2015. Regardless of whether or not you decide to branch into other marketplaces or develop new strategies off of Amazon, your primary focus should still be on Prime Day 2021. We covered everything you need to know in our Amazon Prime Day Prep 2021: The Complete Guide.
And to celebrate Prime Day, FeedbackWhiz is offering a 30-day free trial for all new members this month, plus ANYONE can take an additional 50% off for up to 3 months. Take advantage of our great tools to generate more product reviews, monitor your product listings for safety and track all of your important data and profitability this Prime Day and beyond. Learn more by clicking below.