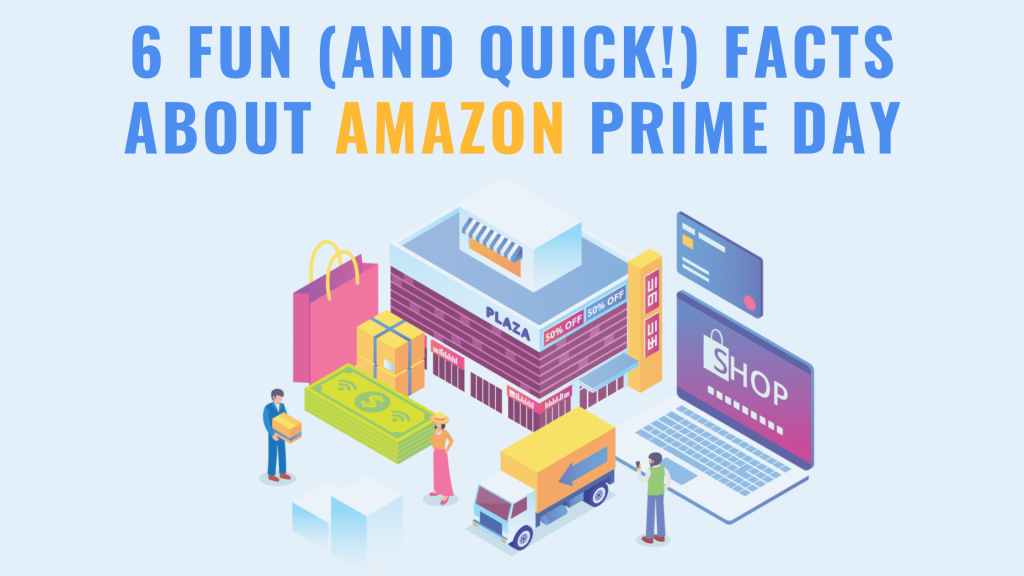 Amazon has managed to invent a shopping holiday that rivals Black Friday and Cyber Monday and is exclusive to its shoppers. Prime Day has become a household name as an annual shopping event that both sellers and buyers on Amazon look forward to every year. And no, that isn't one of our fun facts about Amazon.
In this article we'll share seven fun facts about Amazon Prime Day; one for each year that the event has been held. If you're looking for some more info to fully arm yourself to sell more and after Prime Day, check out our Complete Guide to Prime Day.

7 Fun Facts About Amazon Prime Day
1. Prime Day Launched in 2015
It's hard to believe that Prime Day was created so recently, given how popular and well known it is today. The first Prime Day took place on July 15, 2015, on the same year that Amazon turned 20 years old. The event was an immediate success as more items were sold on the inaugural Prime Day than were sold during Black Friday 2014.
2. Small Businesses Saw Sales Sore in 2016
Amazon-exclusive devices were extremely popular during Prime Day 2016 as it was the biggest day ever for multiple Amazon devices including Fire TV, Fire tables, Alexa-enabled devices and Kindle e-readers. But while Amazon had plenty of success selling its own products during its second Prime Day, small businesses and third-party sellers also had a ton of success. Third-party sellers saw their orders nearly triple year-over-year from the same day in 2015. 
3. Amazon's Echo Dot Won the Day in 2017
Prime Day 2017 was the first to last longer than 24 hours, starting on July 11 and running for 30 hours. The number of Prime members that made a purchase on Prime Day 2017 grew by over 50% from Prime Day 2016. The most popular product sold during this event was the Echo Dot, which became the best-selling product across all manufacturers and all categories on Amazon worldwide.
4. Over 100 Million Products Were Sold Worldwide in 2018
Demand for deals and the popularity of the event prompted Amazon to bump Prime Day 2018 up to 36 hours. Small and medium sized businesses on Amazon accounted for over $1.5 billion in sales during Prime Day in 2018 as Prime members around the world purchased over 100 million products. The Instant Pot 6 Quart 7-in-1 multi-use pressure cooker was particularly popular with over 300,000 units sold.
5. Prime Day Expanded to Two Days in 2019
Prime Day in 2019 began on Monday, July 15 and ran for a full 48 hours. The two days of Prime Day surpassed the sales of the previous Black Friday and Cyber Monday combined. Prime members around the world purchased a staggering 175 million items over the two-day period as 18 different countries participated in the event. These numbers should put into perspective just how important Prime Day prep is for Amazon sellers.
6. Online Shoppers Supported Small Businesses Big Time in 2020
The coronavirus pandemic took a toll on everyone in 2020, and issues with lockdowns and logistics forced Amazon to postpone Prime Day 2020 until October 13-14. Amazon funded a promotion to support small businesses in the two weeks leading up to Prime Day that drove over $900 million in sales for small businesses. And during the Prime Day event, third-party sellers around the world surpassed $3.5 billion in sales, nearly 60% higher than Prime Day 2019's sales. 
7. 47% of Sellers Cite Advertising Costs and Strategies as Top Challenge Entering Prime Day
Over 47% of Amazon sellers recently surveyed cite advertising costs and strategy to be their top challenge entering Prime Day this year.

What's your top challenge?

Check out our video w/our friends from @SupplyKick-> https://t.co/f7tBKhI5I0#fba #amazonseller #amazonfba pic.twitter.com/CuqPrk6003

— FeedbackWhiz (@FeedbackWhiz) July 11, 2022

Over 47% of Amazon sellers cite advertising costs and strategy to be their top challenge entering Prime Day this year. Nearly 22% agree that supply chain issues disruptions are the top challenge, while rising inflation, FBA stores and fees, and measuring success remain the top challenges.
Third-party sellers should expect another massive year of sales and success from Prime Day in 2021. Be sure to maximize your profits, generate customer product reviews and protect your Amazon listing with the help of FeedbackWhiz's products this Prime Day and beyond, so you can add your own amazing and fun facts about Amazon Prime Day.
*Editor's Note: This article on fun facts about Amazon Prime Day was originally published on June 1, 2021. It was updated on June 6, 2022.