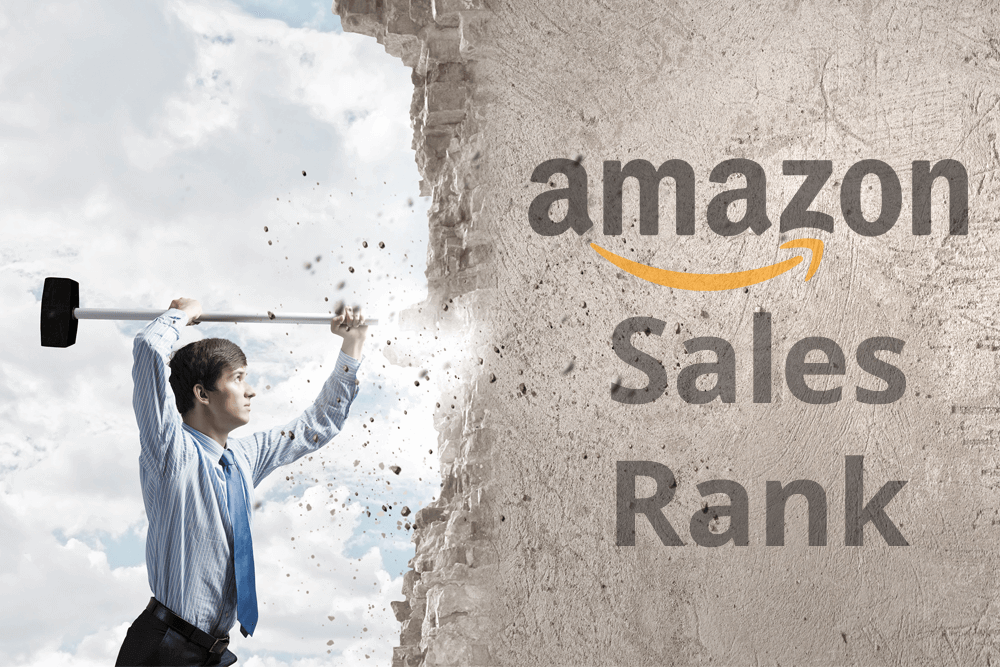 Ever wondered what your amazon sales rank is or why it's important? If so, this guide is for you. We'll tell you what it is, why it matters and how to get it higher.
So, you've sourced a good product and you're ready to sell on Amazon. Congratulations, you've just passed level one of the seller game. Unfortunately, this is just the beginning. Level 2 starts with getting your product seen and sold, and a major part of that equation will be whether or not you can conquer your Amazon Seller Rank
What is the Amazon Seller Rank?
Every product sold on Amazon is given a seller rank. Amazon looks at all the products in each category and assigns them a rank based on how many units the seller has sold in a given year. This rank appears at the bottom of your listing. So, if you see a sales rank of 267, that's where you rank among sellers of that particular product. It's a useful snapshot of how well you are doing at any given time.
Why is this ranking so is this important?
Chances are your buyers aren't basing their purchasing decision based on your sales rank. It's mostly there for a seller. It tells you how well you are doing against your competitors. If you see that number going down it means you're climbing up the rankings. If it goes in the other direction, something may be wrong and you'll need to change course.
However, this doesn't mean that your seller rank has no impact on your sales. Far from it. More sales mean a higher sales velocity and this indirectly puts you in line for higher sales figures. It will lead to more product reviews and feedback and will help you to continually grow your presence on Amazon.
So how do you improve your seller ranking?
Search engine optimization (SEO)
SEO is an important skill for all parts of the web but your Amazon SEO strategy will have to be different from your Google strategy. Amazon's A9 search algorithm is far less complicated than Google's because it is not answering complicated queries. When people are searching on Amazon, they already know what they are looking for so A9 has been fine-tuned to that task.
To improve your Amazon SEO follow these steps:
Choosing your keywords:

A little research on Amazon can give you an idea of the keywords you want to rank for. Often this will come down to common sense, but there are keyword research tools that can also give you suggestions.

Look at your title:

Your product title will be crucial. Make sure it contains all the keywords you have selected.

Description:

The description is all about conversion rates. This is your sales pitch – your chance to persuade anyone who visits your listing that this is the product they have been looking for. Try to put across all the benefits this item can bring.

Images:

Pictures sell, particularly those which are professional, eye-catching and show the product being used. This helps the buyers to imagine themselves using the product in their daily lives.
Use 'pay per click'
Pay per Click adverts can be an important tool in getting your product in front of buyers, but they can also be a waste of money. These are the advertisements you see at the top of the pages. They are a good and direct way to get your product seen by more people, but you have to make sure that it's the right people.
Research the market. Identify potential keywords for your products and develop advertisements to hit them. This can be an ongoing process; the more keywords you identify the more ways you will find to attract your customers.
Try going for long tail rather than short tail key-phrases. These are longer phrases that say much more about what product a buyer is looking for. So, a short-tail keyword would be something along the lines of 'teapot'. A long-tail version would be 'blue long handled teapot'. Long-form words are more descriptive and they often lead to higher conversion rates.
Finally, you need to check your metrics. Run reports to see which advertisements are performing best. This helps you to focus your efforts in the right areas and improve your results.
Run a promotion
There are lots of promotions you can run to boost your performance. These can help you build up a sales history and can be particularly useful for new sellers or when launching a new product. If a product is not selling well it might not hurt to test out a promotion to see if you can get things moving.
There are several different promotions you can run including money off, buy one get one free and free shipping. You can create a promotion and send it out in Your Seller Central account.
Reach out to the buyer
Good customer service works magic. A buyer is more likely to make a repeat purchase or recommend items from a seller who is polite, friendly, and helpful. 
Amazon allows you to send follow-up emails to your customers and FeedbackWhiz has a handy collection of possible email templates that you can send out. Although you must never specifically promote another product, the simple act of engaging with the customer may be enough to encourage them to come back and use you.
Here's a useful template that may achieve what you're looking for while staying on the right side of Amazon's guidelines.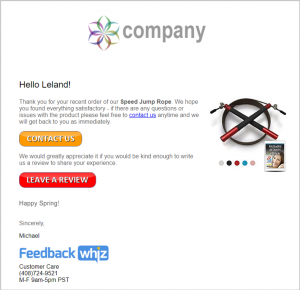 Buyers often disagree about how many emails to send and when, but we'd recommend a maximum of three. Any more and you won't get much of a response and you might even irritate the customer.
A simple email follow-up schedule might run like this:
Confirmation of sale: As soon as they have made the order and you've sent it out, send them an order confirmation to tell them the product is on its way. You could include a link to package tracking to help them monitor progress. This builds anticipation and reassures them that the product will soon be with them.
Purchase follow up: For example, after selling your item you could reach out to the buyer to check if everything is okay with the product and gently urge them to share their experiences with other people. If they do have a problem you can communicate with them quickly to resolve the issue.
Final check: You may benefit from a third email checking for a final time that everything is okay with a product. Whether or not this will work may depend on your products. It could be worth trying different sequences to see which approach attracts the most feedback.
If you follow these guidelines, you are more likely to increase your sales, grow your reviews and feedback, and improve your Amazon sales rank. And, of course, improving your sales rank will increase your favor with Amazon, further improving your standing! Sounds like a pretty good deal!