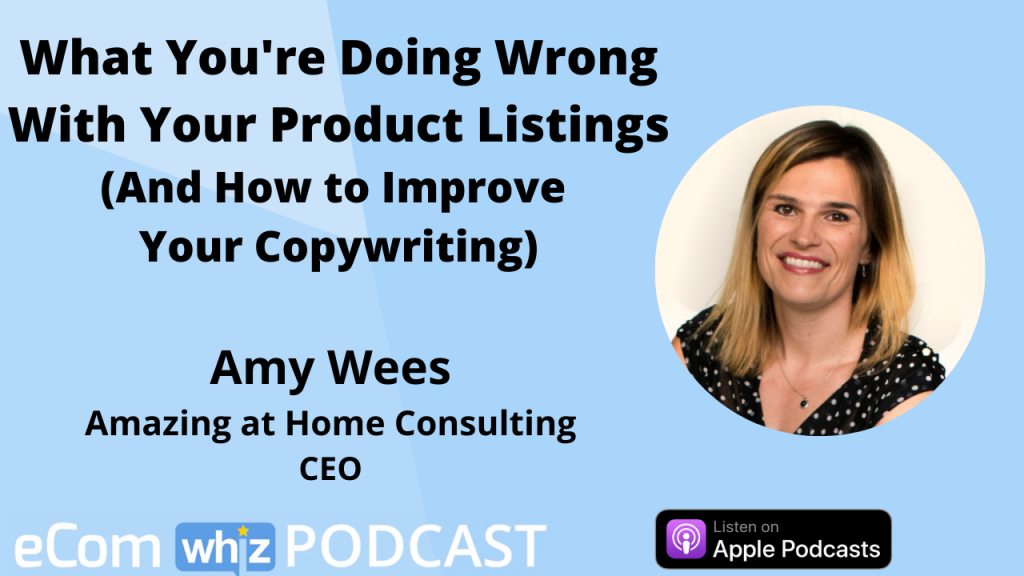 One of the most common profit-killing mistakes that sellers make is the failure to optimize product listings. In this episode of the eComWhiz Podcast, David chats with Amy Wees, CEO of Amazing at Home, the Listing Optimization Queen herself! Amy shares her insights on listing SEO, copywriting, and how to improve on what you're doing wrong to cash in on higher conversion rates.
What's Covered in the Episode
Also covered in the interview with Amy Wees: 
Introduction of Amy

What does "listing optimization" mean to you?

Why understanding your keywords = money

Keyword phrases or key words?

The 3 pillars of listing optimization & examples you can use




A "guaranteed" no-no in your copywriting

Answering your customer questions before they ask them

The easiest way to drive conversion rates from 5% to 30% 

Amy's final tips for A+ content
Looking for more copywriting tips? Look no further than your customers. Read 11 Hilarious Amazon Reviews: How to Use Customer Humor to Sell More Online.
Who is Amy Wees?
Amy Wees is the CEO of Amazing at Home Business Consulting. Her coaching focuses on helping brands develop unique products, validate them in the marketplace, source at profitable margins, and launch those products in E-Commerce with amazing brand messaging, copywriting, and search engine optimization. She shares her skills teach classes at business organizations locally in San Antonio Texas, coaching entrepreneurs around the world through virtual coaching sessions at Amazing at Home, she also covers these concepts on her E-Commerce Tips and Tricks podcast called "The Seller Round Table."
Related: The Inconvenient Facts About Influencer Marketing with Norm Farrar [podcast].
How to Listen
You can listen to the episode through your preferred channel. Be sure to subscribe so you can be automatically notified each time a new episode is released!
YouTube
Apple Podcasts
Spotify
Anchor
Radio Public
Other Channels