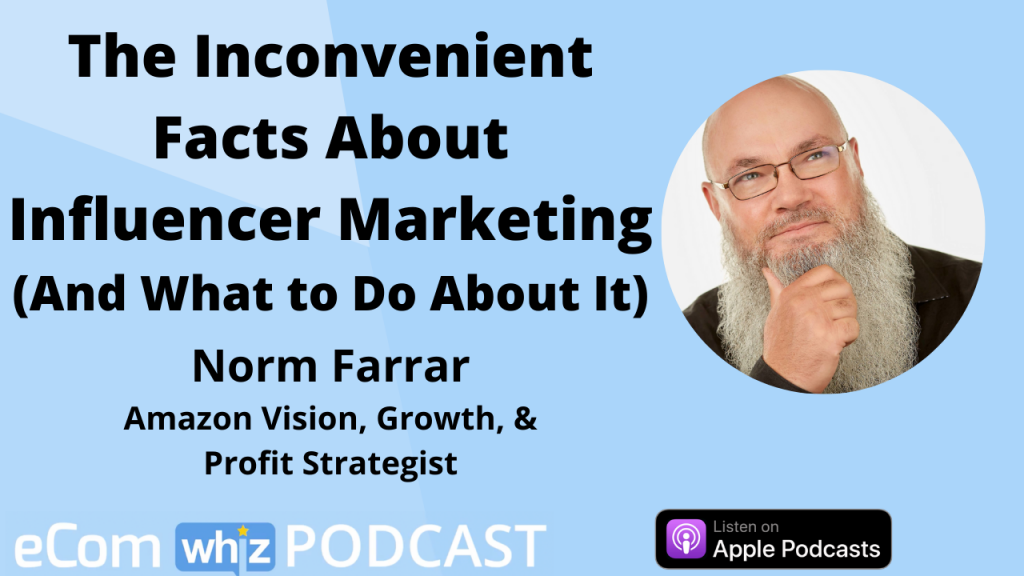 In our latest episode of the eComWhiz Podcast, David chats with Norm "The Beard Guy" Farrar, who shares some great lessons and perspectives on using influencers to help shape your marketing strategy. Be warned: you may be doing some things wrong with your product marketing strategy.
What's Covered in the Episode
Norm also dives into some KPI driven results of successful influencer campaigns, some not-so-successful campaigns, and what new channels you can expand your reach. Plus:
What exactly is influencer marketing?
What a bad influencer marketing campaign looks like
Top questions to ask when vetting an influencer marketer
Influencer marketers to stay away from
"The five tiers of influencers"
Real life examples of influencer marketing campaigns done right
Where to start when building and launching your first influencer marketing campaign
Who is Norm Farrar?
Entrepreneur and businessman Norman "The Beard Guy" Farrar stands at the forefront of the economic mega-machine known as Amazon Marketplace. As a leading expert with over 25 years of product sourcing, development, and branding expertise, Norm is an advisor to many and an inspiration to all.
Throughout his career, he has worked with big brands including Mercedes, COKE, Dell, Microsoft, Target, Hershey, 20th Century Fox, Molson's, Cadbury and a wide variety of emerging businesses that are celebrating sudden escalation in profitability and sales as a result of taking action on his advice and proven methods.
As a nationally recognized speaker and thought leader, Norm has championed a variety of products and brands to generate sales of over $1 million in sales monthly.
Related: Why You Should Polarize With Your Messaging with Steven Pope [podcast].
How to Listen
You can listen to the episode through your preferred channel. Be sure to subscribe so you can be automatically updated each time a new episode is released!
YouTube
Apple Podcasts
Spotify
Anchor
Stitcher
Radio Public
Other Channels