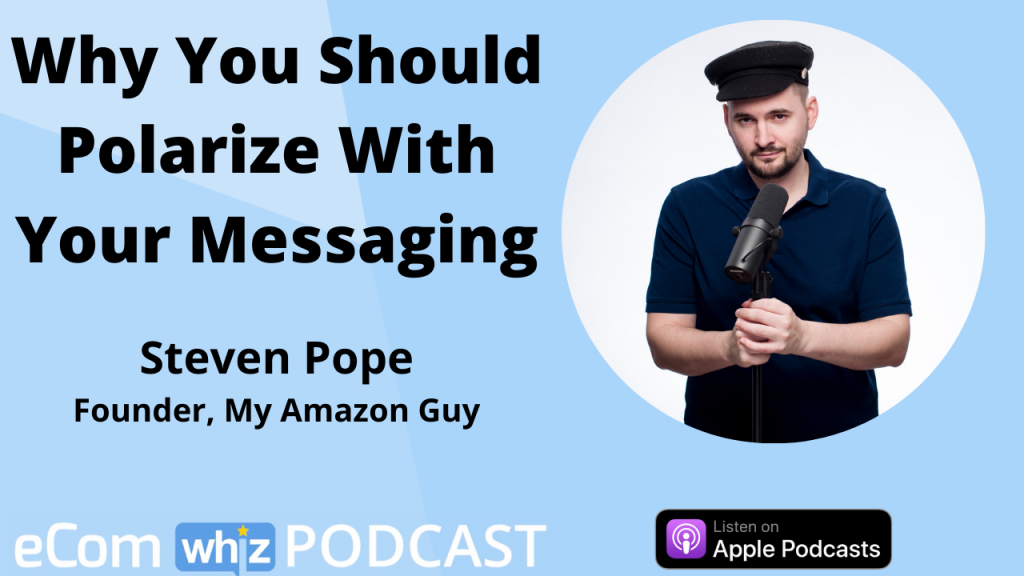 In our latest episode of the eComWhiz Podcast, David chats with Steven Pope of My Amazon Guy, who shares some unique – but great – thoughts on how to "polarize" your target audience in order to drive sales. From niche products to funny Amazon reviews, it's an interesting topic for any seller.
What's Covered in the Episode
Steven Pope also dives into the current state of Amazon aggregates, why he chooses to work with "Mom and Pop" sellers, and what brands can do to build their digital presence. Plus:
"Keep your head out of the hole" – staying competitive in a hyper competitive industry

What Amazon aggregates are up to with their investments

What is the future of "Mom and Pop" sellers?

How to stay ahead of Amazon aggregates by talking to your audience

How to 

POLARIZE YOUR AUDIENCE

Risks of being price undercut & building your brand

Steven's secret to 42% conversion rates without a review generating strategy

How to get in touch with Steven Pope
Who is Steven Pope?
Steven Pope is the founder of My Amazon Guy. He started his career as a TV reporter in Idaho, then was an eCommerce Director for 10 years for brands ranging from Gold & Silver Coins to Women's Plus Size Clothing. After dozens of requests to side hustle consult for Amazon clients he started the agency to make it easier to growth hack the platform. Steven owns MAG, My Refund Guy – a clawback FBA service, and Momstir – a Private Label FBA Wine Glass brand. He has more than 600 tutorial videos on YouTube showing how to handle ANY problem faced on Amazon. Steven also hosts a podcast with interviews from other Amazon experts.
About My Amazon Guy
My Amazon Guy is an 160+ client full service Amazon Agency in Atlanta, Georgia. We growth hack sales through traffic and conversion improvements. PPC, SEO, Design, Catalog Merchandising, and more all in house.
Related: How to Build and Scale Your Digital Community with Andri Sadlak [eComWhiz Podcast episode].
How to Listen
You can listen to the episode through your preferred channel. Be sure to subscribe so you can be automatically updated each time a new episode is released!
YouTube
Apple Podcasts
Spotify
Anchor
Stitcher
Radio Public
Other Channels