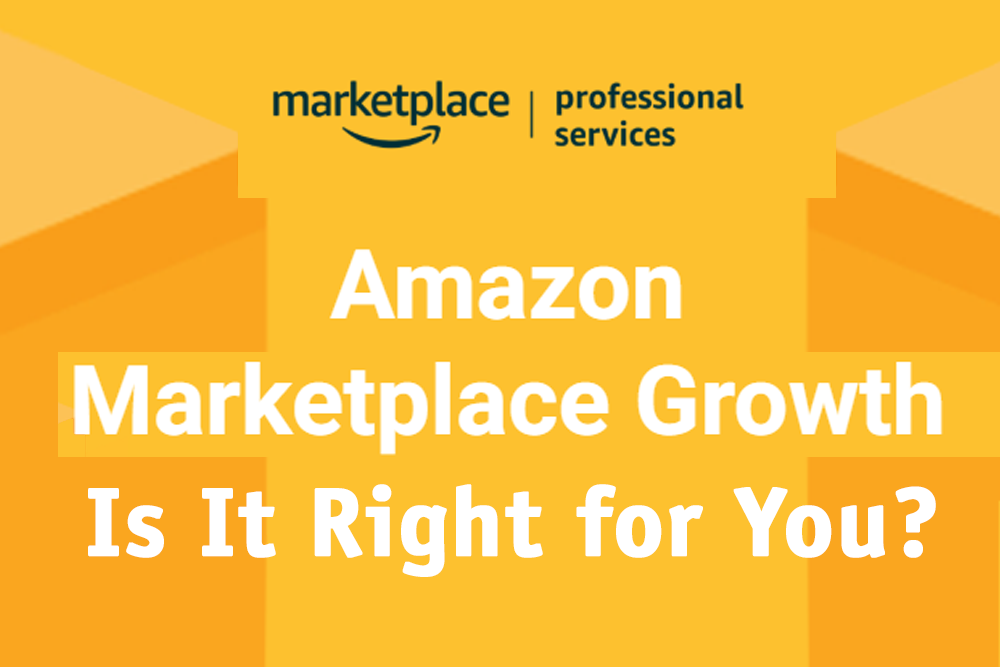 Amazon Marketplace Growth is a professional service offered by Amazon to sellers interested in getting some hands-on help in taking their business to the next level. Sellers who enroll in the program will be assigned an account manager that will help them with their business.
Here's a breakdown on the services that Amazon Marketplace Growth provides and some insight on whether or not it might be a good fit for you and your business.
Features Included in Amazon's Marketplace Growth
This service isn't cheap. Up until June 1, 2019, Marketplace Growth cost a flat rate between $2500 and $5000 depending on sales volume. From June 1, the price of the service will be $1600 per month + 0.3% of your total sales for the previous month. Fees will be capped at $5000 per month.
For this investment, you will receive an account manager that is assigned directly to your account. Your account manager will speak to you at least once a month over the phone and can be contacted directly when you have any questions or issues that need to be resolved. Amazon lists the following perks to having your own account manager:
Business Planning
Your account manager will put together a business plan catered specifically to your business. You can fine-tune this plan through your regular correspondences to help you find a plan that will maximize your business's potential. You will also have early access to pilot and beta programs that could be a good fit for your business.
Account Health
In addition to getting help and insight on the best ways to improve and keep track of your account's health, you will also have access to dedicated support when you need to resolve issues.
Merchandising
Amazon has a number of great options to drive sales including Lightning Deals, Best Deals, the Deal of the Day and the Holiday Gift Guide. Your account manager can help you to determine which of these options would be best for your products and help you to set up those campaigns.
Discovery and Keyword Optimization
Showing up among the top search results for relevant keywords is essential to long-term success on Amazon. Marketplace Growth will help sellers with their advertising strategies and keyword targeting to help optimize product discovery.
Should you sign up for Marketplace Growth?
The Argument Against Enrolling
At the price point that Marketplace Growth is going for (and it's required 12-month commitment), this service will not be a viable option for many Amazon sellers. There are plenty of sellers with small-to-medium volume running successful businesses on Amazon, and these types of businesses may not receive enough of a benefit from Marketplace Growth to warrant its hefty price tag.
Even businesses that can comfortably afford the cost of this service may decide that it is not right for them. As helpful as the additional insight from an account manager might be, many large-volume businesses have grown to the level they are at thanks to excellent logistics, business strategies, merchandising and advertising. These sellers may feel that they would not have much to learn from an outside account manager.
The Argument for Enrolling
For large brands or companies that are either new to Amazon or overwhelmed by all of its features, having a personal account manager could be a major benefit. An account manager could offer advice, answer questions and help a brand to optimize its presence on Amazon.
But perhaps the biggest benefit to Amazon's Marketplace Growth is having a dedicated account manager for times when things go wrong. Amazon's policies are always changing, and a business that is in total compliance one day may have a major issue the next. Even when dealing with smaller issues, virtually every Amazon seller has had at least one negative experience dealing with customer service and receiving a string of copy and pasted responses that don't properly address the issue at hand.
Having access to a direct line of contact when dealing with account issues will be an enticing draw to many sellers, especially those that have had to deal with them on their own in the past.
Those that are interested in applying or reading more information on the program and some frequently asked question can check out Marketplace Growth under Amazon's Seller Services.