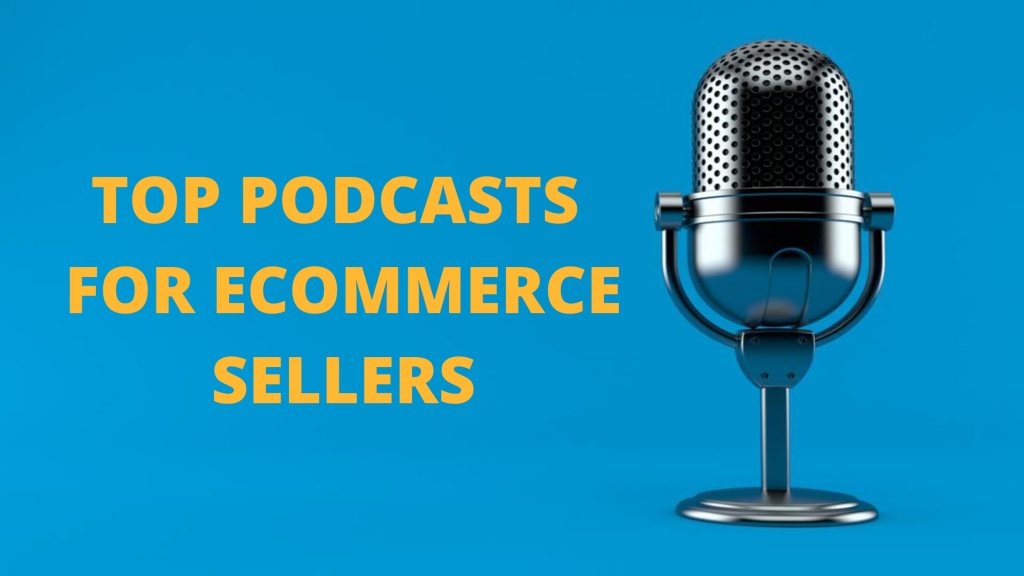 eCommerce sellers are always looking for new ways to increase the profitability of their businesses. There isn't one correct way to make money in the eCommerce world. There are thousands of different entrepreneurs running profitable businesses on Amazon and other platforms in thousands of different ways. And fortunately, we live in a time where the internet makes it easier than ever for eCommerce sellers to communicate with each other and to share ideas on how to improve their business models through forums, blogs, videos, and podcasts.
Podcasts in particular have become extremely useful tools for eCommerce sellers to learn from. This eCommerce podcast guide covers what podcasts are, the benefits of listening to them, and some of our top favorites.
What is a podcast?
A podcast is a digital audio file available for download on the internet. The word "podcast" is used in a few other ways as well.; It can be used as a verb (to podcast, which means to record or broadcast a podcast) or to describe a whole series of podcasts. When someone is telling you about their favorite podcast, they are most likely referring to the whole series as opposed to one specific episode.
Standard podcast series are released episodically on a weekly basis, though many are released more or less frequently. Listeners can listen to podcasts directly from the internet using platforms like iTunes, Spotify, and YouTube or can download them to listen to offline. Video podcasts have risen in popularity in recent years as podcasters broadcast videos of their shows in addition to the audio format.
Benefits of listening to podcasts
There are podcasts covering virtually every hobby and business in the world. If you are interested in something, chances are there are dozens if not hundreds of podcasts on the topic for you to choose from. This makes podcasts a fantastic way to learn new things, listen to interviews with experts in their field, and to explore new and old interests alike.
And perhaps the best thing about podcasts is that you can listen to them while multitasking. Watching a video or reading an article requires your active attention. Podcasts on the other hand can be listened to while you are driving, at the gym, or working on your eCommerce business. Whether you prefer to be educated or entertained, podcasts are well worth the time to get into.
Today, we've got 8 recommended podcasts for you to add to your podcast library.
The top podcasts for eCommerce sellers
What It Is
Since 2013, eCommerceFuel has been producing outstanding content that includes valuable tips and strategies from host and founder Andrew Youderian and a long list of fantastic, successful guests. Youderian is a great broadcaster and interviewer that has no trouble getting the best advice and life lessons he can out of his guests every week. These eCommerce industry leaders all have valuable information to share and this podcast gives us all access to that information.
Why We Love It
This is the cream of the crop. No list of eCommerce podcasts is complete without eCommerceFuel. We feel like we learn something new and want to take action after every episode.
Listen to their recent episode on "flipping" underperforming stores below.
What It Is
eCommerce advisor Kunie Campbell hosts this podcast that is focused on growth and customer acquisition in an increasingly saturated market. Campbell has assembled a long list of useful resources for his listeners and brings on guests that have enjoyed success with direct-to-consumer sales.
Why We Love It
Acquiring customers and separating from the pack can feel like such a tall order in today's eCommerce world. This podcast makes it feel so much more achievable with helpful tools and actionable advice.
What It Is
John Suder and Bart Mroz host this bite-size podcast that puts out new episodes every week that usually run for around five to seven minutes each. By releasing episodes so often, the eCommerce Minute keeps business owners in the loop on up-to-the-minute digital trends.
Why We Love It
Lengthy interviews and deep strategy podcasts are fantastic resources. But they are also time-consuming and sometimes focused on a topic that doesn't relate to your business. Getting a daily update that can be listened to in the amount of time it takes to drink a cup of coffee is useful and gives us brain fodder to do more research on later in the day.
How big is Walmart expanding? John and Bart share their insights in this recent episode.
What It Is
Leighton Taylor is a web designer and Shopify expert that helps clients build and set up their Shopify websites. His podcast focuses heavily on Shopify and what techniques he and his clients recommend to drive more traffic to your online store.
Why We Love It
Marketplace Pulse recently reported that Shopify is gaining on Amazon in the eCommerce realm at a rapid rate. Whether you currently own a Shopify store or are considering opening one in the future, this podcast is a great place to start to stay on top of this trend.
What It Is
Pat Flynn has turned his popular blog into a podcast with Smart Passive Income. SPI includes weekly Q&A for entrepreneurs that are just getting started and advice on how to increase your income with a side-hustle or your own small business.
Why We Love It
Many of the other podcasts on this list might be too technical or specific for beginners. Smart Passive Income is more focused on new entrepreneurs that are just getting started in the eCommerce world. We love how accessible SPI is to new small business owners.
What It Is
Brett Curry sits down with a different merchant, vendor, or expert every week to pick their brain about a wide variety of eCom topics. These interviews often include excellent information on the successes and failures that each of these guests have had with different sales and marketing methods.
Why We Love It
If you are a fan of interview-based podcasts, this one should be right up your alley. Obviously some guests are more interesting than others, but Curry is a great interviewer who asks the right questions to produce interesting conversations each week.
Dive into Brett's amazing interview skills in this episode with author Shawn Livermore.
What It Is
Austin Brawner and Chad Vanags host this podcast that covers an extremely wide range of eCommerce topics including hiring practices, long-term buyout goals, and many more. The website has a helpful category breakdown so that you can find podcasts that are most relevant to you and your business.
Why We Love It
The "categories to explore" on the website include "Marketing Strategy," "eCommerce Growth," and "Content Marketing & SEO." To have well-curated access to such useful information makes this podcast an easy add to the list.
What It Is
David Liggins II hosts the ecomWhiz podcast which tackles a variety of important topics on a weekly basis with guests that have useful expertise in their respective eCommerce fields. Guests mainly focus on challenges and solutions of scaling after reaching that coveted six figure sales number.
Why We Love It
This is our podcast and one that we are extremely proud to bring you. We are excited to interact with our incredible community and to bring you the content that you all ask for. Subscribe today for useful information every week and to be a part of the conversation. New episodes released Wednesdays.
Check out this informative, yet very funny, episode with My Amazon Guy host and founder Steven Pope: "Why You Should Polarize With Your Messaging."