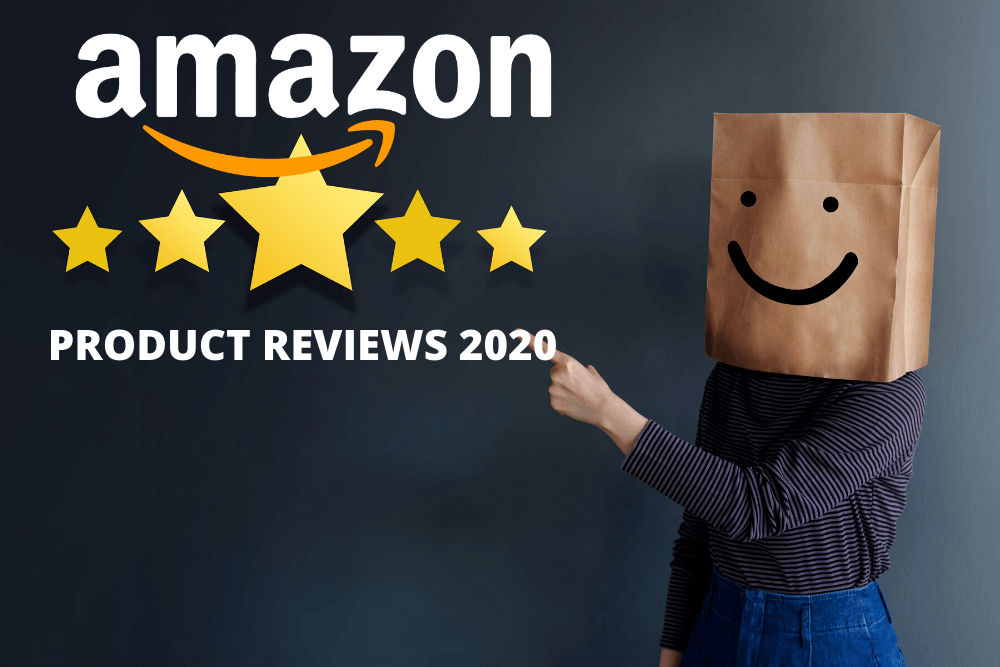 If the last decade is any indication, the 2020s are very likely to be the decade of Amazon. Amazon's meteoric rise to the top of the retail food chain has been helped along by third-party sellers that will continue to power the site's online storefront for years to come. And as third-party sellers jostle for position in Amazon's ever-growing marketplace, earning effective Amazon product reviews is pivotal when trying to separate from the pack. As buyers weigh their options, products that have the highest number of favorable reviews are often the ones that end up in the cart.
Amazon has rolled out some new programs to help sellers earn these valuable product reviews. Some are more useful than others, and all of them have their strengths and weaknesses. Here's a look at these programs and how they may or may not be right for your business.
Amazon has programs in place to earn product reviews
In a recent update, Amazon has taken some strides to help its sellers earn more reviews on their products. There are currently a handful of tools that Amazon sellers can take advantage of.
1. "Request a Review" – When you pull up an Order Report in Seller Central, you now have the option to request a review. The "Request a Review" button is available in the top right corner of the order page, right next to the "Refund Order" button. Clicking on this button will produce a generic order request that will be emailed to your customer, which reads:
Your opinion matters!
Seller (Your Store Name Here) requests you to share your experience for your recent order with other Amazon shoppers. Please take a moment to review your recent Amazon purchase.
(Product Name Here)
Rate this item
(Five stars and a small picture of the item)
You can only send out one of these review requests per sale.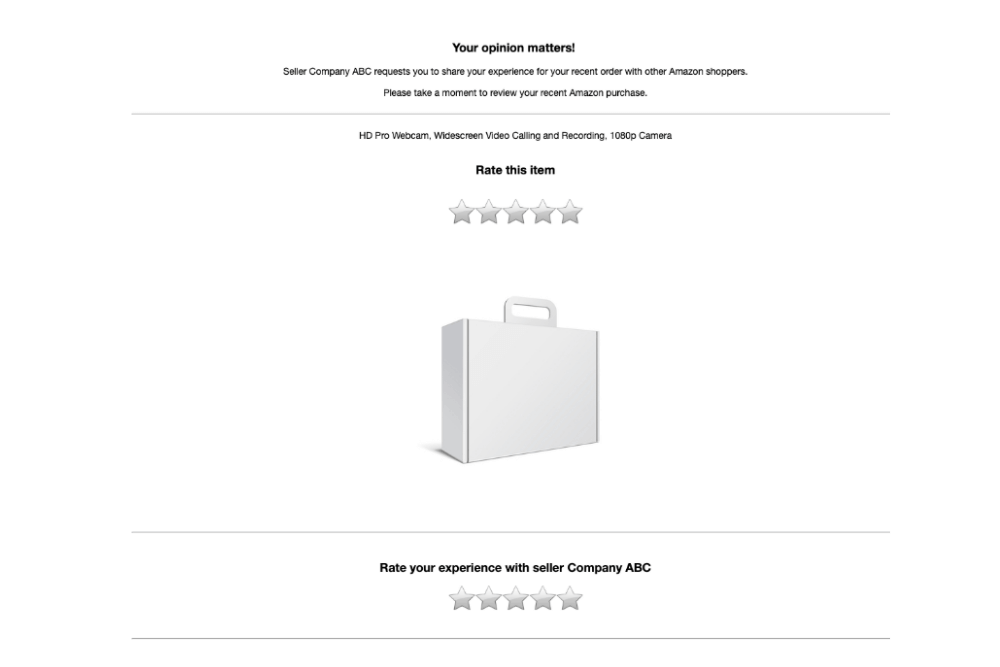 2. Amazon's Early Reviewer Program – The Early Reviewer Program is a paid service Amazon offers that encourage buyers to leave a review on your product after they purchase it. After you have enrolled an item into the program, Amazon will offer your buyers a $3 Amazon Gift Card for leaving a product review on your selected SKU.
Products sold while enrolled in the Early Reviewer Program will continue to offer buyers this perk until either one year has passed or five customers have left a review on your product. The program costs $60 to enter per SKU; you can sign up for it by selecting the Early Reviewer Program from the Advertising tab in your Seller Central.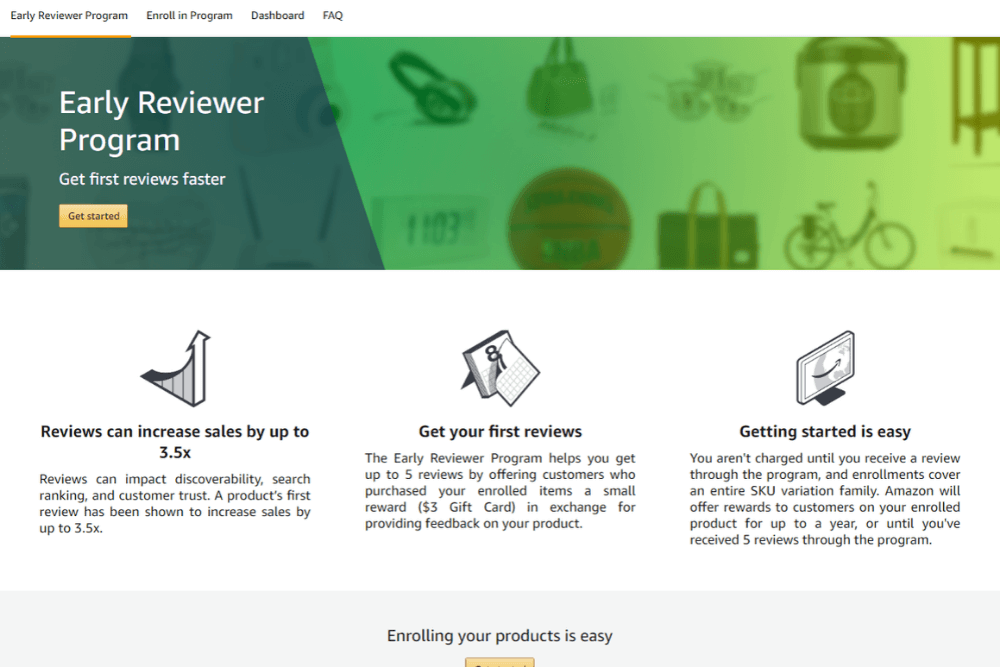 3. Amazon's Vine Program – You can also find Amazon's Vine Program under the Advertising tab on Seller Central. This program is only available on Amazon brand-registered products that have less than 30 reviews on the platform.
Once you have had a product approved for the Vine program, you must send 30 units of inventory to Amazon that will be distributed for free to reviewers that have been vetted by Amazon.com. In exchange for their free product, this group of vetted reviewers will leave a review on your product page. Amazon reports that 25% of the reviews on these products occur within the first five days of them being made available, and 99% of them have earned reviews within the first 35 days of entering the program.
Long-time Amazon sellers will remember this practice as one that used to be legal, offering free products in exchange for reviews. This is still illegal to do on your own, but it is now legal through the Vine program on applicable products.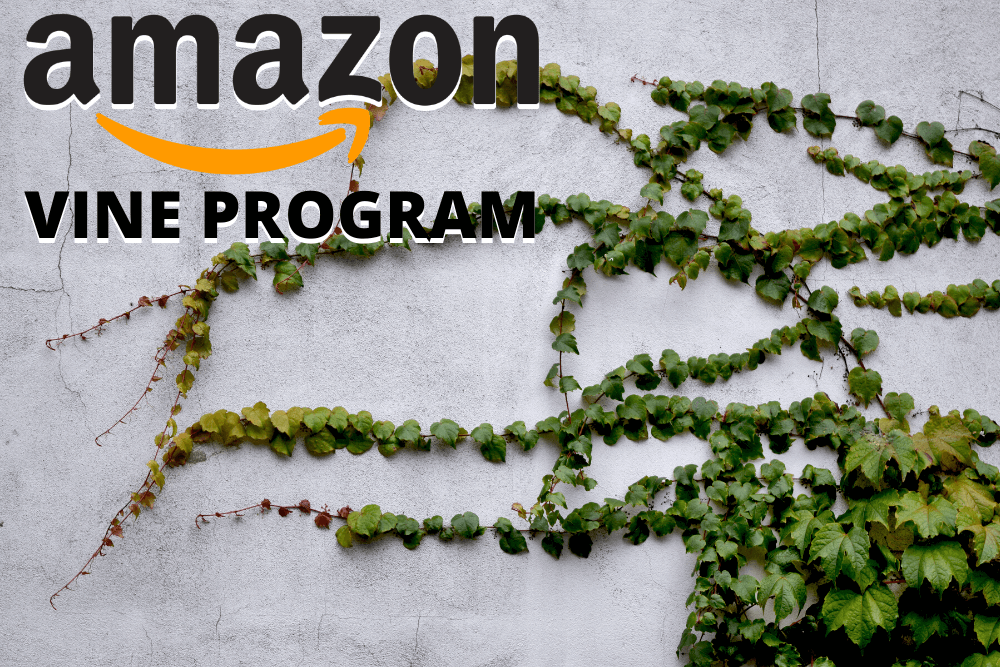 These Amazon product review programs have some disadvantages
All of these programs are welcome additions to Seller Central. It is always beneficial to have additional options for acquiring Amazon product reviews, especially for sellers who hadn't been doing anything on this front in the past. But while there is some value to these programs, they are unfortunately quite limited in their potential impact.
The Early Reviewer program is better than nothing when it comes to generating product reviews, but it's impact maxes out at five reviews. That's not much of an ROI for $60, and this campaign could get expensive in a hurry if it is launched across a large product line. Spending that same $60 on advertising coupled with an effective email marketing strategy could have a lot more potential upset than just five reviews.
The Vine program is a great asset to take advantage of if your product is a good fit for it. Depending on your cost-per-unit, giving away 30 units for free might be a viable option or might be too much to pay for 30 reviews. The upside is limited here to 30 reviews and can only be used once per eligible product, so it isn't a great long-term solution, but it could inject some good early momentum into your product if it meets the criteria and your cost-per-unit allows it.
But the most limited of Amazon's current techniques to earn more product reviews is the "Request a Review" button. It has two major flaws; these messages aren't customizable, and they can't be scheduled to be sent out at your desired time. These flaws severely hinder the effectiveness of these emails.
This is where FeedbackWhiz comes in
Fortunately, there are far better options than the "Request a Review" button on Seller Central. Those options include FeedbackWhiz, an email automation tool that can help you maximize the amount of Amazon product reviews you receive on your products while automating the process to save you valuable time.
Customizing emails – The stock email that Amazon sends out on your behalf when you request a review is boring and bland. Frequent Amazon shoppers will grow tired of receiving the exact same formatted email again and again and are likely to eventually block it out. The generic call-to-action also doesn't leave any room for your brand and product to stand out. You end up looking like another cog in Amazon's machine instead of having your own image and voice.
This changes when you take over control of your email with custom templates. Of course, you still have to follow Amazon's Terms of Service, which FeedbackWhiz will help you do with templates that are built to adhere to all of Amazon's rules. But even within those rules, you have plenty of freedom to make the space your own; adding your logo, colorful buttons, product pictures, GIFs, and more. Customized emails are more attractive than generic ones, more likely to earn interaction from your buyers, and they give you the opportunity to show off your brand and create a more personal connection with your customers.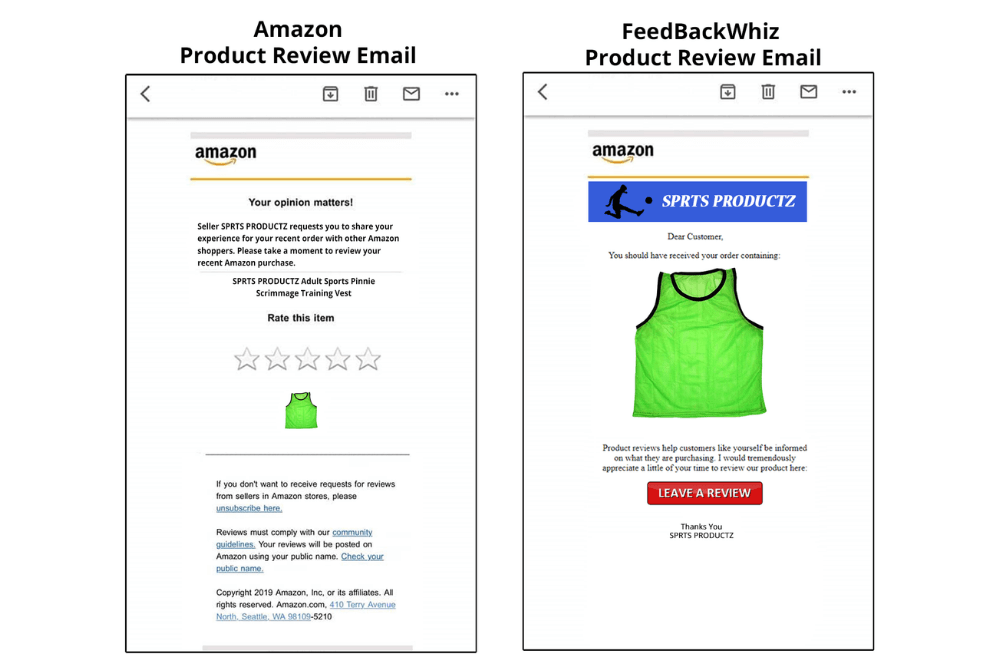 Scheduling when your emails go out – Amazon has two options when it comes to when you can send out your request for an email; allowing Amazon to automate the process and send this email out whenever it chooses to or doing it yourself through hitting the button manually when you want to send it out. Any full-time Amazon seller knows that the manual option isn't a viable one; keeping track of when emails need to go out for every single separate customer and then having to take the time to request each of these emails be sent out one-by-one would be far too time-consuming.
So choosing Amazon's automated service might seem like a good alternative, but the issue here is that one size does not fit all when it comes to reviewing requests. Some products are simple to use and could be ready for review almost immediately upon arrival, while others are more complex and could need some time to try before the buyer feels comfortable reviewing it.
For example, a toothbrush is used every day and is a fairly simple item. Within a couple of uses, a customer will be able to determine if they like the way that the toothbrush looks, feels, and functions. On the other hand, a hair straightener is not always used every day, and someone who buys one will need time to try it with different products and styles before they really know how they feel about it.
FeedbackWhiz allows you to schedule when your emails go out on a per-product basis. So if you had both a toothbrush and a hair straightener in your online store, you could schedule your customized Amazon product review request emails for toothbrush sales to go out a week after your customer received their product and the ones for hair straightener sales to go out three weeks after their receipt.
Amazon's new programs for gaining product reviews are a step in the right direction, but they still leave a lot to be desired. Using a dedicated third-party service like FeedbackWhiz goes a long way in building up your brand's reputation on Amazon.
Ready to give FeedbackWhiz's Amazon seller feedback tools a try? Sign up today for a free 30 day trial!