Selling on Amazon has many perks including access to millions of potential buyers on a daily basis. But being an Amazon seller can also be frustrating as it means that you are always playing by someone else's rules. Amazon updates are sometimes beneficial, but in many cases they can lead to confusion and frustration among Amazon sellers. This is the situation with the company's new decision to eliminate the comments feature on customer reviews.
The ability to leave a comment on a neutral or negative review was one of the only options Amazon sellers had when it came to defending themselves or offering an explanation as to what had happened. With this feature removed, negative feedback will now exist without any additional information. Here's a look at how this change came about and what you need to know moving forward.
How Amazon sellers were notified of this change
Sellers received the following email from Amazon during the fourth quarter:
Dear seller,
You are receiving this email because you recently left a comment on a review.
While reviews and feedback are important to our customers and sellers, the comments feature on customer reviews was rarely used. As a result, we are retiring this feature on December 16, 2020.
We are committed to your continued success and will innovate and develop other opportunities for you to connect with customers.
Thank you.
Amazon Services
As you can imagine, this email (which you can view below) has created quite a stir on the Amazon Seller Central forum. Many sellers believe that the comment feature is a critical one to telling their side of the story when they receive an unfavorable review. Others complained that Amazon is responsible for the comments feature being "rarely used" as comments are not clearly visible or accessible in some formats including mobile.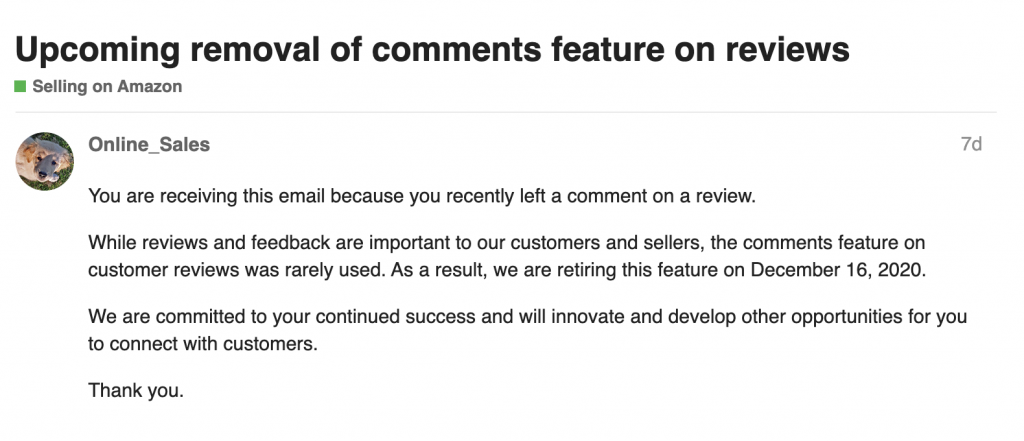 What you can do moving forward
A natural first impulse upon receiving a negative product review is to reach out to the customer to try to make it right. Unfortunately, this is not allowed under Amazon's buyer-seller messaging rules. Instead, your best options are to try to update your listings based on what you learn from the feedback you receive and to focus on acquiring more product reviews.
1) Monitor the Q&A sections on your products.
The question and answer section is another excellent place to provide future buyers with feedback on your products. While you can not ask questions on your own products, you can answer any questions that are asked. Take advantage of this feature by being as thorough and in-depth as you can with every answer that you provide. The better potential customers understand the product, the less likely it is that they will be disappointed by something that catches them off guard.
But make sure to comb through every neutral or negative product review you receive for more information. Did the customer complain about the size or weight of the product? Or how it functioned? If one customer has a complaint like this, chances are others in the future might as well. Double-check your description and bullet points to make sure that whatever issue that came up is explained as clearly and concisely as possible.
2) Update your descriptions and bullet points
In many cases, the negative feedback you receive won't necessarily provide any information that you can take action on. A customer might just dislike the item or received one that was damaged in shipping, so they decide to leave a negative review instead of requesting a replacement. Get ahead of those issues by adding how a customer can request a replacement in the product description, or in a short bullet point.
3) Generate more product reviews
Product reviews are a numbers game. Leaving comments to defend yourself or your product against negative reviews may have been cathartic, but the reality is that not many consumers were reading your responses anyway. In actuality, the quantity and quality of your reviews as a whole will always be more important than any single negative review or the comment you would have liked to have left on it.
And always remember to stay compliant with Amazon's recent buyer-seller messaging communication guidelines. Here's a short video on how you can do just that.
By using FeedbackWhiz to convert a higher number of your sales into product reviews, you can help overcome the occasional negative review with the reviews of hundreds or even thousands of satisfied customers. If you're not already a FeedbackWhiz user, get started with a 30-day free trial and start taking your Amazon review email campaign strategy to the next level today.