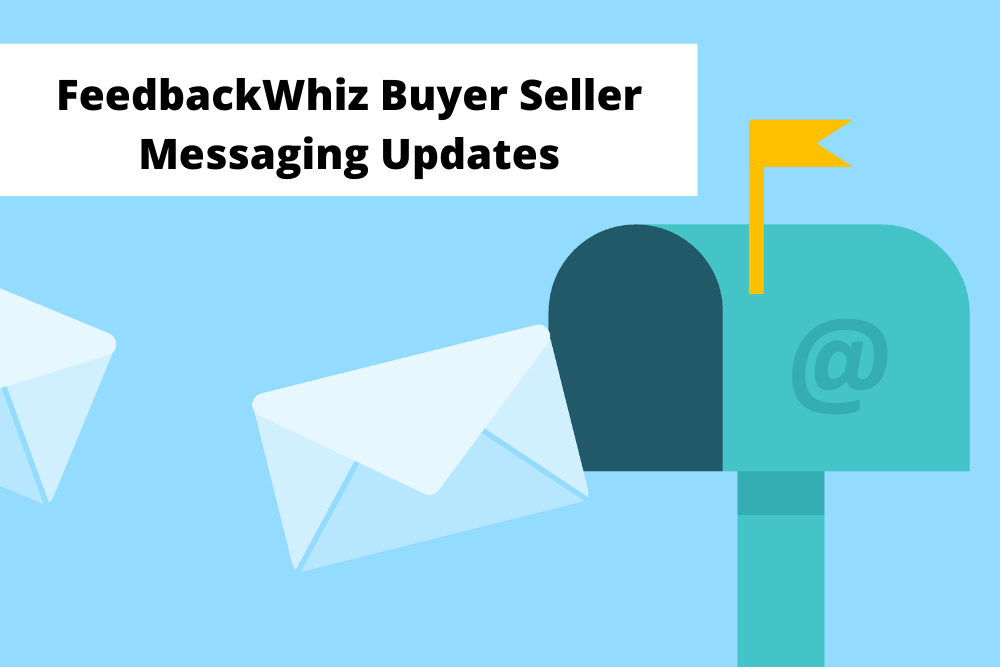 FeedbackWhiz is helping Amazon sellers from across the globe stay informed with the latest policies and compliances. On November 6th, 2020, Amazon will begin enforcement on its updated Communication Policies. These policies are mostly surrounding the use of Amazon's Buyer Messaging system.
With the new updates, FeedbackWhiz has gone above and beyond to make necessary changes, improvements, and detections within the FeedbackWhiz app to help sellers stay compliant.  Sellers can have peace of mind when using FeedbackWhiz to send out emails via Buyer Seller Messaging.
Brand new prebuilt templates
FeedbackWhiz has brand new prebuilt templates in all the different languages used around the world. These new templates include feedback requests, review requests, product instructions, and warranty information. FeedbackWhiz has carefully crafted these new templates to be compliant and sellers should reference the content of these new templates if they choose to make their own personalized messaging.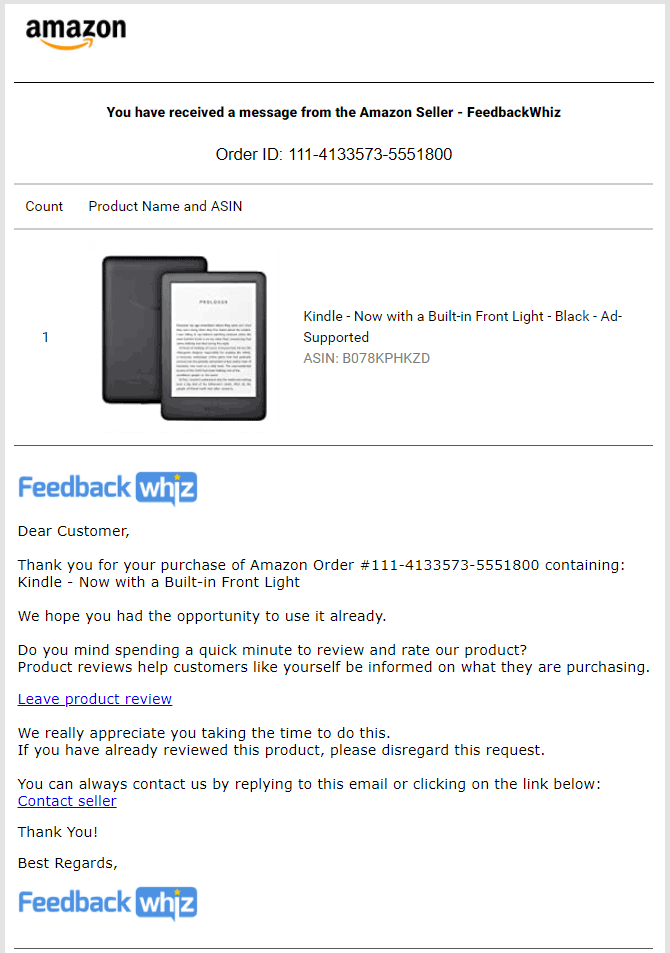 Include order ID in all messages
All buyer-seller messaging emails sent through FeedbackWhiz will automatically include the Order ID at the end of the message. You can still choose to use the Order ID variable if you want to display it in the subject line of the email, but sellers don't have to worry about including it inside the body of the message.
Messages in buyers' preferred language
FeedbackWhiz has the ability to detect the buyers' preferred language setting within their Amazon account.  The FeedbackWhiz template editor allows you to select and set up your buyer-selling messages in different languages. When a buyer-seller messaging email is sent out, FeedbackWhiz will detect to see if you have a message set up in the buyer's preferred language for that specific order. If you have not set up a template to match the language of the order, FeedbackWhiz will not send out an email for that order.  Sending emails in the buyer's preferred language is a requirement by Amazon.  Failure to send emails in the correct language can result in losing privileges' for using Amazon's buyer seller messaging system.  Note: FeedbackWhiz will not automatically translate your messages, you can choose to either use our brand new prebuilt translated languages templates or copy and paste your own translated messages into FeedbackWhiz.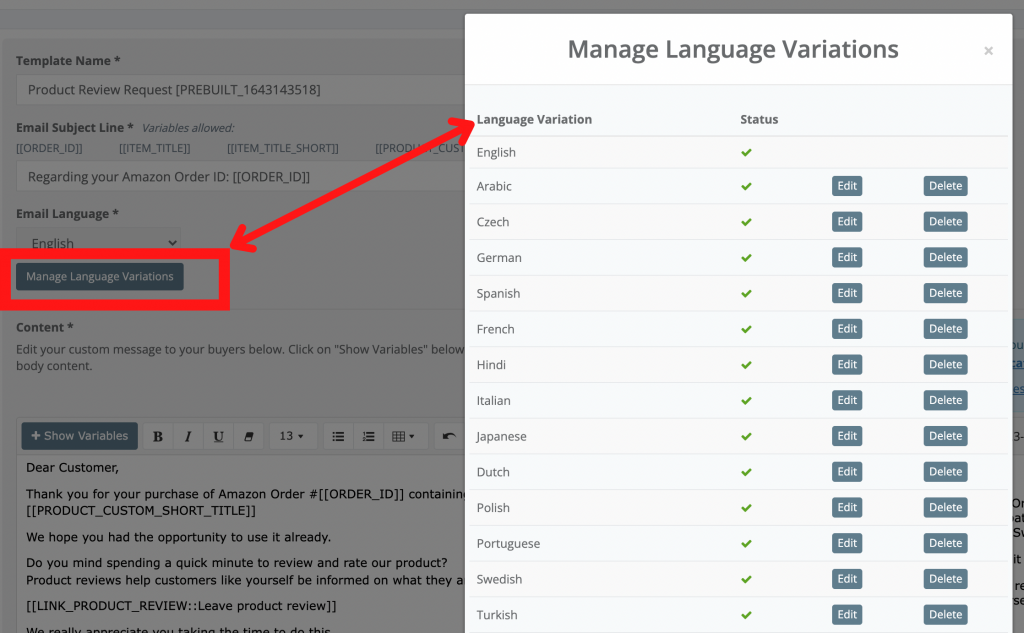 Compliance detections
FeedbackWhiz app has built-in detections and restrictions to help you stay compliant with the new Communication Policy updates.
FeedbackWhiz will detect and make sure you only send 1 review/feedback request email per order. If you accidentally create multiple campaigns that target the same ASIN(s) whether it is using custom BSM emails or triggering the request a review button, an error message will prevent you from running additional campaigns.
FeedbackWhiz template editor ensures that any customized message you create meets all styling, spacing, fonts, and sizing requirements by Amazon.  In addition, FeedbackWhiz can detect and disable:
• emojis and images
• email addresses
• phone numbers
• non-secure links (http)
• errors in link variables
• line break, styling, and font violations
FeedbackWhiz will automatically insert alt-tags for your uploaded store logos.  We will also prevent sending messages past 30 days from the order completion date to meet communication policy requirements.
Request a review automation
FeedbackWhiz now has the ability to automatically trigger the request a review button inside your seller central orders page without any browser extensions. This is an alternative option for using buyer-seller messaging emails to request feedback and reviews. This method is 100% compliant and a wonderful option for sellers who do not want to go through the hassle of setting up customized emails and understanding all the policy requirements.  Click here on how to set up this inside FeedbackWhiz.

Tips on staying compliant around the new policies
FeedbackWhiz has made the necessary enforcements and changes to help sellers' stay compliant. However, as a seller, you are still responsible for understanding and adhering to the communication policy guidelines. We can not detect the context or intent of your emails and attachments. Here are some key issues you may need to review and fix in your templates before November 6th:
• Do not incentivize or use suggestive language in your review/feedback request emails
• No coupons or promotions
• Do not ask for 5 star or positive review
• Do not ask to steer them to contact you if they have issues prior to leaving a review
• Ask reviews in a neutral tone
• Remove all emojis, animated gifs/images, and images of your product
• Images of your store/brand Logo is okay and recommended to have
• Disable all Order Shipment emails
• No links outside of Amazon or other websites unless they are necessary for order completion
• Links to Amazon pages are okay
Amazon's new guidelines also states that you are only allowed to solicit 1 review/feedback request per order.  If you are using customized buyer-seller messaging emails already to solicit reviews, you cannot use the request a review button inside seller central to solicit a review for the same order and vice versa.  FeedbackWhiz can detect and prevent you from automating both methods if the same ASIN is being solicited for that order.  However, if you are using another app or manually triggering the request a review button inside seller central, we will not know.
The good news is that Amazon does allow sellers to send proactive product instruction or warranty information emails. We recommend using an attachment for product instructions or warranty registration emails.
For more detailed information on the changes, read our recent blog post on amazon policy changes to buyer seller messaging.
Our team at FeedbackWhiz is committed to helping our customers stay compliant.  FeedbackWhiz users can access our support team on questions and request complimentary audits for their templates and campaigns directly through the FeedbackWhiz app.