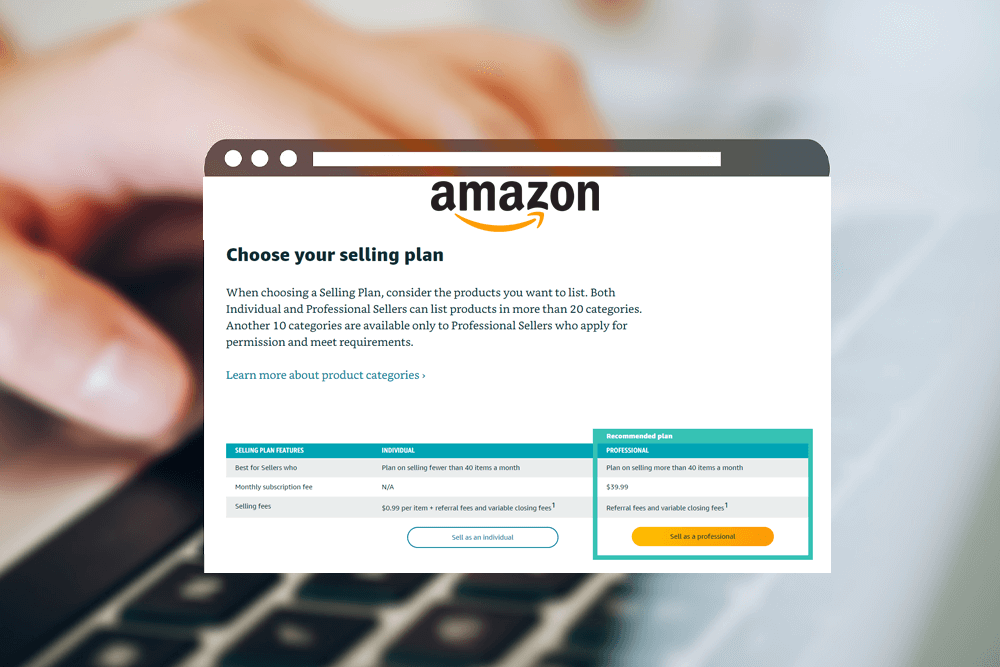 Third-party sellers play a huge role in Amazon's success as the world's largest online retailer. Since 2017, over 50% of the paid units purchased on Amazon were sold by third-party sellers. Even more remarkably, over 70% of those third-party businesses only have between 1-5 employees.
It doesn't take a huge team to find success selling on Amazon; plenty of small businesses of all different sizes, even those run by just one entrepreneur, make money selling on the platform every day. To get started in your registration process, you must first decide what type of account you would like to sign up for; an individual sellers account or a professional sellers account.
Using an individual seller account to test the waters
The individual seller's account does not have a monthly subscription fee, while the professional sellers have a monthly subscription fee of $39.99 a month. When an item sells, it is subject to a $0.99 per item fee with an individual seller's account; that fee is not charged under the professional seller's account plan.
So if you plan on selling more than 40 items a month, this decision becomes a no-brainer, as the professional seller's account will essentially pay for itself in what you are saving on the $0.99 per item fee. Virtually all full-time Amazon sellers use a professional account for this reason in addition to the other perks that it provides.
But in the event that you aren't sure that you are going to sell 40 or more items per month, the individual seller plan may be right for you. Here are some instances in which this might be the case:
You are brand new to internet sales and want to try it out before committing to a monthly subscription
You aren't sure if a product that you have success selling in another marketplace will have success as an Amazon listing
You want to test a proof of concept on a brand new product listing, or something you haven't sold before
While there are 20 product categories that are available to both individual sellers and professional sellers, there are over 10 others that require a professional seller account to have access to. You can see which categories require additional approval on Amazon. Just listing an item is free; you won't be charged the $0.99 fee until the product is sold.
If the category you want to sell in is available to individual sellers and you just want to test out the waters, this is a great option.

The perks of a professional seller account
On the other hand, there are benefits to jumping right into a professional seller account. In addition to the ones listed above (no per-item fee and additional categories available to sell in), here are some more:
You have access to more in-depth sales data and reports
You can take advantage of promotions, gift services, and other features that can boost sales
You can calculate and collect sales taxes
You can upload multiple items at once using spreadsheets
Another big perk to having a professional sellers account is that your items are eligible to be featured in the buy box. This is also available to individual sellers who use Fulfilled by Amazon, but sellers who fulfill their own orders and do not have a professional account will never earn the buy box, which is a big driver of sales.
Lastly, a professional account gives you access to many great third-party services that can help you boost your sales and grow your business. A service like FeedbackWhiz can use the data from your professional sellers account to help you automate an email campaign that can improve your customer service and generate more product reviews on your listings.
Having a professional sellers account should be your goal
Even if you decide to start with an individual seller account, you should eventually look to upgrade so that you can take advantage of all of the features that Amazon Seller Central has to offer. And as your company grows and starts selling more than 40 items per month, it will become a necessity to save you money.
Fortunately, you can upgrade an individual account to a professional account at any time. So regardless of which account you decide is best for you to start, your decision is never set in stone.