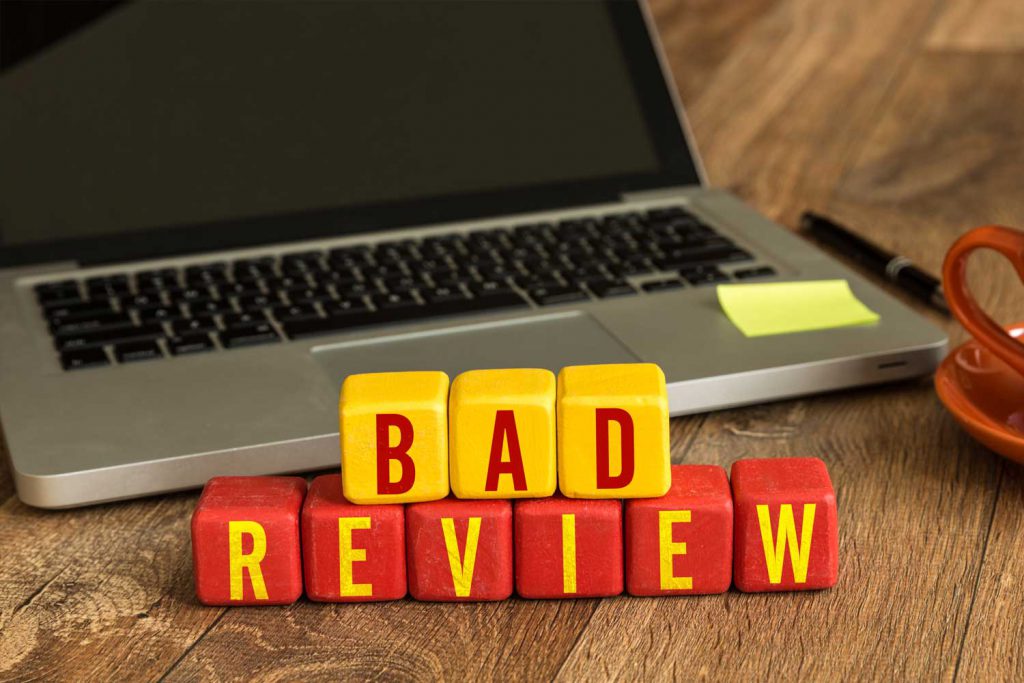 Nobody likes bad reviews. Besides a blow to your ego, even more importantly they can be a blow to your business. According to one research report, the buying decisions of 88 percent of those surveyed are heavily influenced by online reviews. Alas, negative ones could provide the wrong influence.
You need to be aware of when you receive negative reviews. Of course, you're busy running your business and don't always have time to read every review, let alone search for the negative ones. Fortunately, they are tools to immediately notify you of a bad review so you can take immediate action.
So, once you are alerted to a negative review, how do you handle it?
First, it's important to distinguish between customers who have had, for whatever reasons, a bad experience and are posting negative reviews, and customers who, are well, let's be polite and just say they take some pleasure in being negative. Let's begin with the latter as this is more problematic and more difficult to deal with.
Dealing with Jerks
Unfortunately, some people think the relative anonymity of online interactions empowers them to act like jerks. Negative reviews from jerks are the hardest to respond to in a rational way and provide customer satisfaction because, well, they're jerks. The good news is that most of your customers are non-jerks and they'll ignore negative reviews that essentially say, "This product sucks and so does the seller. Anyone who does business here is an idiot." Reasonable people can assess that this is hardly useful commentary.
Still, it is bothersome. And while some (it is to be hoped most) of your customers ignore negative reviews by jerks, you shouldn't. Actually, you should respond to them as you would to any legitimate complaint—that'll make it even clearer that the negative reviewer is just a jerk, that any criticism is unfounded as you try to resolve the issue but the negative reviewer isn't open to a constructive conversation.
So, let's take a look at five interrelated steps to handle negative reviews.
1 – Apologize
Even if you don't think you should. The customer is always right (even when the customer isn't). Something like this:
"We are sorry you are dissatisfied with our product. We are committed to 100 percent customer satisfaction and are more than willing to offer a complete refund or product replacement. Please let us know which you would prefer. Again, we sincerely apologize and hope this meets your expectations for responsive customer service; if it does, we would appreciate it if you would remove your negative review. Thanks for being a customer and we hope you'll try us again.
2 – Fix It
You've offered to make it right in your apology. Make good on that offer. Moreover, the faster you can do it, the better.
3 – Offer an Incentive to Do Business Again
Providing a refund or product replacement may solve the immediate issue of customer dissatisfaction. But it doesn't necessarily persuade customers to give you a second chance. You increase the odds of that if offer free shipping or a discount on the next order.
4 – Learn Something
Determine whether customers have a legitimate complaint. Sure, there are times when maybe they are being overly picky or they didn't read the product description and why should it be your fault they ordered the wrong items. But if the complaint has merit—shipping was overly long, the product was poorly packed and damaged in transit, the product fell apart after only a few uses—and particularly if you are receiving the same negative feedback from multiple customers, then see Step 2 and fix the problem customers identified. It may be a pain and it may even be expensive, but it will cut down on your negative reviews and save you time in offering refunds.
5 – Follow Up
Keep track of customers who've complained about a specific issue that you've now resolved. Again, tools such Feedbackwhiz make this relatively easy to do. Once you've corrected an issue, send an email out to those customers who first complained. Something like:
"We understand that you've had problems in the past with the packaging of our products. You've been heard loud and clear!  Which is why we've not only instituted strict new procedures for our packers to follow, but now ship with entirely new, eco-friendly yet highly durable packaging. We understand your last experience with us was less 100 percent satisfying. Please try us again, and we think you'll be more than 100 percent satisfied. If not, we'll not only give your money back, you can keep what we sent you. That's how confident we are. We hope you'll continue to have confidence in us."