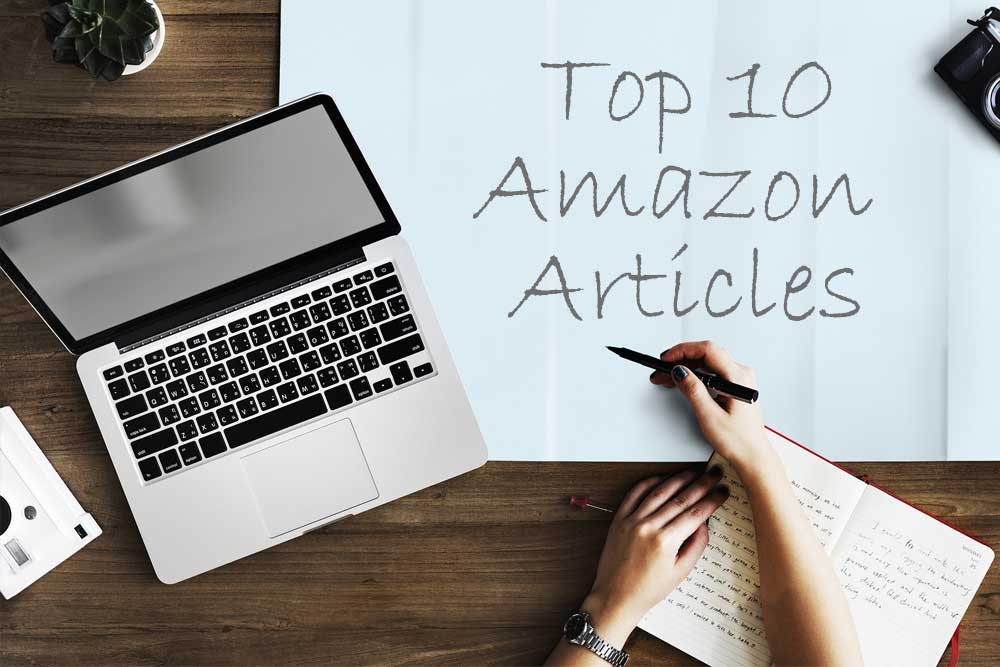 At FeedbackWhiz, our blogs help you make sense of the rapidly evolving world of life as an Amazon seller – here are ten of the most popular.
2018 was a busy year for the Amazon Marketplace, but all the signs indicate that it will be more of the same in 2019. Momentum is growing and Amazon is adding around one million new sellers every year. The marketplace is crowded and making a success of it can be complicated. With a host of additional services and platforms available, sellers have more options than ever.
The Amazon marketplace a demanding and rapidly evolving landscape which makes it increasingly vital to stay on top of new developments.
At FeedbackWhiz, we've always believed that education is key. Not only do you need to understand the platform, but also buyer habits and the wider Amazon Marketplace. This is why our blogs have become a popular and useful tool for Amazon sellers all over the world.
To help you get the most out of your sales efforts, we've compiled our top 10 blogs for Amazon sellers in 2019!
Bad Reviews and How to Manage Them?
In a customer-centered world like Amazon, bad product reviews can be devastating. But here's the thing, bad product reviews are also more or less inevitable. What matters most of all is how you respond to them. Get it right and you could repair your relationship with that customer and improve your score. Get it wrong and things can rapidly deteriorate.
Best Amazon Seller Software for 2019
The busier Amazon gets, the more products immerge, providing a range of additional seller tools. We're often asked how these tools work and how to tell which one is best for you. Here at FeedbackWhiz, we've developed a tool which goes a little further than most of the conventional options. From advanced analytics to email automation, there's an enormous amount you can do with our platform. In this blog, we've pulled back the lid and gone digging into the guts of the platform to show you how you can use it to really boost your sales.
Mistakes Many New Amazon Sellers Make (And How to Avoid them)
Almost half of all online shopping in the US is done through Amazon, so this is an incredibly lucrative market space. It's no surprise then that Amazon is not only the biggest but also fastest growing ecommerce platform in the world. However, mistakes can be costly and, as a newcomer, you're more likely than most to make them. Here are some of the most common mistakes and the ways you can avoid them.
FeedbackWhiz founder Henson Wu and Arons Lee: Full Interview
This excellent interview with the two founders of FeedbackWhiz, Henson Wu and Arons Lee, shows how they developed, created, and evolved FeedbackWhiz. Drawing on Henson's experience of selling online and Arons' programming skills, they developed a set of Amazon tools which would revolutionize the way Amazon sellers manage and automate everything from emails to product reviews. Here's how they did it.
Feedback Software: Not all Amazon Tools Are Created Equal
As a quick glance at the internet will show, there are all sorts of feedback tools available for Amazon users, but some are better than others. Here's how to sort the good from the bad and the downright ugly.
How to Sell on Amazon and Your Website
Trying to decide between selling on your own website and selling on Amazon? The good news is that with a little planning and the right support, there's no reason why you can't do both and thrive.
How Ten Minutes Could Save Hours of Manual Labor
Good business is all about investing money in the right ways to secure a positive financial return. The same holds true with your time. As a business leader, your time is immensely valuable, but if you spend it weighed down in administrative tasks, you'll be hurting yourself where you'll feel it most – your bottom line. Here's how investing ten minutes getting started with FeedbackWhiz could save you hours down the line. Not only is it easier, but it frees you up to do what you do best – sell stuff.
Leveraging Technology to Boost your Amazon Reputation
In the dog eat dog world of the Amazon Marketplace, your reputation means everything. Building it up can take time and effort but destroying it can happen in a matter of a few minutes. Technology can offer a quick and effective way to help you grow your reputation online and boost your sales.
5 Must Have Tools for Successful Amazon Sellers
In Amazon, as in life, you need the right tools to be successful. Fortunately, there are all sorts of tech platforms out there offering all sorts of interesting features. Not all platforms are very good, so we've had a look online and come up with the five tools we think are essential for any Amazon business.
What are Amazon Seller Feedback Tools
One of the more common questions people ask us is: what are Amazon feedback tools and why do I need them to sell on Amazon? We've cut through the noise to help you understand how Amazon tools work and the best way to use them.