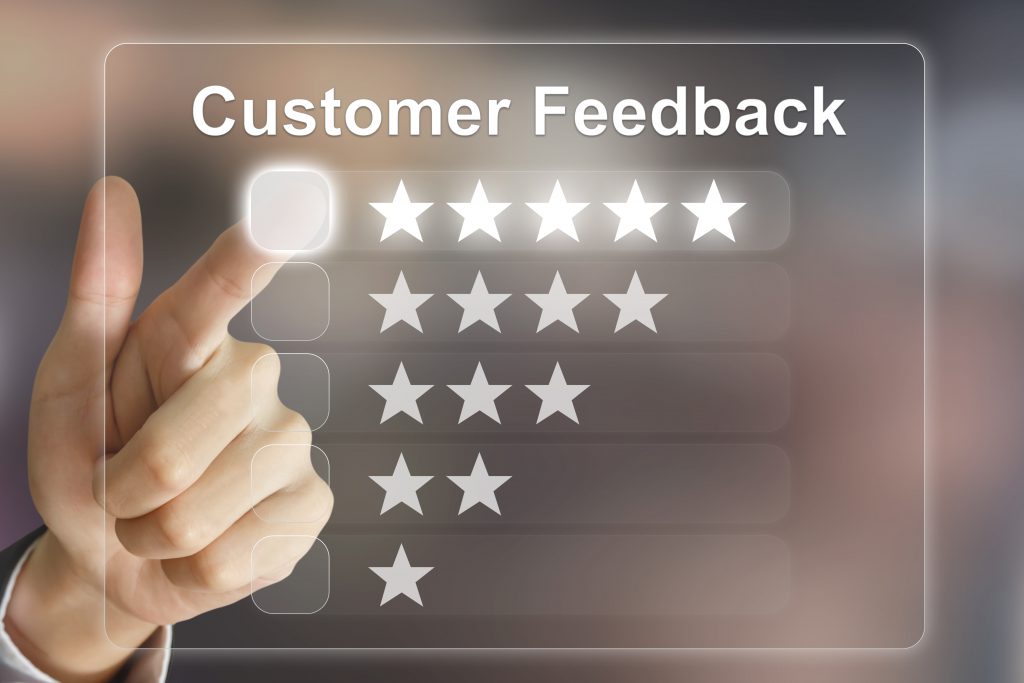 As an Amazon seller, maintaining high feedback rating is crucial to the success of your business. Amazon calculates seller ratings based on customer reviews and customers rate you with a 5-star system organized the following way:
Positive feedback: 5 or 4 stars
Neutral feedback: 3 stars
Negative feedback: 2 or 1 stars
Learn more about how Amazon calculates seller ratings.
Every customer feedback can affect your seller rating, which will in turn affect your chances of making it to the Amazon buy box.  A negative customer feedback review is not only hurting your seller rating, it's actively hurting your bottom line.  Thus, it's essential to address a negative feedback promptly before it has a chance to derail your business.
Step 1: Determine if the Review is Accurate
The first step to take after receiving a negative feedback review is to determine its accuracy.  Receiving a 1 or 2-star feedback can be disheartening.  However, it's important to determine whether the review has any merit.  Is the buyer reviewing the product and not their customer service experience?  Did they complain that they didn't receive their item fast enough but you're a Fulfillment by Amazon (FBA) merchant?  Did it take you longer than 24 hours to respond to a buyer?
Carefully reading through the customer feedback review will help you to determine whether their feedback is about you as a seller or about something else entirely.  This can help you to decide the next steps to take to remove the negative feedback.
Step 2: Have Amazon or the Customer Remove the Negative Feedback
The second step is to have either Amazon or the customer remove the negative feedback.  If you've determined that the customer is not actually reviewing your service but the product itself, you can ask Amazon to remove the negative feedback review so that it does not hurt your seller rating.  This is because there are a lot of customers that mix up the difference between product reviews and feedback reviews.  As such, Amazon will remove the feedback that do not pertain specifically to your service as a seller.
When dealing with negative feedback, it's important to remove them as quickly as possible.  FeedbackWhiz, a feedback management software for Amazon sellers, has a tool that will notify you immediately when you receive a negative feedback. This is an excellent tool that will allow you to effectively manage and remove all your negative feedback. You can even use FeedbackWhiz to contact Amazon directly to remove negative feedback with a simple click.
Additionally, if the negative feedback is "relating explicitly to fulfillment and customer service for an order fulfilled by Amazon", Amazon will put a line through the review stating "this item was fulfilled by Amazon, and we take responsibility for this fulfillment experience."   Although Amazon will not remove the review, this statement will help to clarify that the shipping and customer service problems reflected in the review are Amazon's fault and not yours.
Alternatively, if the customer gave a negative review for a legitimate reason, see if you can take steps to resolve the customer's problem.  For example, if the customer complained that an item was improperly packaged and the product was ruined on arrival, apologize to the customer and send them a new item.  After addressing and resolving whatever issue the customer had, politely ask the customer to remove their negative feedback.  A customer has 60 days from the date of their original review to remove their negative feedback, so there's plenty of time to resolve the issue and ensure that the customer is satisfied.
FeedbackWhiz has a great email automation tool that allows you to easily build out your own email template and send targeted emails to customers who submitted negative reviews. This will be helpful in saving you time in the future as you will have a consistent method in asking customers to remove their negative reviews.
Step 3: Be Proactive in Preventing Future Negative Reviews
The last and most important step after receiving a negative feedback is to be proactive in preventing future negative reviews. It's so much easier to prevent a customer complaint than deal with the aftermath. Amazon has outlined several best practices that can help you identify and prevent problems that lead to negative feedback.
Customer feedback is vital to running a successful Amazon business because it can show you what your customers like and what they dislike. Authentic feedback can help you to improve your customer service, increase your seller rating, and gain new customers. Therefore, investing in feedback software can really make or break your business. Take the time to investigate the feedback software that works best for you.  FeedbackWhiz has a free 30 day trial for new users and an affordable rate compared to competitors.  Prevent negative reviews in the future by investing in feedback software that can help you effectively manage and respond to all your customers' needs.